Our First Chalk Couture Projects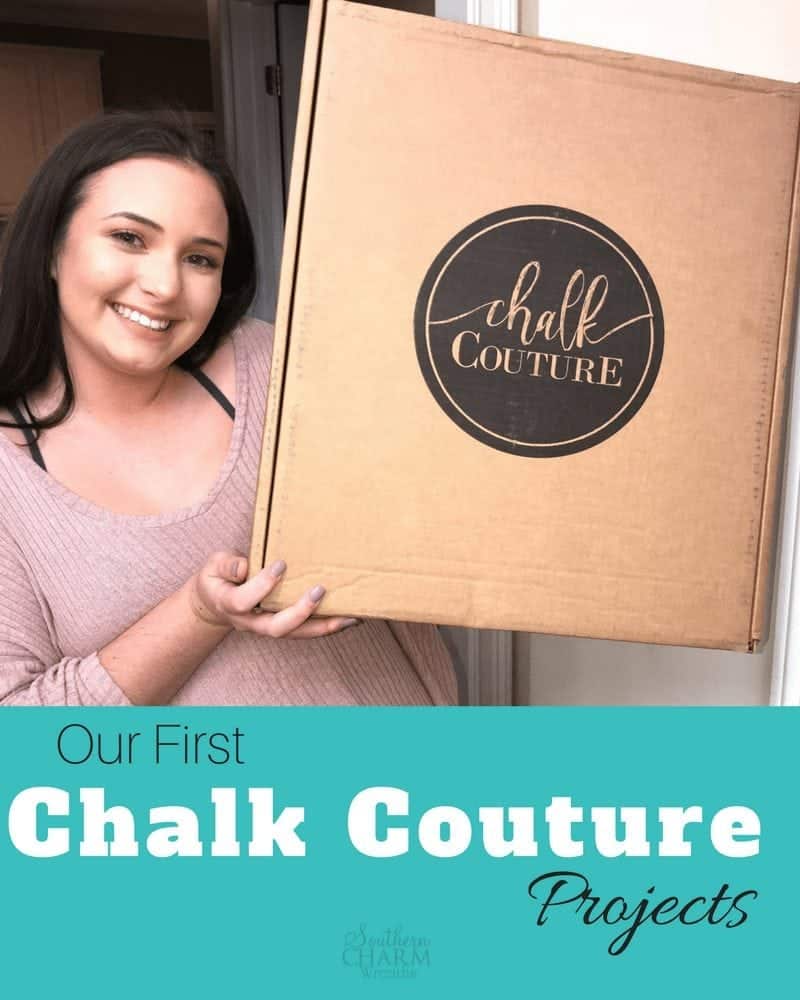 Today in the wreath shop, we're trying out Chalk Couture products. Yes, you read that right, no wreaths today! Instead we're making a fun chalkboard using Chalkology Paste and transfers. This post contains affiliate links for your convenience. If you click a link and make a purchase, I could earn a few pennies in commission. Click here to read my full disclosure policy.

Our First Chalk Couture Projects
You may have guessed by now that I love getting boxes in the mail every month from places like
Stitch Fix
and
Chalk Couture
is no exception! When you join as a designer, you get a welcome kit of $200 worth of products and then for $24.95 a month you receive additional products each month. Today we're opening our starter box and doing our first projects!
Chalk Couture is a versatile set of products that allows you to get that perfect chalkboard look! Have you ever tried to hand letter words on a chalk board using standard chalk or even chalk markers? It's not easy! Not to mention weeding out details when use a vinyl machine.  Chalk Couture takes all of the guesswork out and gives you a sharp, clean, beautiful design the first time.
 [Tweet "How to use Chalk Couture to make beautiful chalk art and signs!"]
As I mentioned, after joining Chalk Couture as a designer we received our first starter box which costs $99 but is full with over $200 worth of goodies! Included in our Chalk Couture starter box was:
A cute Chalk Couture apron
Angled squeegee
Small squeegee
Assortment of Chalk Transfers (stencils)
Chalkology Paste – White, Aquamarine, Grey
Framed chalkboard
Circle chalkboard
Wax
Thank you cards
Basically everything you need to get started!
How to Use Chalk Couture Videos…
How to Use Chalk Couture:
Prep your chalkboard, if needed by rubbing chalk all over it a couple of times in different directions and then wipe down excess chalk. (If using a prepped chalkboard from Chalk Couture skip this step.)
Choose your Chalk Transfer and layout
Choose your Chalkology Paste colors
Place your Chalk Transfer(s) on your project
Spread a thin layer of Chalkology Paste over the transfer using the squeegee – work quickly, it dries fast!
Lift the transfer to reveal your beautiful creation!
Clean your Chalk Transfer immediately
Additional Tips:
Cut the small squeegee in half so it will fit in the paint jars better.
Place a damp cloth over your design if you need more time.
Wash your stencils quickly by keeping a pan of water close by.
Add glitter to your project before the Chalkology Paste is dry.
Use Chalkology Paste on sanded wood, metal, glass, fabric, chalkboards and more!
If you would like to shop my Chalk Couture Store, click here.
To join my Chalk Couture team as a designer and earn commissions on your own Chalk Couture sales, click here.
Let me know if you enjoyed this and don't forget to join me on Facebook so you can watch me Live!
Happy Wreathing,
Julie
If you enjoyed this post, you might also like:
How to Make a Funky Christmas Bow
20 Crafty DIY Candle Holder Ideas to Warm Up Your Home