20 Crafty DIY Candle Holder Ideas To Warm Up Your Home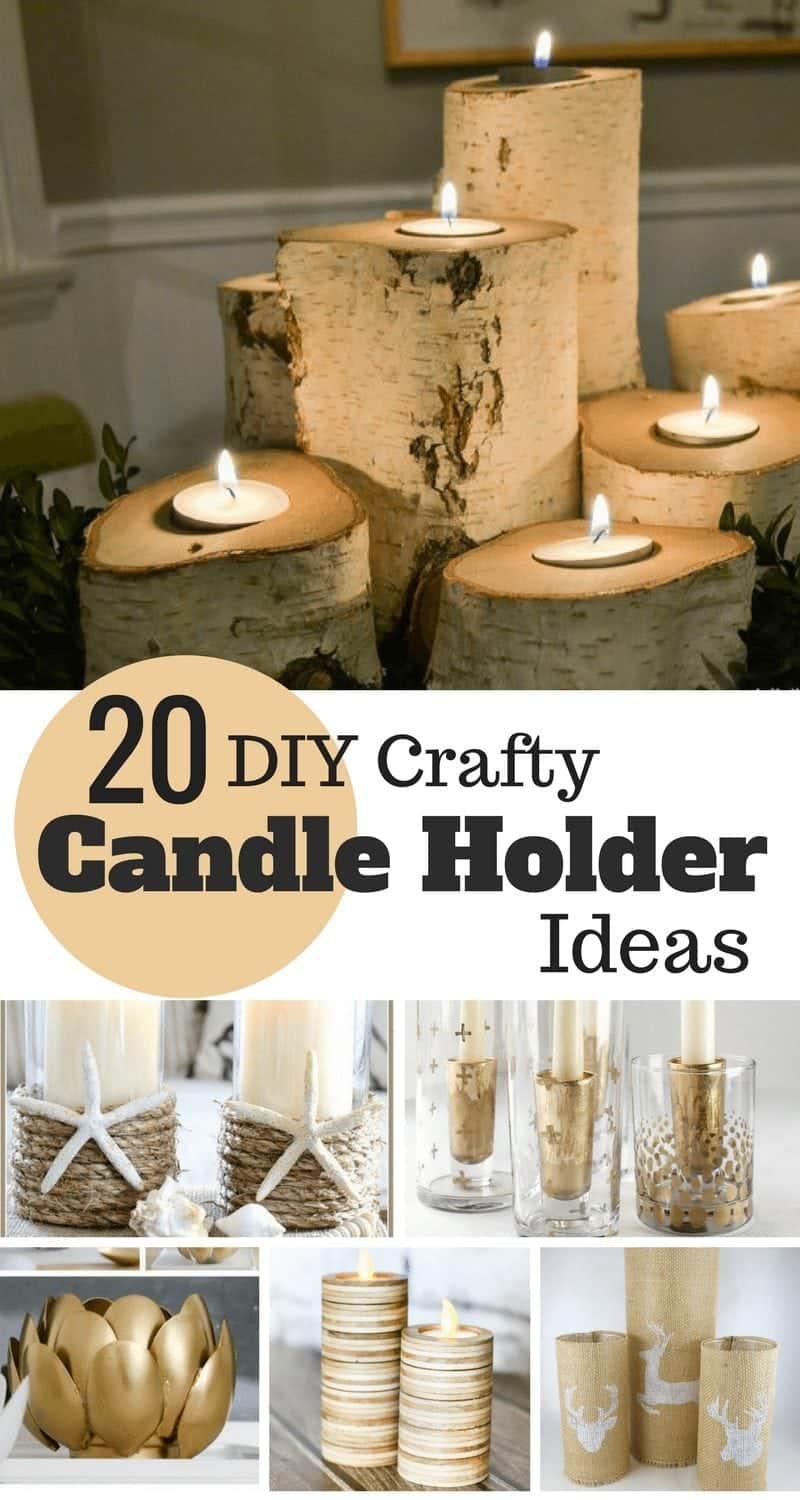 Candles are a necessity in my home, making it warm and inviting as well as festive during the holidays.  Candles are also a popular option for gifts of all kinds, from hostess gifts to birthday gifts.  Whether you like elegant or rustic, I've compiled a list of some of my favorite yet simple DIY candle holder ideas for your home decor. If you love DIY as much as me you will find many uses for these candles. Think upcoming holidays for decorating or to give away as gifts. This post contains some affiliate links for your convenience. Click here to read my full disclosure policy.
20 Crafty DIY Candle Holder Ideas To Warm Up Your Home
1. Beautiful Beach Finds Pillar Display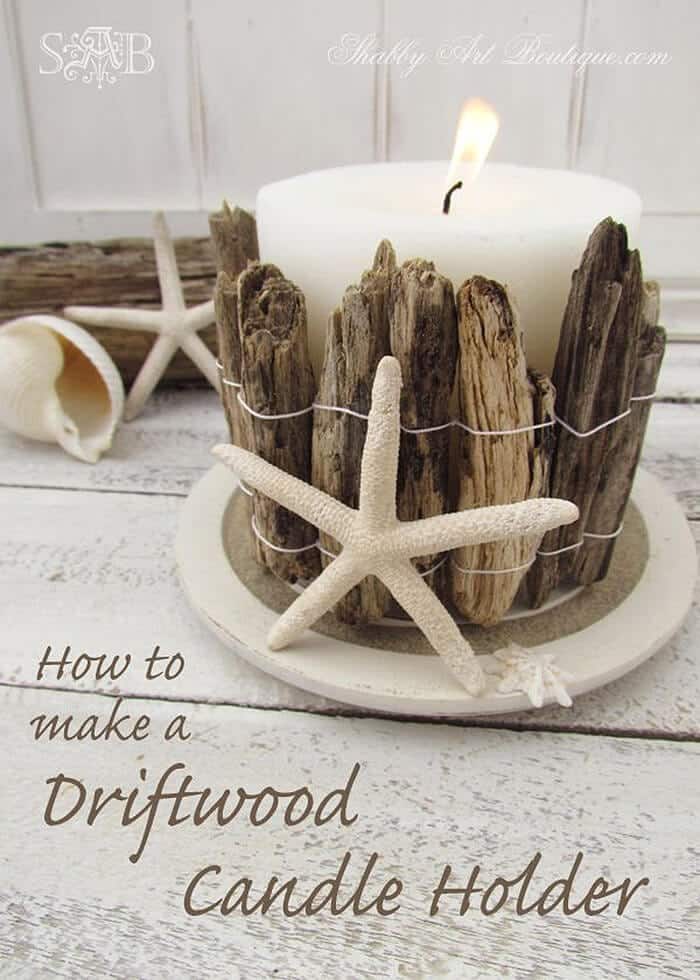 I love everything beachy and this DIY driftwood candle holder by Live Creatively Inspired will bring a little bit of beach into any room of your house.
2. An Elegant Forest of Lights Centerpiece

The woodlands style is very popular in home decor and I fell in love with how this blogger brought some of nature indoors with these Tree Stump Candle Holders by Cozy Stylish Chic.
3. Metallic DIY Candle Holder Ideas
Once this DIY candle holder is painted, nobody will know you used inexpensive plastic spoons. This project by DIY Fun Tips.
4. Dollar Store Wedding Candle Holders


We all need a little glitter and glam in our lives and our homes! Who knew you could quickly turn dollar store glasses into wedding elegance. This Wedding Glass Votive idea by TerraDennis.com
5. DIY Halloween Skull Candle Holder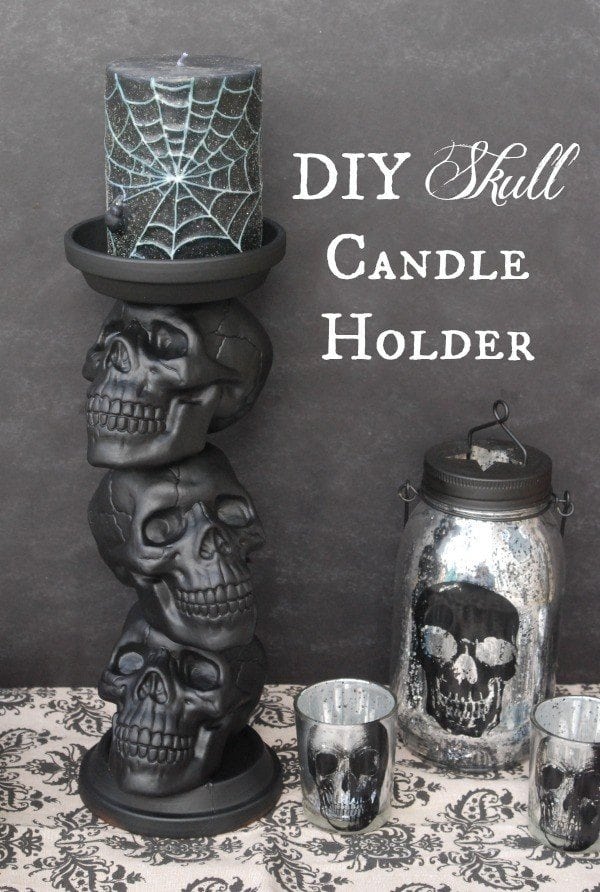 Do you decorate for Halloween? We used to when the kids were younger but now, we skip the Halloween decorating.  But I would have loved this idea years ago. Great DIY Halloween Skull Candle Holder by Endlessly Inspired.
6. Black Lace Votive Candle Holders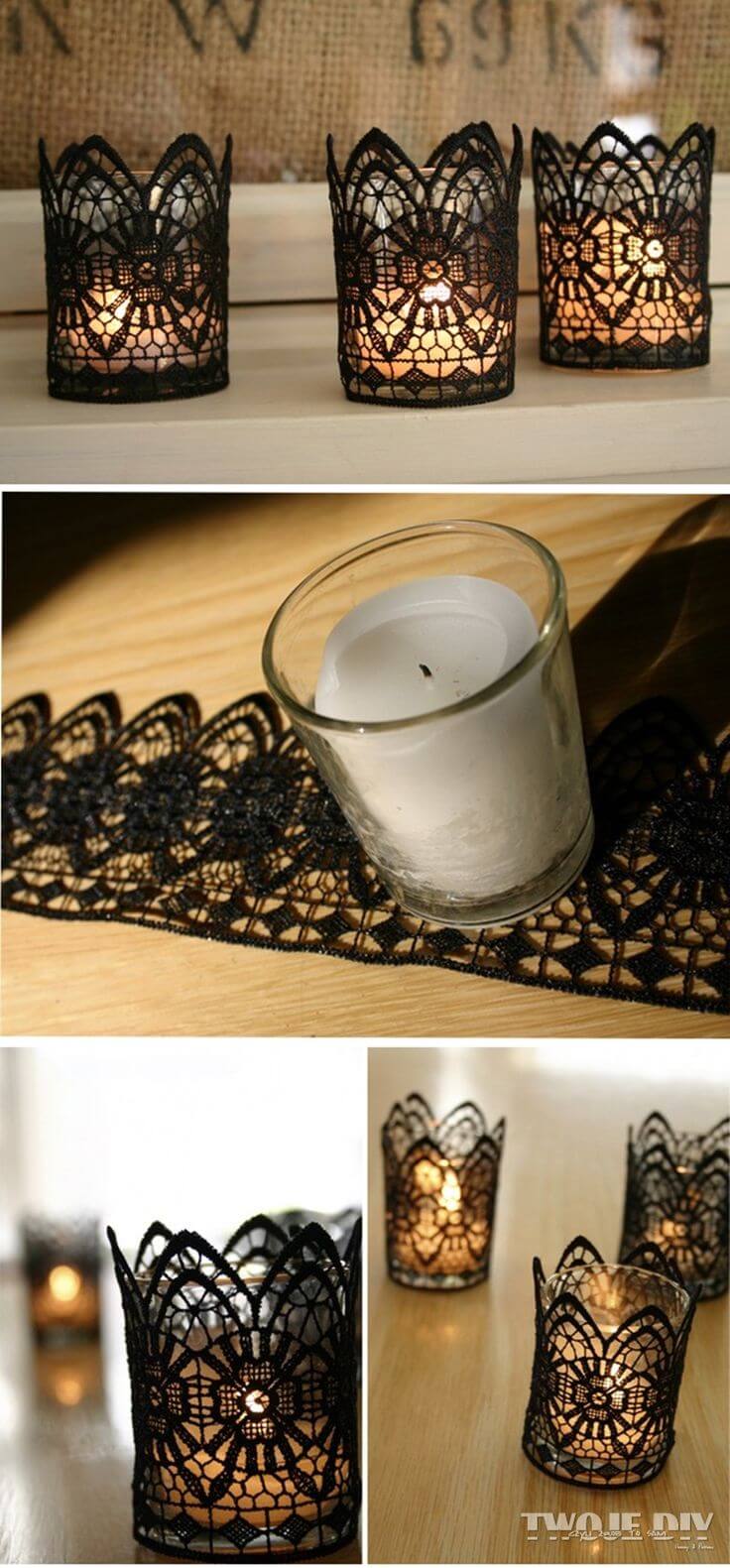 While your still decorating for Halloween, why not add some Black Lace Votive Candles.
7. Modernized Brass Tapers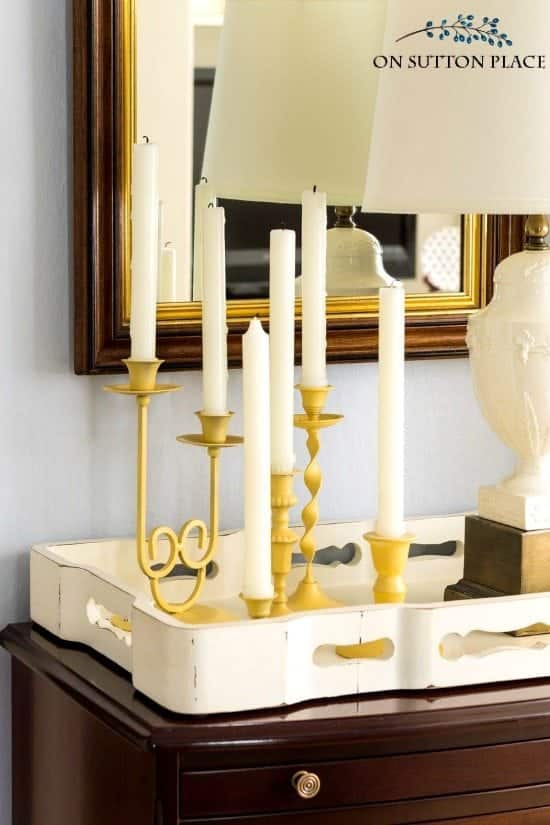 I will be cleaning out my closets and updating all my brass pieces after seeing this very easy way to Modernize Brass Tapers by On Sutton Place.
8. Repurposed Mason Jars Into Autumn Candle Holders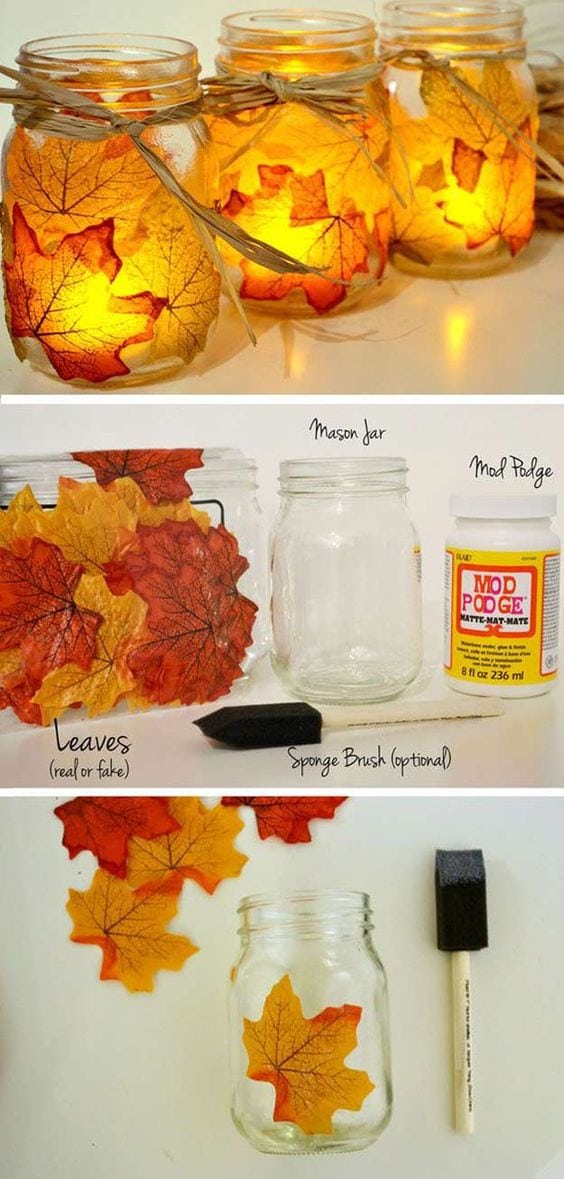 This is a great DIY for the kids or grandkids to do. I plan to do several of these on my buffet for my Thanksgiving dinner. Learn to make these Fall Mason Jar Holders by Spark and Chemistry.
9. Stenciled Burlap Candle Holders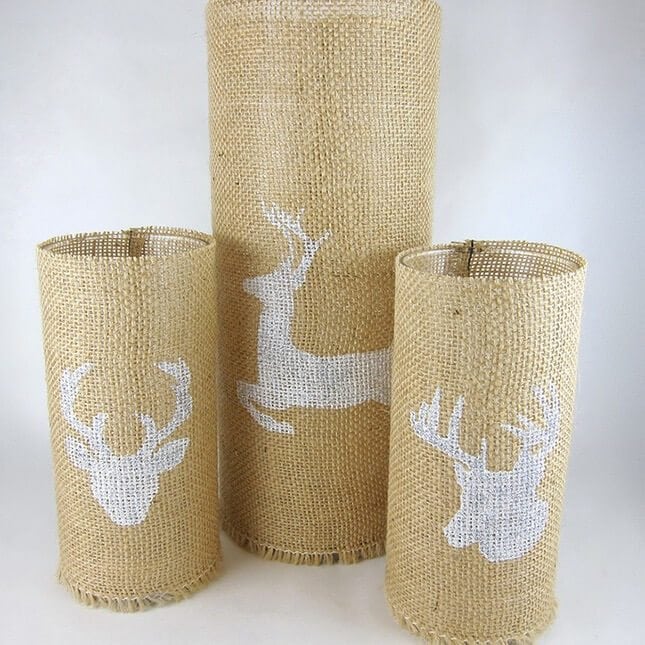 Burlap is here to stay…at least for one more year. LOL If you're looking for a natural elegance to your holiday or wedding decorating, try these Burlap Stenciled Candle Holder by Just Crafty Enough. 
10. Sculpted Clay Tea Lights Tutorial

If you've been a little hesitant to create and make with clay, then why not start with this simple Clay Tea Light Candle Holder by Gathering Beauty.
11. Farmhouse Candle Holder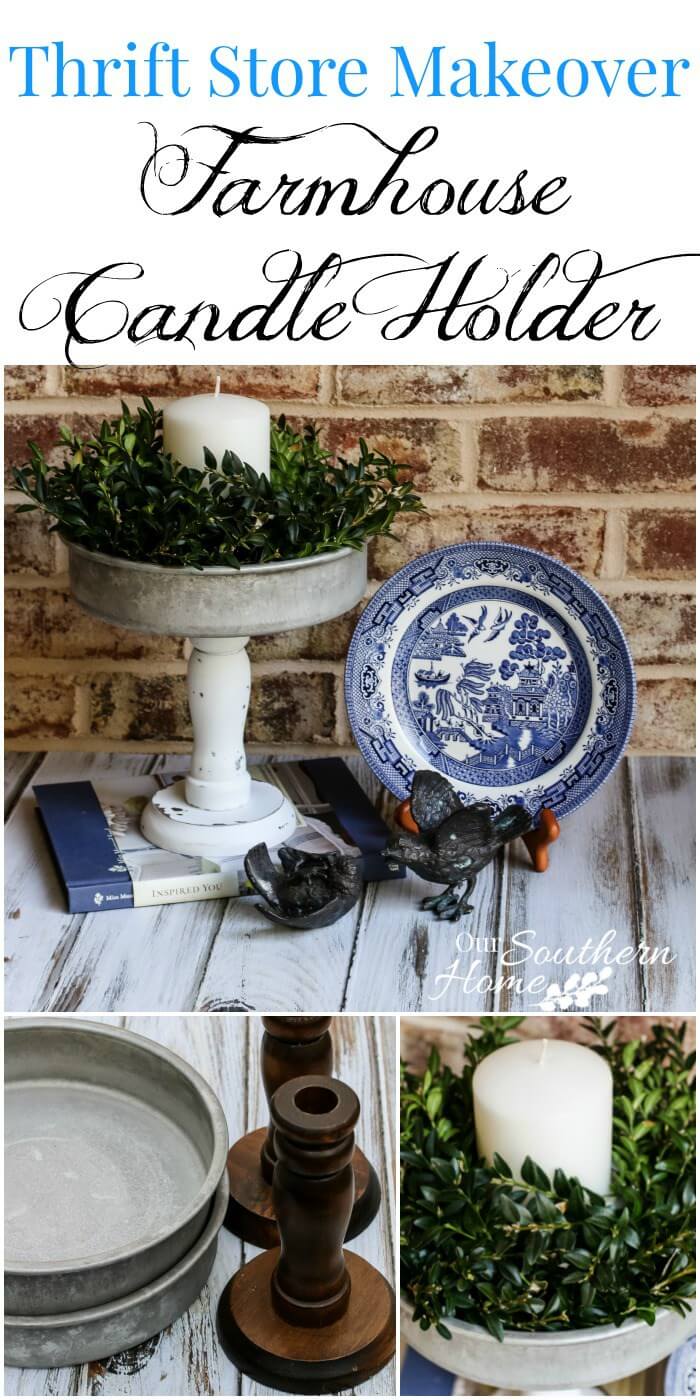 Farmhouse decor is all the rage right now and it can get pricey when you're trying to stage your home for the perfect farmhouse look.  That's why I love how Our Southern Home came up with a brilliant idea for a Farmhouse Candle Holder.
12. Nestled Shot Glass Candle Holders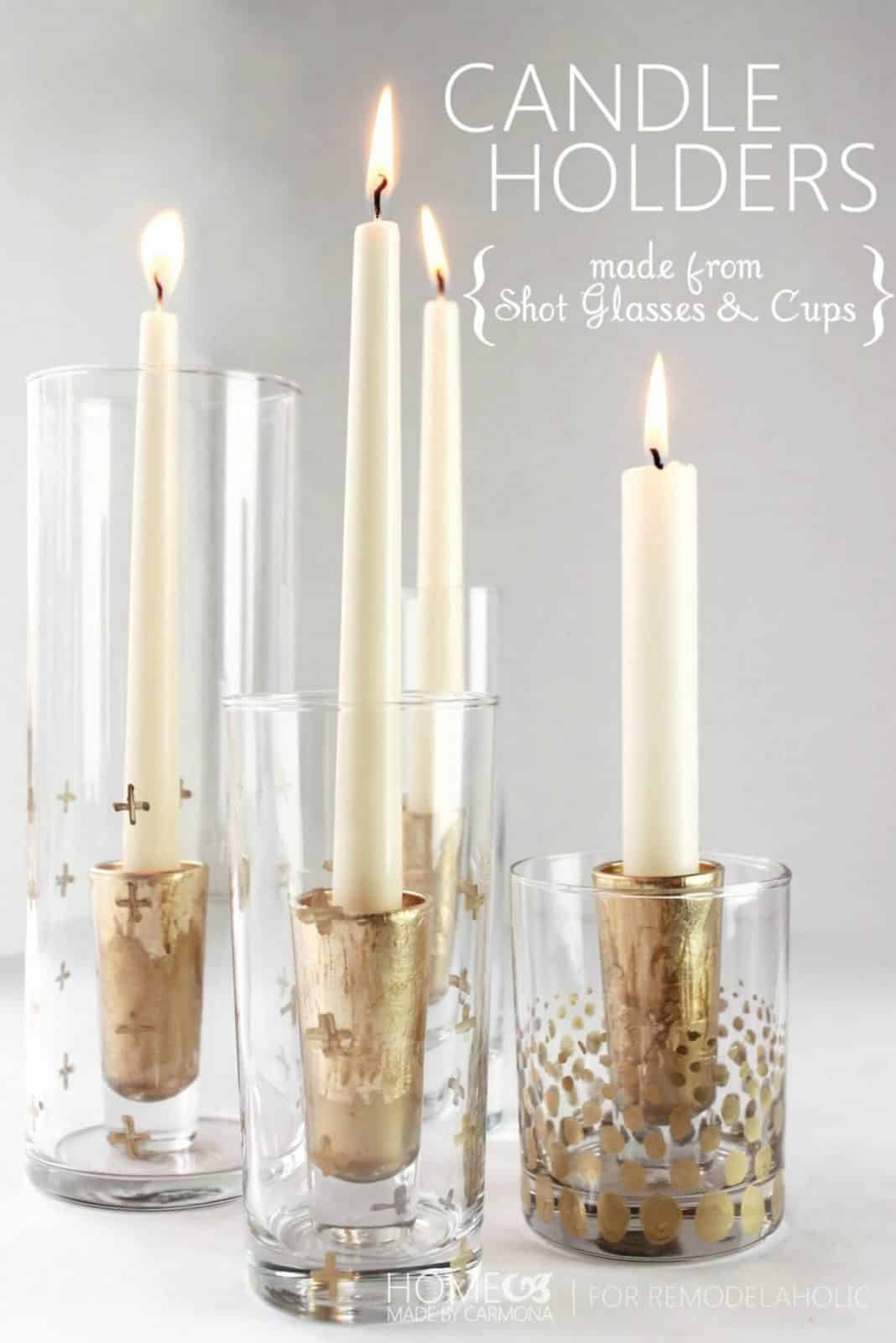 If you need wedding or holiday candle holders try this Nestled Shot Glass Candle Holder idea by Remodelaholic.
13. Scrap Plywood Candle Holders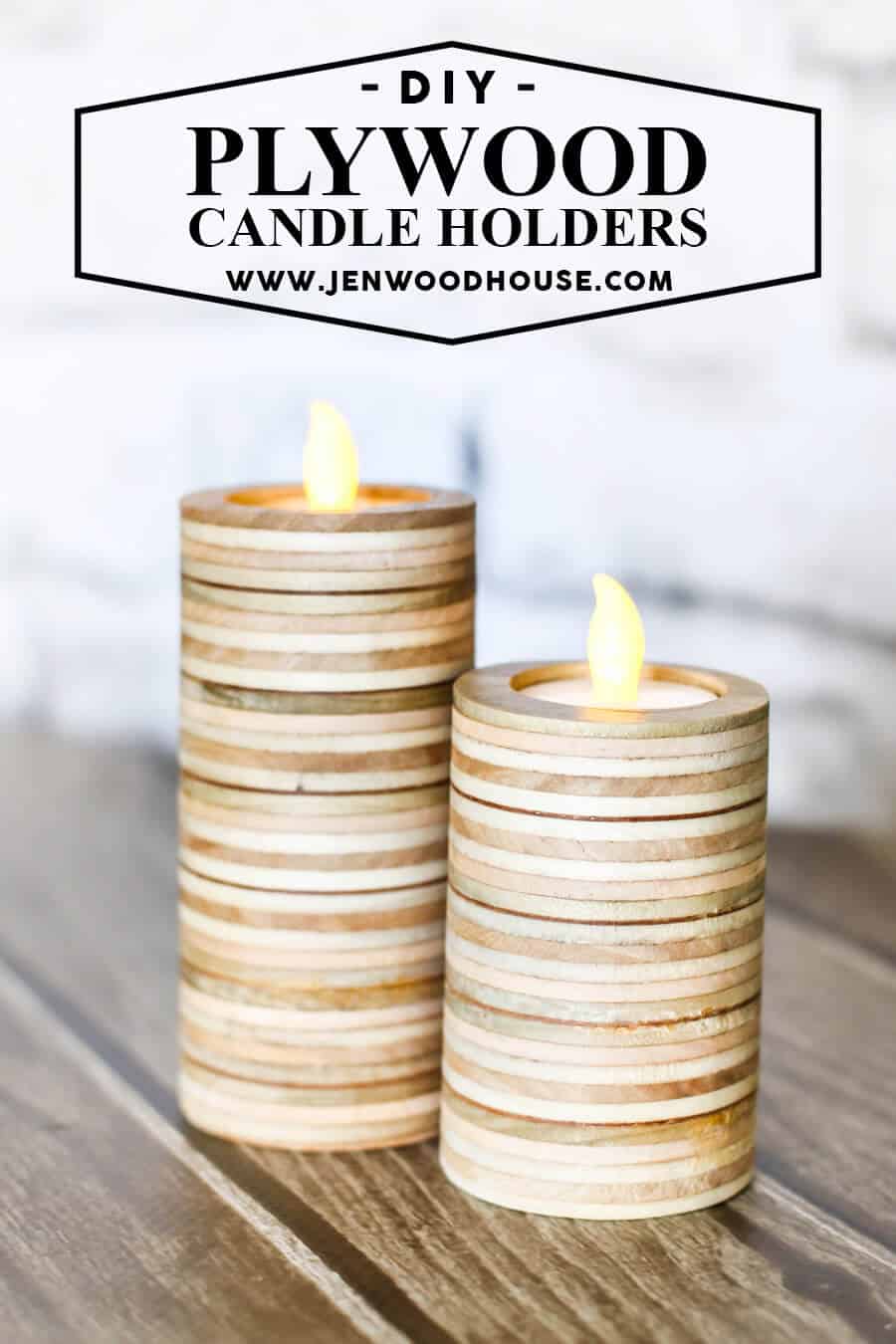 I love the rustic beauty of these Scrap Plywood Candle Holders by Jen Woodhouse.
14. Pottery Barn Inspired Candle Holders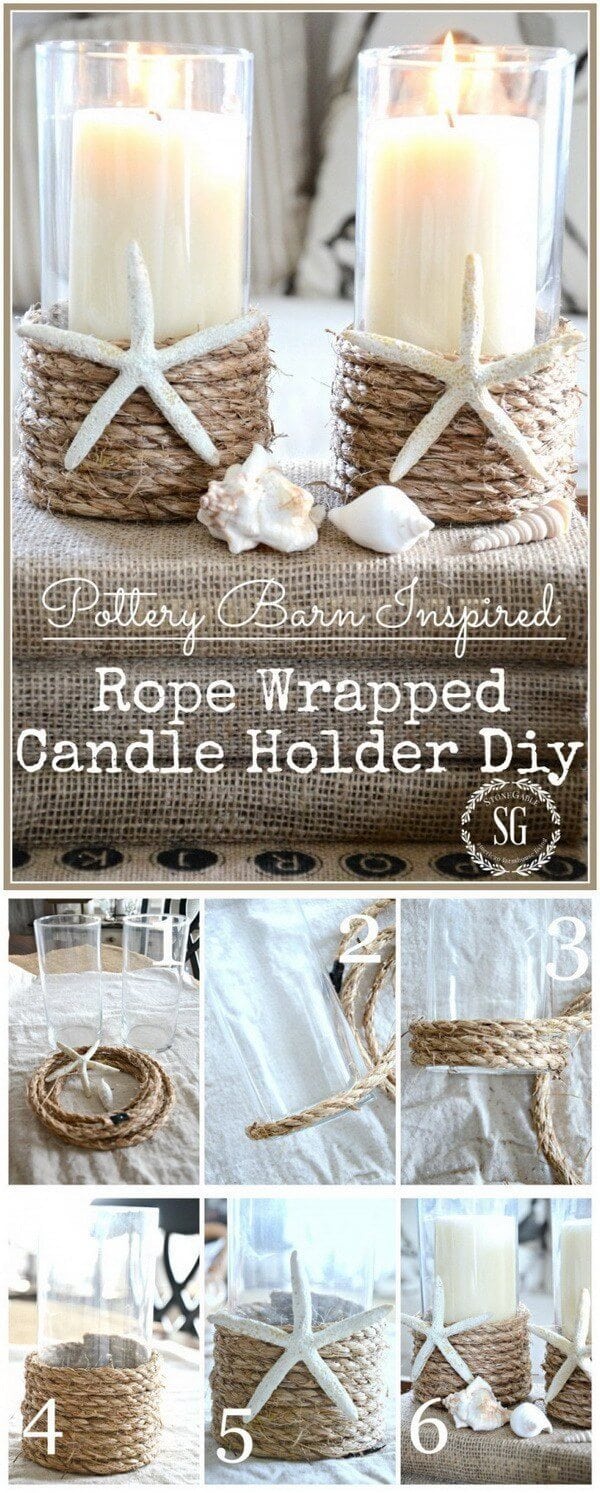 Another beautiful nautical look with these DIY Pottery Barn Inspired Candle Holders by StoneGable.
15. Ocean-Inspired DIY Candle Holder Ideas

After our trips to the beach, the kids would always come home with tons of seashells they found at the beach! They were considered treasure to them and a mess to me! LOL However, if I knew I could've made such beautiful Seashell Candle Holders like these by Whats Ur Home Story, I would've considered them treasure too!!  How bout you?
16. Log Candelabra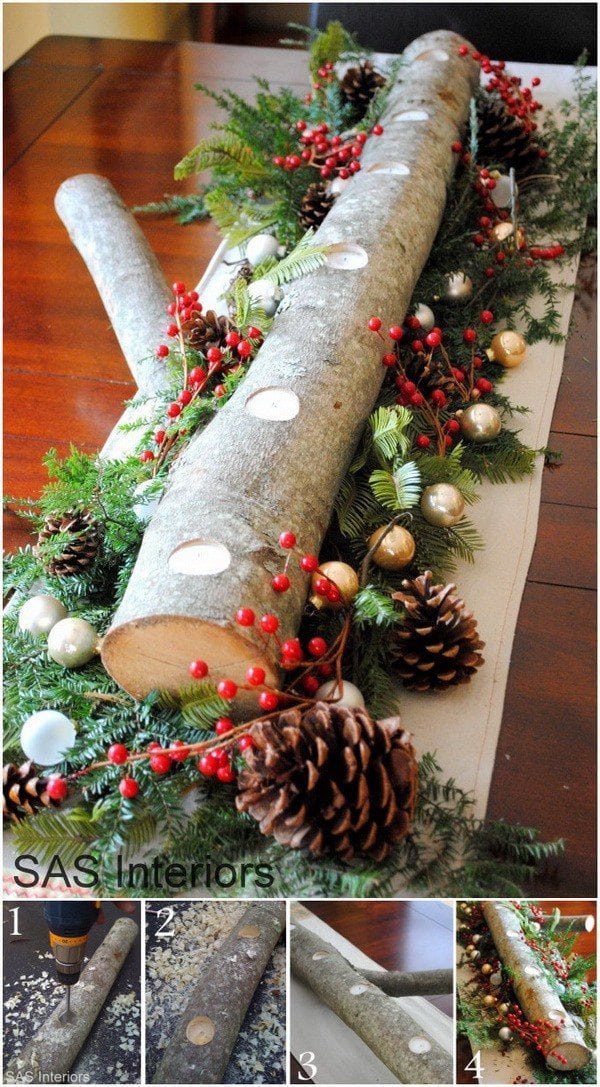 With a special drill bit, we can all make beautiful candelabras out of freshly cut logs found in nature. This Log Candelabra by Jenna Burger.
17. Stenciled Mason Jar Candle Holders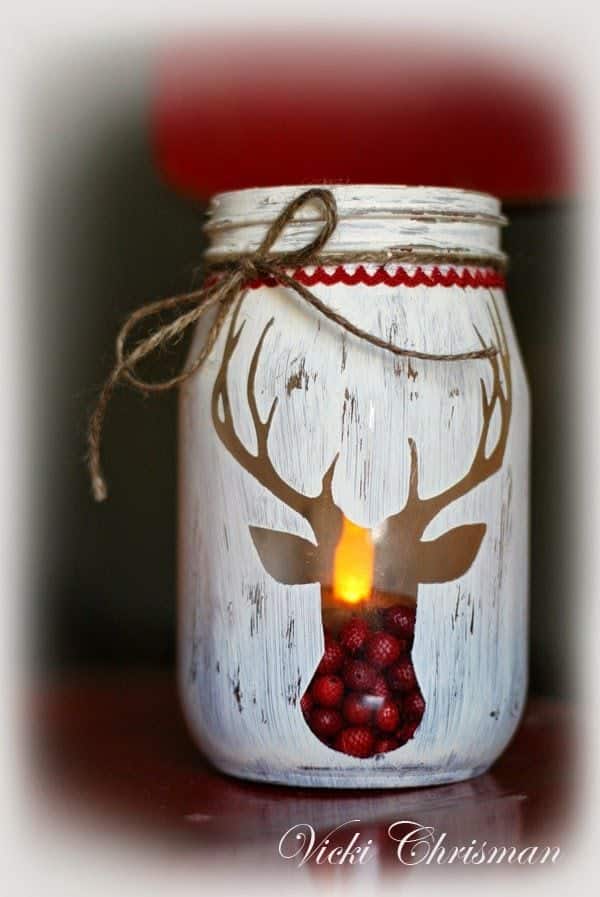 Use stickers and paint to create festive candle holders like this idea by Vicki Chrisman
18. DIY Mason Jar Candle Holder

Easily refresh a room during the holidays using scented candles as decorations. With this DIY Christmas Mason Jar Candle Holder by The Nerd's Wife, you just have to add a fun holiday votive to make guests feel like they're walking into a winter wonderland.
19. Back to School Teacher Inspired Candle Holder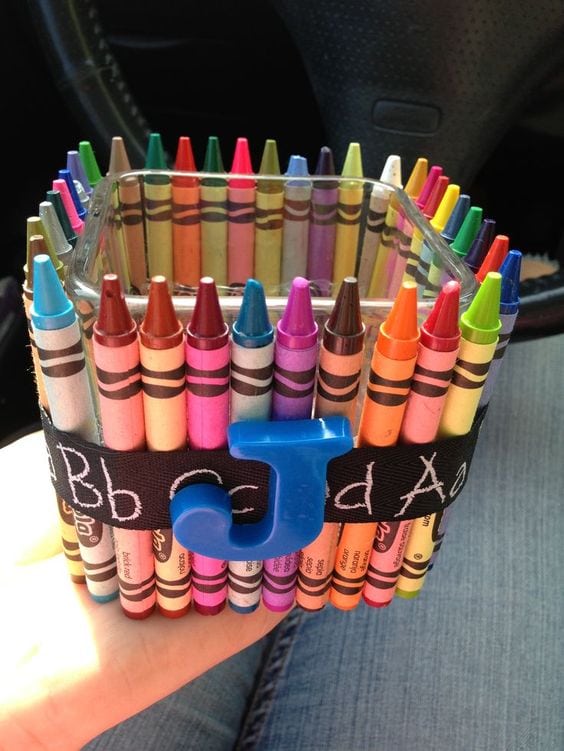 Use a dollar store candle holder and hot glue crayons all the way around the container. Glue a ribbon and plastic magnetic letter to the front to personalize it. Found here on Pinterest.
20. Christmas Tree Mason Jar Votive Candle

Don't have a vinyl cutting machine? No problem. You can still make beautiful decorations including these Christmas Tree Mason Jar Candles by Mason Jar Crafts Love.
And there you have it my list of 20 Crafty DIY Candle Holder Ideas To Warm Up Your Home! What's your favorite DIY candle holders?
Happy Wreathing,
Julie
If you enjoyed this post, you might also like:
DIY Pottery Barn Inspired Halloween Wreath Tutorial
Quick 30 Minute Fall Wreath Tutorial
How to Make an Elegant Wedding Wreath for Front Door