How to Make Halloween Lantern Swags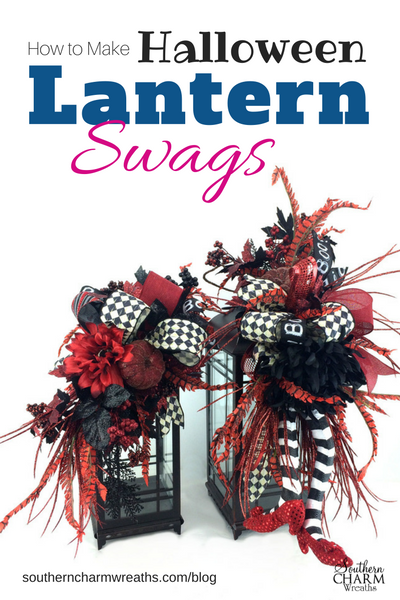 I am so excited to share these fun Halloween Lantern Swags with you today!!! I used a color scheme of black and red instead of the traditional orange.  Aren't these neat? This post contains some affiliate links for your convenience. Click here to read my full disclosure policy.
How to Make Halloween Lantern Swags
In this video, I share easy to follow steps to enhance your lanterns for Halloween! If you have lanterns already you can obviously use those or purchase them from a place like Carolina Pottery.
Supplies needed
Halloween Picks from Michaels
Faux Feathers or other type bush
Glittered Grass Bush from Michaels
Ribbon
floral wire
rustic wire
zip ties
wire cutters
scissors
hot glue gun
glue sticks
craft mat
[Tweet "How to make Halloween Lantern Swags"]
How to make Halloween Lantern Swags:
Start with forming the swag by layering flowers and pics.  Then zip tie it when you are done to keep it together.
If you have flowers or leaves that aren't quite the right color, don't be shy! Get the paint out and add a little black or another color of your choice to the edges to make it more Halloween-like.
For your swag, leave about a hand width of room between the end of the bottom swag and the start of the top swag. This is where your funky bow will go.
Be sure to fluff your stems and bring them to life. You don't want them laying flat!
Add some fun items like witch legs, spiders or pumpkins for additional character!
Lanterns are available in so many different sizes. Decorate smaller one's to use on the center of a table or each end of a mantel. You can also decorate two or more and use them on your porch or around your front door.
Use multiple types of ribbon for your bow to add fun and interest.
Do not burn a real candle inside your lanterns because the heat will escape the lantern onto the swag and create a fire hazard. These lanterns would be perfect for battery-operated candles! I love those and use them all the time. They even have them with remotes now!
Does making a bow make you nervous? Watch the video to see step-by-step instructions. I promise, you can do it!
Ok, here we go, to the Facebook Live replay of the video….
I mention my Success Circle Membership group in this video and have been getting a lot of emails regarding it. If interested, you can find more information here: www.southerncharmwreaths.com/blog/business-training
I hope you enjoyed this tutorial! Make sure to comment below and tell me if you like it so that I know to keep making more tutorials like this. Don't forget to share this with your friends!
Join my mailing list and/or follow me on Facebook where I'm LIVE most Thursdays if you want to join in on the conversation www.facebook.com/southerncharmwreaths.
Happy Wreathing,
Julie
As I mentioned in the video, you might also like the Silk Flower Fall Teardrop Swag I made. Check it out here – Fall Teardrop Swag.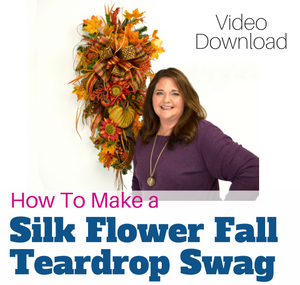 If you enjoyed this post, you might also like:
Hobby Lobby Fall Haul 2016 & Sign Tips for Your Wreaths
How to Make a Fall Lantern Swag Video