Hanukkah Silk Flower Arrangement
Learn how to make a sparkling Hanukkah silk flower arrangement, complete with wintery blues, flocked greenery, and silver holiday baubles.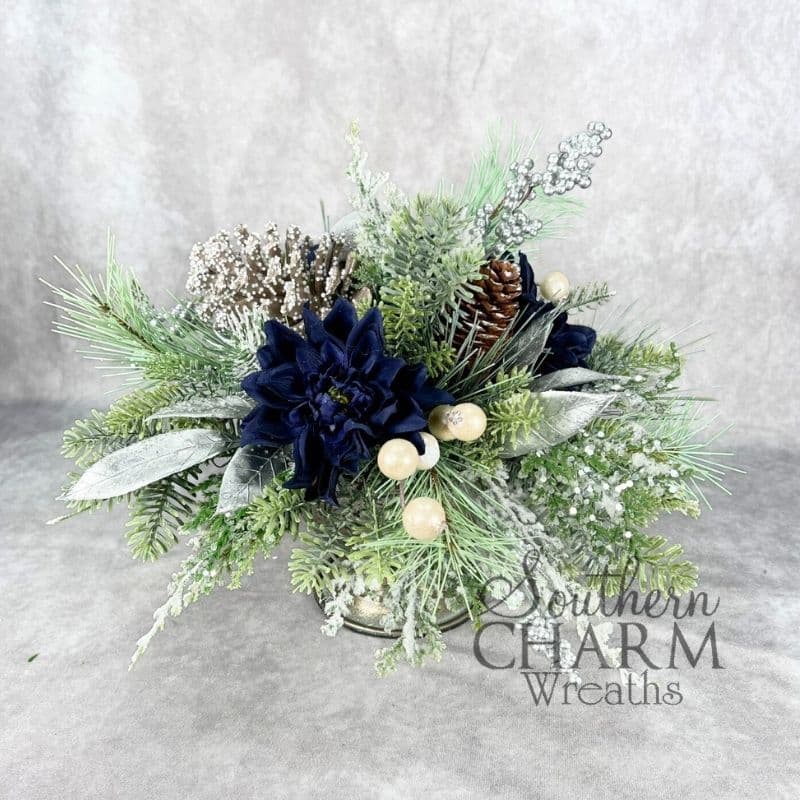 Hanukkah silk flower arrangement
Whether you celebrate Hanukkah or just LOVE the blue winter look of this silk flower arrangement, this is a gorgeous piece to create.
Made with the classic Hanukkah colors of blue and silver, this design packs a ton of charm into a small package.
It's so cute and quick to make. In fact, I whipped this baby up in 30 minutes flat!
This post may contain affiliate links for your convenience. Click here to read my full disclosure policy.

Supplies for this project
You'll need:
5" Round silver container
Florist foam
Spanish moss
Florist picks (or steel picks)
Faux flowers
Faux greenery

Long needle pine
Blue-green pine
Glittery pine
Flocked cedar
Silver leaves

Silver ornament picks
Pearl picks
Large snowy pinecone
How to make a Hanukkah silk flower table arrangement
1. Prepare the base
Start off by prepping your base, adding a round of florist foam to your silver container, and covering the top with a bit of faux moss.
2. Add deep blue faux florals
Next, create a cluster of three deep blue flowers on one side of the arrangement, sticking stems into the florist foam.
3. Introduce greenery
Now, take clippings of cool-toned long-needle pine and start working throughout the design, framing the flowers all the way around.
4. Add silver ornaments
For a bit of glitz, add a cluster of silver ornament picks opposite your blue florals in another little bundle.
Use various sizes in slightly different shades of silver, or use one giant silver bauble!
5. Add textured greenery
Next, begin to fill in the design with clippings of blue-green pine, aiming for an even distribution.
6. Include a pinecone accent
For your third accent, wrap some florist wire around the base of a large, snowy pinecone, doubling up the wire for stability.
Then, use a florist pick to stick the pinecone into the foam beside the blue flowers.
7. Give glittery touches
For extra glitz and glamour, add bits of glittery pine, snowy silver berries, and white pearls throughout the arrangement.
Build up around the sides for a full and textured look.
8. Add flocked cedar
At this point, begin filling in with bits of flocked cedar throughout the design. The snowy touch is totally wintery and gorgeous!
9. Silver leaves
Now, look for any areas of the design that are missing a touch of silver.
In these spots, add single silver leaves attached with florist or steel picks. The metallic touch is super eye-catching!
10. Finishing touches
Finish your design with a final sweep-through.
Trim any pieces that look too long and fill in blank spots with bits of leftover pine.
Make sure there's an even color distribution with good contrast and easy movement for the eye.
And with that, your Hannulah silk flower table arrangement is complete!
Watch the video: How to make a Hanukkah silk flower table arrangement
If you enjoyed this post, you might also like:
Like this post? Pin it for later!