How To Choose A Name For Your Handmade Business
Follow these tips and you'll know exactly how to choose a name for your handmade business that stands out and helps you sell!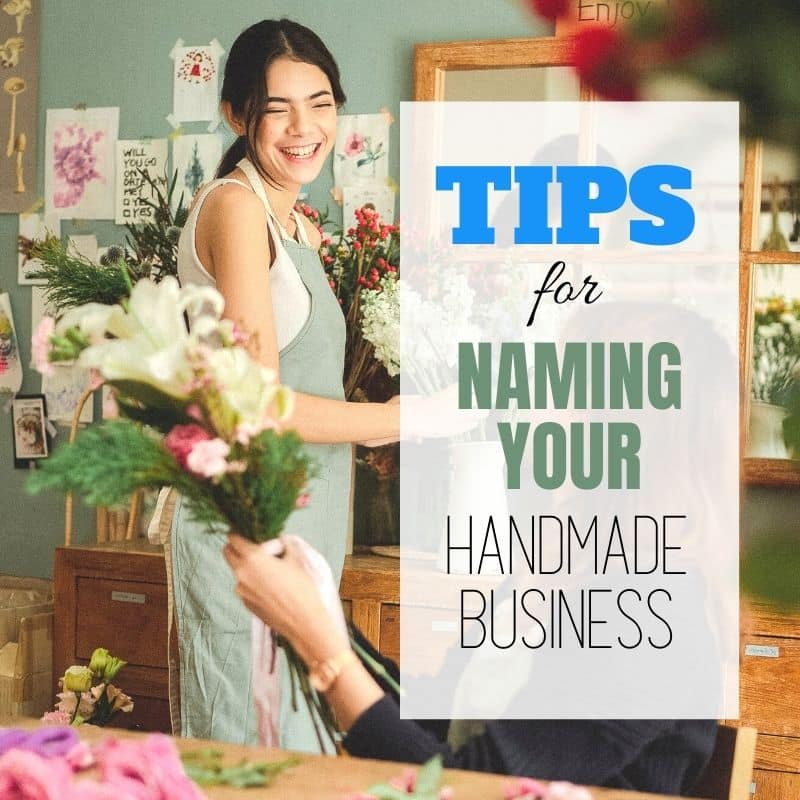 How Do I Name My Handmade Business?
I know choosing a name might seem like the most important thing ever, but it isn't worth stressing yourself out. Yes, your business name is often the first impression people get when shopping your products, but it isn't the end all be all. Your work will speak much louder than your name.
There's a lot to think about when naming and branding your business. And believe it or not, I see many get stuck here. I want to assure you, you can change your name and rebrand anytime you want or feel the need to. Many big brands rebrand all the time and so can your handmade business.
Choosing a name for your business should be fun and exciting! To relieve you of the stress, here are my all-time favorite do's and don'ts when it comes to creating a name for your small business.
What You Should Do When Choosing A Name For Your Business
First, these are the things you should consider when choosing a business name for your handmade business. Definitely keep these tips in mind!
Be Original – Buyers remember originality. For example, a phrase that is meaningful to you and your history, or location.
Show Your Style – Are you a country gal or do you love urban life? Is your personality quirky? Do you have a fondness for glitter and glam? Your style will come through in your work, so let your name reflect it! If your wreaths are elegant, have an elegant name. If they are rustic, have a country name.
Make It Easy To Spell – If you mean wreaths, don't use wreathz. If you mean doors don't use doorz. This will only confuse your buyers later who are trying to find you on Etsy and can't remember the exact spelling of your name. I really feel that adding your name is a good tactic to hinder others from also using your name; however, I would never use the name Julie Siomacco Wreaths because buyers can't remember how to spell my last name but I could use Wreaths By Julie.
Make it Easy to Pronounce and Sound Out Phonetically.
Make Sure It's Not Already Taken – Do a quick check on all social media sites (Facebook, Pinterest, Instagram, Twitter) to see if the handles are available. Use this free app to instantly see where your name is available on social media sites.
Remember Character Lengths – For example, Etsy only allows 20 characters.
Check Etsy's Availability – Make sure it's available on Etsy by conducting a quick Etsy search.
Pick A Name You Can Grow With – Pick a name that will grow with you as your business evolves. For example, Julie's Wreaths is limiting, because what if I decide to pivot into another niche such as wedding decor, banners or party supplies.
Make it easy for people to remember – This is another reason I don't suggest you use a made-up word that doesn't exist. People need to be able to remember you, especially if they try to Google your shop's name.
Choose words that fit in a variety of industries – For example, you can sell almost any type of handmade products with names containing designs, creations, boutique, etc.
Ask for Input – Ask some of your friends and family if they fit your ideal customer profile what their thoughts are.
What Not To Do When Picking Out A Name
Now that you know what to do, here are a few things that you should stay away from when you are picking out a name for your new business. Any of these things will do you more harm than good.
Don't use special characters or numbers – You need to pick a name that you can use as a website URL someday and special characters are difficult.
Don't use a spin on something to be cute – For example, don't use dooz, wreathz, trendz in your name. It is difficult for people to spell and it decreases your credibility as a serious business.
Stay away from words that no one can spell – Chances are people are going to try and Google it to find you and if they can't spell it, they'll have a hard time finding your shop again.
Don't use words misspelled on purpose – A good example of this is the word "adoorable." It might look cute at first, but people need to be able to spell your shop's name.
I recommend you don't use a name based on your location – This is very important because you need to leave the possibility of a move open. If you have a shop called "Atlanta Wreaths" and you move to Alabama, there will be some disconnect.
Don't use words that lock you into ONE industry – You might be super passionate about just wreaths today, but what if you decide to also make bouquets for weddings? Create a name that gives you room to grow.
How To Check Trademarks Before You Pick A Business Name
This is a very important step. Before you reserve a social media handle or buy a domain name, you need to check with the United States Patent and Trademark Office first. Make sure that the business name you want isn't already trademarked by someone else in your industry.
Search trademarked names on the USPTO website.
You only need to search for other businesses in your niche or industry. For example, the snack company "Big Slice" that sells canned apple slices is not in direct competition with "Big Slice Drapes And Blinds." One is a food company and the other sells interior decor.
What to Do When You Choose a Name
Once you've decided on a name, claim your name on all the social media platforms. I suggest, Pinterest, Instagram, Facebook, Youtube, TikTok, because these are the ones that have worked really well for my handmade business. Obviously there are others such as Twitter and Snapchat too, but remember where your ideal customers are spending time and focus on those. Even if you don't intend to use all of the platforms at first, you'll have them ready.
Register the domain name for your business name as well as any variations of your names. Domain names are inexpensive. Again, even if you have no plans to use it right away, you can at the very least redirect it to an Etsy shop.
Open an Etsy shop with your name, you only need one item listed to get started.
Register your business name with your state and town by contacting your States Department of Revenue.
Final Thoughts
There are just a few things that you really should consider before you go through all the effort of picking out Instagram handles and printing business cards. And don't let this first step into establishing your handmade business stop you from starting. We all struggle with this in the beginning.
I'm sure with a little bit of time you'll come up with a great name but I stress to you not to drag out this process too long because it's time to get to work!
More Tips For Your Small Business
Here are a few more of my best small-business tips. I hope they help you as you work on helping your handmade business grow.
Liked This Post About How To Choose A Business Name? Pin it for later!