Pinterest Tips for Etsy Shops – Make Christmas in Summer
What a year it's turning out to be, wreathmakers. I hope you're doing as well as you can trying to survive everything 2020 has thrown at you so far. I'm sure you're looking forward to this year being over. So am I! So today, I wanted to share some tips with you for making it through the 2020 Holiday Season as an Etsy seller and moving on to 2021 at full speed.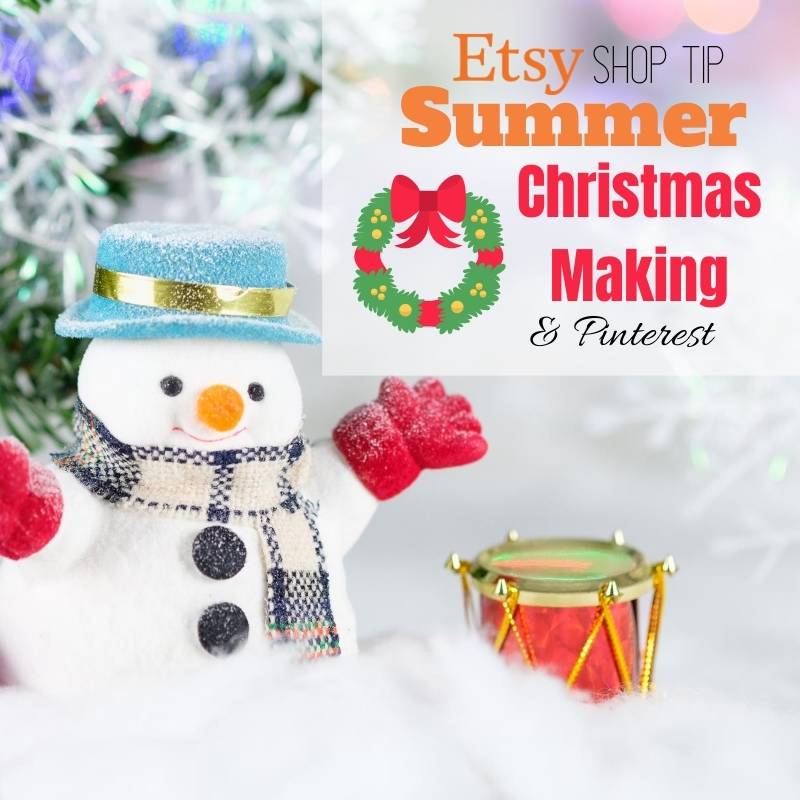 We know this year is going to be a lot different than a usual holiday season, but we still don't know what that's going to look like. So I've got four ACTIONABLE tips you can do TODAY to prepare your business for whatever is coming at the end of the year.
This post may contain affiliate links for your convenience. Click here to read my full disclosure policy.
1. When to Start Listing Holiday Items
The short answer is: If you haven't already started adding holiday items to your shop, start RIGHT NOW.
The holiday market is changing in a lot of ways this year. But the good news is, a lot of these changes can actually benefit small handmade shops.
People are planning for the holidays much earlier this year. Christmas decor pins on Pinterest were being saved 77% more this year already by April. And it's only growing. People need a break from all the negativity in the media and in the world and they are getting it by thinking about the happiness of the holidays. You can take advantage of that, but you need to start now. It can take up to 6 weeks for your images to start showing up in Pinterest searches, so the sooner you get them up, the sooner you can start being found.
Customers are expecting delays. No one is waiting until the last minute to start online shopping anymore. And no one knows what is even going to be open come December. So people are buying much sooner than normal.
You actually have an advantage over the big box stores for Christmas decorations this year. Especially if you're selling on a trusted site like Etsy. Lots of big stores aren't set up for online sales, and those that are could be shut down at any time. Lots of people are shopping small to avoid that. Take advantage of this and get your stuff ready to go now!
2. Have the Right Price Points Available
Make sure your shop is stocked with a variety of items at different price points. More people than ever are shopping going to be shopping online for holiday gifts and decorations this year. That likely means more sales for your business, but only if you cater to all the different budgets. Yes, you might make more money on the $300 wreath. But if you don't have the smaller items like swags and centerpieces, you're missing out on sales from customers with smaller budgets (or even just smaller spaces).
Don't forget to add the real small items too! You and I could make a pretty red Christmas bow in our sleep, but there are a lot of people out there who can't, and are willing to pay you to make it for them. Then you can use that sale as an opportunity to build a relationship, add more info about your shop and your listings in the packaging, help them get to know you – and before you know it, you might have a few new recurring customers!
3. Use the Right Language in Your Listings
For the 2020 Holiday Season, using the right language in your listings means two completely different things.
First, as always, take advantage of Etsy and Google SEO (search engine optimization, for those of you who are new to this). You need to make sure you're doing good keyword research so you can be found by buyers who are ready to spend money. Etsy is not small. If you don't write your listings correctly, they're going to get lost in the algorithms and customers who would love them will never even see them.
And secondly, ESPECIALLY this year, write your listings so that it speaks to what the customer needs to hear. Everyone's feeling down these days and that means they are more likely to buy 'me gifts' this year. Use language in your listings that reminds them that's OK!
4. Learn How to Use Pinterest for Business
Wreathmakers, if you're not on the Pinterest train yet, ALL ABOARD! Pinterest is one of the best sources of free traffic you can get to your shop. Yes, free! But it does take consistent effort, and you need to learn how to use it correctly.
Learning all the ins and outs of Pinterest for Business is way more than we can fit into this Tip Tuesday video, but here's a basic strategy that's a good starting point:
Whenever you take a picture for your listing, turn that into a Pinterest pin. You can use a free site like Canva to easily add wording and make your images the right size. (Pinterest prefers longer vertical pins. Try to avoid horizontal ones.)
Do Pinterest keyword research before adding text and titles to your pins.
Make a "Best of" board and pin each image there first, and then repin to relevant boards like "Christmas Decor" or "Silk Flower Wreaths". Make sure each board has at least 20 pins.
Pin regularly. Pinterest is not a social media that you can post to once a day and be fine. You need to be pinning multiple times a day. If that's not feasible, it's OK to use a scheduler. Just make sure it always has a full queue.
If you make one-of-a-kind items instead of restocking once they're sold, you should make sure your pins link to the main page of your Etsy shop instead of to each listing. That way once it's sold, customers are taken to your shop still instead of to an error page.
Keep an eye on Pinterest Analytics to see what pins are doing well. You can use this information to find out what types of pins are doing well and what items you should be stocking your shop with.
Craft Tip Tuesday Video – 2020 Holiday Season Wreath Selling Guide
If you enjoyed this and want to learn to wreath the professional way, join me in our exclusive Wreath Making of the Month Club, seats open soon!
Happy Wreathing,
Julie
If you enjoyed this post, you might also like:
10 Mistakes Beginner Etsy Sellers Make
How to Make Your Etsy Photos Stand Out
How to Price Wreath to Sell for Profit
Was this Tutorial Helpful? Pin it to save for later!