How To Price Wreaths To Sell for Profit
One question we get asked a lot is how to price wreaths to sell? So in this post, get your calculator out and let me explain how to price your wreaths for profit! This post may contain affiliate links for your convenience. Click here to read my full disclosure policy.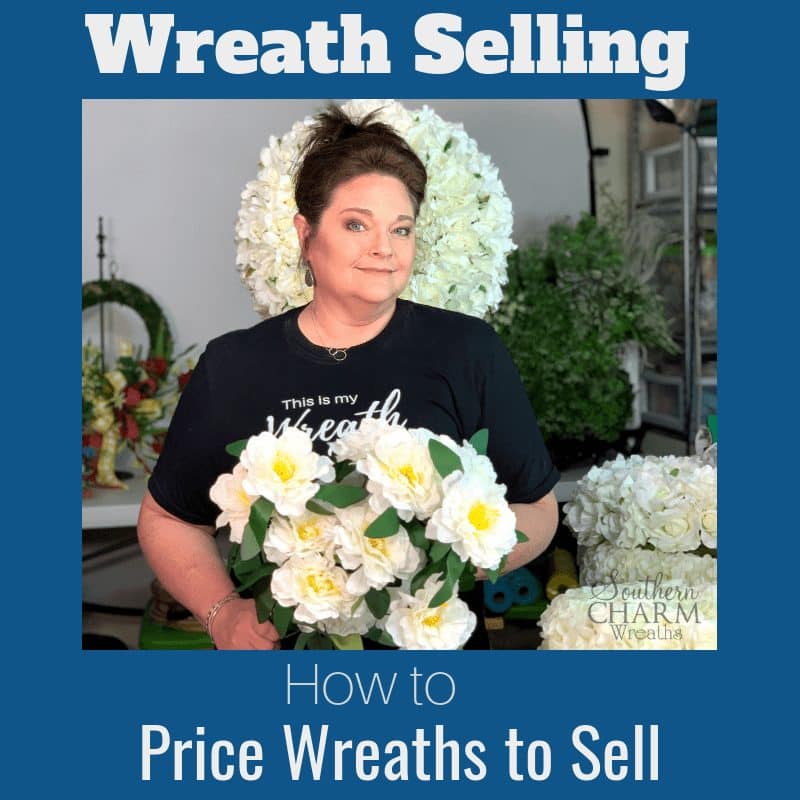 There are many different ways to calculate the retail price of your handmade products. The example below is just one way and one I've been using for over 10 years to price my own wreaths to sell in my Etsy shop.
How to Price Wreaths to Sell for Profit
Step 1. Total Your Cost
The first step to pricing your wreaths to sell is to add up the costs of the supplies you've added to make your wreath. Count everything.  And when I mean everything, I mean everything!! So don't forget the glue, wire, pipe cleaners, wooden or steel picks, ribbon, etc.
Did you add it all up?? Great! For this example, let's say you spent $30 on supplies to make your wreath.
Step 2. Double  the Cost
Take the cost and double it. So in this example, we would take our $30 and multiply it times 2.
So now our new number is $60. 
Note: If you have a large customer base and have a hard time keeping up with orders because they're selling so dang fast, then instead of using 2 in this step, use 2.5 or 3.  Why? Because more demand equals higher prices.
Step 3. Add Labor
This is a step most wreath makers forget! They forget to pay themselves. They forget that the time they take away from their family in order to grow their wreath business deserves to be paid.
The labor can either be a percentage or a flat rate. A normal percentage range for labor is 20-25%.  Also,  you can use a flat daily rate. For example, if using a flat daily rate of say $100 per day and you make 8 wreaths in a day, that's $12.5 per wreath.  So using our example we take our $60 from step 2 and multiply it by 20% (60 * .20 = $12). 
So now our new number is $72.
Step 4. Other Expenses
If you're running a business, you should price as a business. This means every product you sell should cover the costs of doing business overall, not just to pay for the one wreath you're pricing. Some other expenses could include a website, gas to travel back and forth for supplies, shipping, Etsy fees, etc.  After you've been in business longer, you'll get a better sense of what your expenses are over a year. Take that number and divide it by the number of wreaths you expect to sell. 
Example, Let's say we have Etsy fees of a $0.20 listing fee and selling fee of 5%. If we add this to our $72 we now have $75.80 (72 * .05 + .20 +72).
So now our new number is $75.80.
Step. 5 Shipping Supplies
If you're shipping the wreath, you'll want to include the price of the box, packing tape and paper to print the invoice. I get most of my boxes for around $1 per box and tape $2.70 per roll so we'll say $2 for shipping supplies.
So now our final number is $77.80
In conclusion, a $30 wreath to make should be priced at a minimum of $77 retail giving you a paycheck of $12 to add to the family checkbook and a profit of $35.8 to invest back into your business. Sweet!
Step 6. Don't Price Based on Emotions
I know what you might be thinking; I would never pay that much for a wreath! But listen, my friend, you don't price your goods based off of what YOU can afford, you price them based off a formula like the one above. Take your emotions out of the equation and don't overthink it.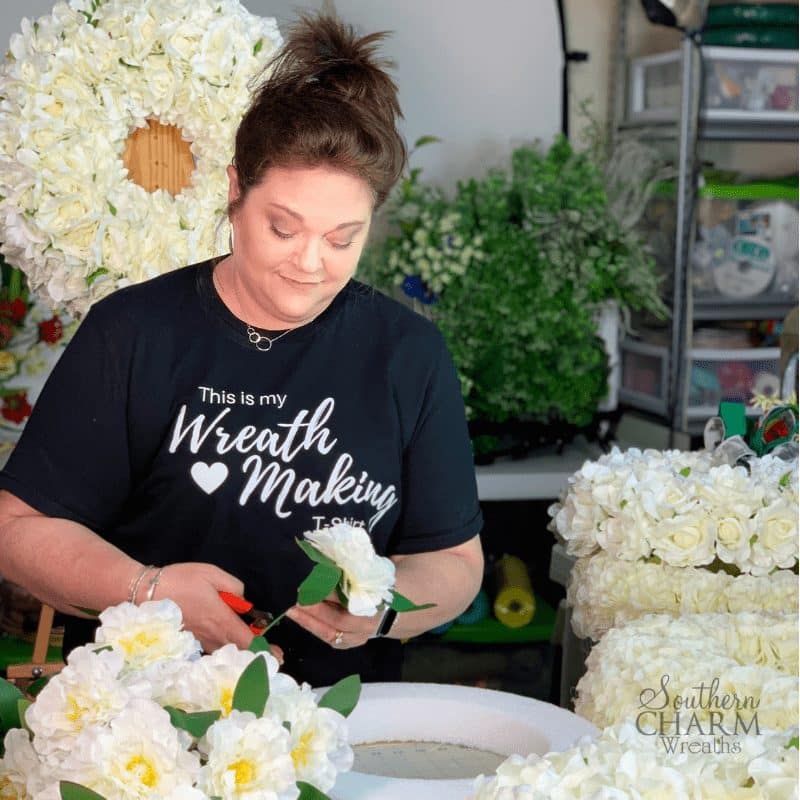 Other things to consider when pricing your wreaths to sell for profit:
If you're selling at a craft show and you don't think you can get $77 for a wreath, then consider selling other places where you know customers will spend that much. I hate seeing $150 wreaths being sold for $50 at craft shows. How will you ever grow and expand your business by not pricing your worth? Etsy is a great place to start selling and buyers are willing to pay more for quality, handmade items than some of the small town craft shows.
And what about the supplies you're able to buy on sale? Should you use the sale price or full price when calculating your cost? The answer is to always use the full price because you may need to make more and the sale price doesn't last forever and you'll have to pay the full price eventually, which will cause you to lose profit.
Another tip I teach my inner circle members is to save time, and therefore money, by batch processing your wreath production. For example, instead of making one wreath from start to finish, taking the photos and then listing the item on Etsy, use one day to make 10 wreath bases, another day to add signs and ribbons to the bases, another day to add flowers, another day to take photos and another day to list on Etsy. Believe it or not, you can get more done when you batch process your work.
I hope you found this useful. Remember there is not just one way to price your wreaths for sell. And if you don't like my formula, try coming up with your own but the key is to stick to your guns and everything gets priced the same no matter if you used $20 in supplies or $50.
What questions do you have regarding pricing wreaths to sell? Comment below and ask.
Happy Wreathing,
Julie
If you enjoyed this post you might also like:
10 Mistakes Etsy Sellers Make | Etsy Tips for Beginners
How to Quickly Make Your Etsy Shop Photos Stand Out