How To Choose Ribbon Colors And Patterns For Multi Ribbon Bow Making
The first part of making any good wreath is making a show-stopping bow. There's a lot that goes into bow making, but it all starts with color. If you are overwhelmed with choices, I'm happy to help you learn how to choose ribbon colors for bow making.
These tips will get into the process of picking out colors and patterns that will do well in a multi ribbon bow.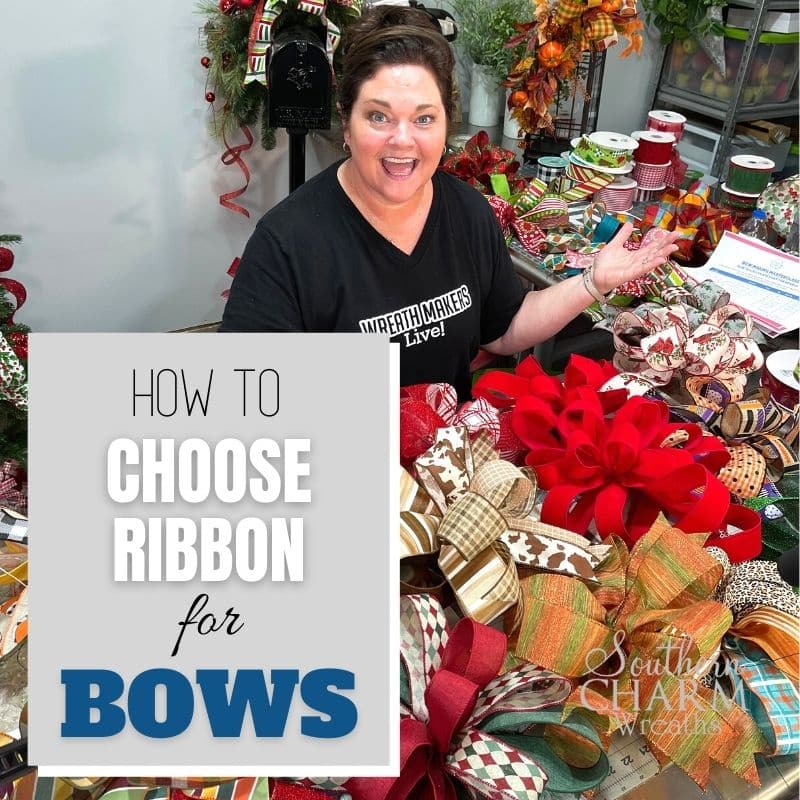 How To Choose Ribbon Colors: Essential Tips
There are seriously so many prints and sizes of ribbons! It's easy to just get really overwhelmed and not know what to do. So how do you make the best choices? Which colors and prints go best together? Can you use different prints in the same multi-ribbon bow?
This little guide is going to answer all of your questions! Once you read through these tips, you'll be able to match colors and prints like a pro!
1. Use A Solid To Match Different Patterns
When you are trying to mix different prints – like an animal print and vertical stripes – use a solid-colored ribbon to unify the two.
The solid prints are what bind everything together. Prints that might not look good together at first will make a lot more sense when you add that solid print.
When you choose the solid print, make sure it is the same shade as the focal ribbon. It should seamlessly bring everything together without standing out.
2. Build Off A Three-Color Ribbon
Another way to choose other ribbons is to start with a ribbon with three colors in it and then choose two other ribbons containing one of those three colors.
No matter what kind of print you have, if the other ribbons you choose contain one of the colors on the first ribbon, they will all go together.
I usually call that first ribbon the focal ribbon. That's the one I reference when I pick out the other colors.
3. Focus On Texture
When I talk about texture, I am referring to both visual texture (different patterns) and tactile texture (or texture you can feel with your fingers).
When you pair your patterns together, try to add lots of texture. This will give your wreath depth and visual interest.
4. Pull From Your Sign To Choose Ribbon Colors
If you are adding a sign to your wreath, pull colors from the sign and use them in your ribbons. Any color on the sign – even accent colors or cream and white colors – are all fantastic choices for ribbons.
When you match the ribbons to your sign, you are creating more unity between all the different parts.
As you try to use ribbons that coordinate with the sign, pay close attention to the different shades you are using – those should match too. For example, a holly leaf on a Christmas sign will be a darker green than a lime green from a summertime sign.
5. Vary Your Ribbon Sizes
When you add ribbons of different sizes, you are creating visual texture within the bow. The focal ribbon should always have the dominant pattern. Then, use different widths of ribbons to match it.
Sometimes I will use printed ribbons in larger sizes and then unify them with a solid ribbon in a smaller size.
Watch The Video: How To Choose Ribbon Colors & Patterns For Bows
If you prefer to watch a video, check it out below!
Final Thoughts
There you have it! Have fun and start pulling out ribbons with similar colors and alternating patterns. You will be surprised at how much fun it is to start creating your own works of art!
Once you learn the basics of how to choose ribbon colors and patterns, you will look forward to the fun of multi-ribbon bow making.

If you enjoyed this post, you might also like:
Like this article? Pin it for later!