How To Make A Deco Mesh Sunflower Fall Wreath
Create a stunning sunflower fall wreath with a deco mesh base. This fall wreath is large and showy and has the best orange and blue colors.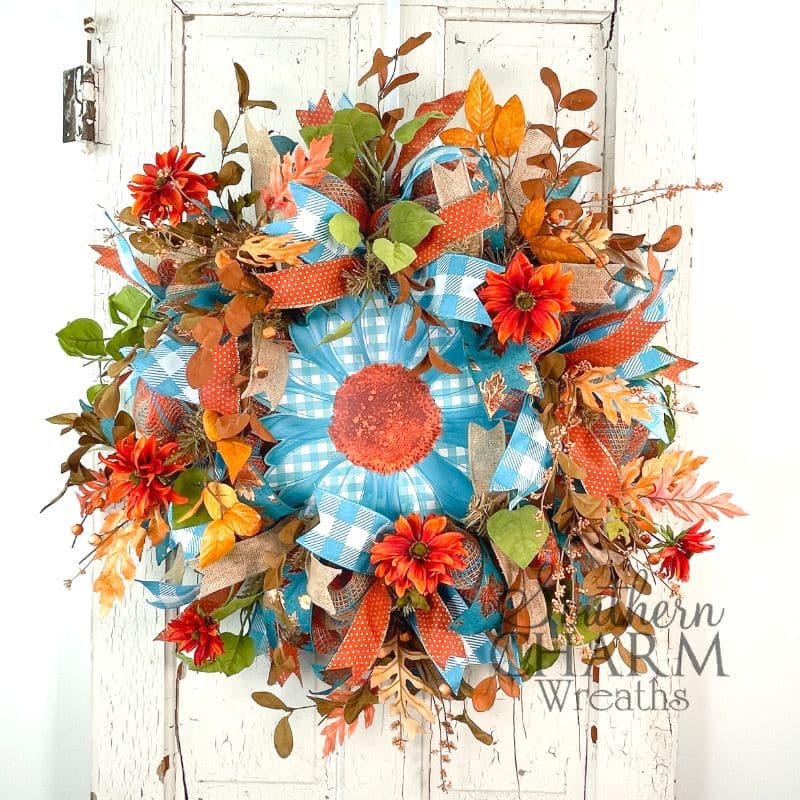 How to make a deco mesh sunflower fall wreath
I'll bet when you heard this was a sunflower wreath, you imagined bright yellow flowers! The turquoise and orange colors probably surprised you as much as the turquoise sunflower sign surprised me when I first saw it.
Let me tell you, I fell in love with this large turquoise sunflower sign. As soon as I saw it, I knew I had to design a wreath around it. I think y'all are gonna love this fluffy deco mesh fall wreath as much as I do.
Deco mesh wreaths are fantastic to stock in your Etsy shop – they show off well and attract attention at craft shows. This turquoise fall sunflower wreath is an easy wreath to make, so you can make a few of them and sell them all!
Don't be intimidated by deco mesh wreaths. The more you practice and create, the better you'll get. Let's get started!
This post may contain affiliate links for your convenience. Click here to read my full disclosure policy.

Supplies for this project:
10.5" Orange and Blue Striped Deco-Mesh
2-tiered Work Wreath Base
Turquoise Sunflower Sign
Pumpkin and Berry Spray
Fall Greenery Bush
Orange Fall Leaves Bush
2.5" Turquoise Buffalo Plaid Ribbon Roll
2.5″ Turquoise and Copper Wired Ribbon
1.5" Burlap Ribbon Roll
1.5″ Orange and Gold Wired Ribbon
Pipe Cleaner
Wood Easel (Optional)
How to make a sunflower fall wreath: Step-by-step tutorial
1. Insert the deco-mesh onto your frame
First, secure the end of your deco-mesh into the inner ring of your work wreath by twisting it into your pine tines. Then, measure 10" loops and attach the mesh to the next set of ties. Curl the sides under to hide your edge and poof the loops as you go. Continue throughout the inner ring of your work wreath.
Once you've completed the inner ring, continue to make the 10" loops throughout the outer ring. Twist each loop in place with your ties and fluff the loops as you go.
Once you've reached the last loop on the outer ring, add a third ring of 10" loops in between. Secure with the outer ring pine tines. Cut the end of the mesh and tuck it under a loop.
2. Add your ribbon streamers
Layer the burlap-colored ribbon on top of the turquoise and copper leaf ribbon tail and fold it in half to find the center. Pinch the center and add to your work wreath pine tines. Adjust the streamers to be in an "X" pattern. Repeat this process to add streamers into each set of ties.
Adding the streamers adds another layer of texture and color! I used four different colors of ribbon, so mix up the sizes and patterns as you go around your wreath form.
3. Attach your blue sunflower sign
If your sign doesn't already have wires on it, you'll have to use a metal punch to create small holes on the sign and thread some florist wire through it.
Then, feed the wire and attach it to the work wreath base. Twist the wire to secure your sign. Do the same to attach through the top of the metal sign onto your wreath base. Attach each side with wire as well.
Pull the mesh loops out from under the sign so they are fluffed.
4. Add some greenery
If you have one, hang your wreath on an easel so you can see how everything will look when it hangs up on a door. Attach the greenery to the outer ring. Then, work your way around the inner ring and hot glue the stem into the pine tines, evenly spacing the remaining greenery you have.
Continue to repeat this process until you are satisfied with how your wreath looks.
5. Final touches
Take a step back and look at your wreath. If you see some empty spots, fill them in with more greenery or florals. Continue adding more orange fall leaf stems around the wreath base in various spots. The bright fall colors of the leaves tie in well with your blue sunflower sign and buffalo-checked ribbons.
Fluff or adjust any ribbons and greenery that may have been flattened. Enjoy your beautiful fall wreath!
Watch the video: How to make a sunflower deco mesh wreath
If you enjoyed this post, you might also like:
Like this post? Pin it for later!