How to Make a Fall Deco Mesh Wreath
Today in the wreath shop we are making this gorgeous deco mesh fall wreath with ribbon streamers, silk flowers, and a pretty little pumpkin welcome sign. If you've never worked with deco mesh and a work wreath before, watch me work in the video tutorial and you might just find your new obsession!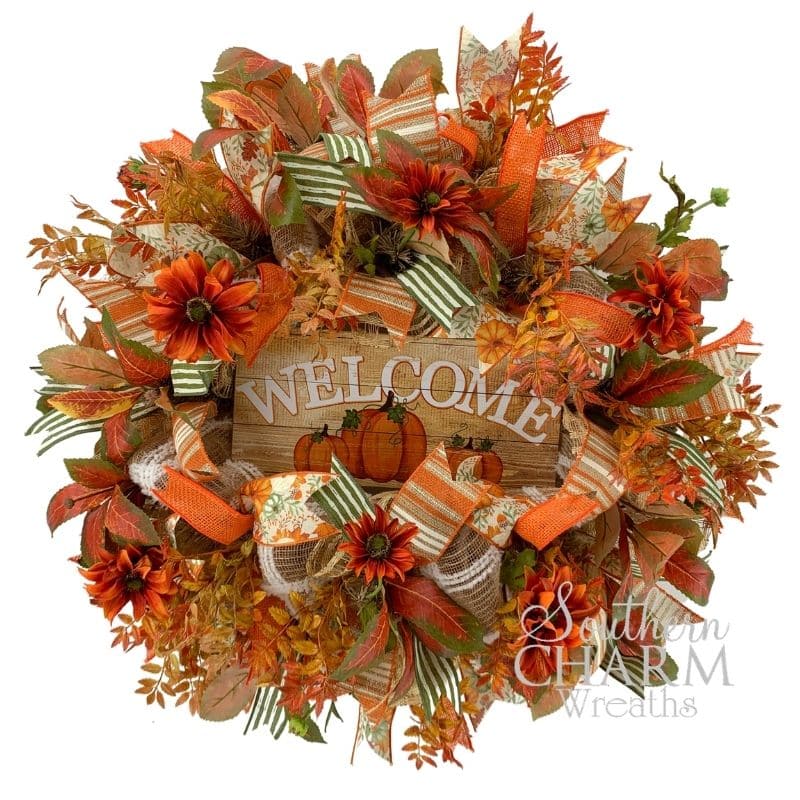 Fall Deco Mesh Wreath Supply List
This post may contain affiliate links for your convenience. Click here to read my full disclosure policy.
You'll Need:
24″ work wreath
10.5″ Deco Mesh roll
Accent Deco Mesh
Four coordinating 1.5-2.5″ ribbons
Welcome Sign
2 Fall silk filler bushes
Silk flowers
Tools:
Wire Cutters
Rotary Cutter
Rustic Wire
Florist Wire
Hot Glue Pan
Hot glue
Craft Mat

Assembling Your Fall Deco Mesh Wreath
Step 1 – Before you start on the wreath, cut nine 13″ streamers of each ribbon with dovetail ends, and set them off to the side.
Step 2 – Now we will start putting the deco mesh on the work wreath. Start with your main roll of mesh, making 10″ loops all the way around the inside rung. Secure each loop with the twist tie arms on the wreath frame. Once you make it all the way around, just slide the mesh down to secure on the outside rung, and work around it the same way.
Then, if you're adding an accent mesh, you'll cut it into strips with your rotary cutter and accordion fold each one in the middle, securing with the same twist tie arms. Place strips in around the whole wreath until it looks nice and even.
Step 3 – Next, bring out your ribbon streamers and you'll start adding them into the wreath in pairs. Try and make sure you mix up your ribbon combinations so it's not the same ones paired together each time and you don't end up with big patches of the same color.
Attach the ribbon in the same way you attached the accent deco mesh. Accordion fold them in the middle, and twist tie them onto the base.
Step 4 – Now we get to add our sign! This is the focal point, but we didn't put it on first this time because we don't want it to get covered by all the mesh and ribbon. Just attach a piece of floral wire to each end on the back of the wreath, and then secure it tightly to the work wreath.
Step 5 – Use a piece of rustic wire to add a hanger to the back. I'll link a tutorial at the bottom of this post for you on how I make my wreath hangers.
Step 6 – Next, cut up your filler bushes into individual stems, and start gluing those into the twist ties on the work wreath. Make sure it catches those twist ties instead of just ribbon and mesh to make sure it stays put.
Step 7 – Now go in and add a few flowers wherever your wreath needs a pop of color or a little more texture. Try to space them out around the whole wreath to give it a nice even finished look.
Fall Deco Mesh Video Tutorial
If you enjoyed this and want to learn to wreath the professional way, join me in our exclusive Wreath Making of the Month Club!
Happy Wreathing,
Julie
How to Make a Hanger on the Back of a Wreath
If you enjoyed this post, you might also like:
Fall Farmhouse Table Arrangement
Fall Deco Mesh Wreath Tutorial
Was this Tutorial Helpful? Pin it to save for later!