How to Make a Double Ribbon Bow the Easy Way
In this video, learn to make a double ribbon bow the easy way using the EZ Bow Maker. If you have arthritis or other pain in your hands, this is an easier way for you to make your bows!
This post may contain affiliate links for your convenience. Click here to read my full disclosure policy.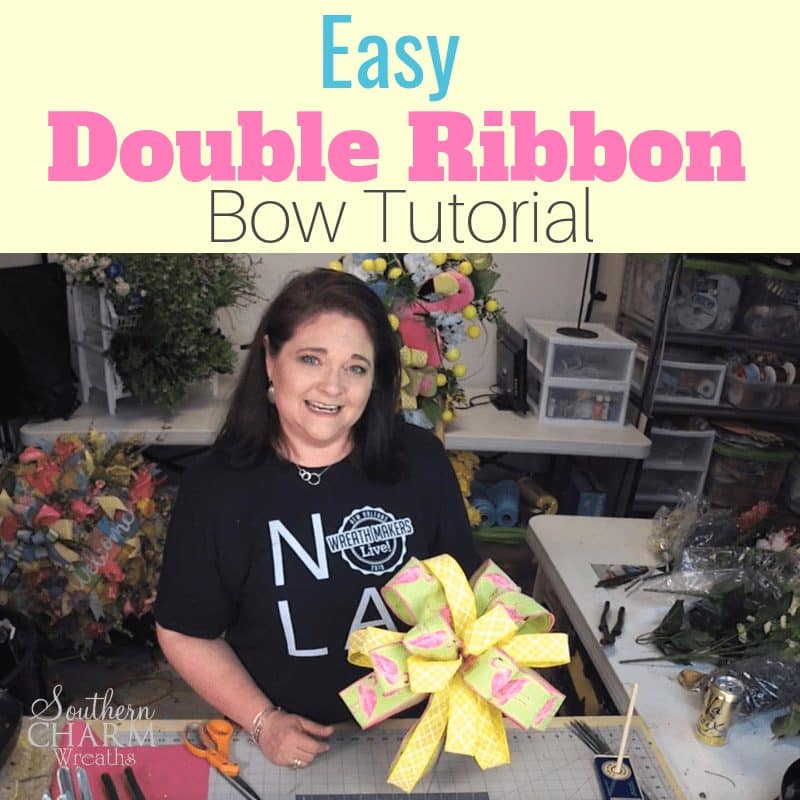 I recently taught my Wreath of the Month Club members how to hand tie this exact bow, which is faster than using a machine but some members suffer from arthritis in the hands and I wanted to show them a less strenuous way to make a bow with two ribbons. Enjoy!
[Tweet "How to Make a Double Ribbon Bow the Easy Way"]
Supplies
EZ Bow Maker
Hammer or rubber mallet
Wired ribbon
Wire
Scissors
Wire Cutters
Steps for Making a Double Ribbon Bow with the EZ Bow Maker
Step 1 – Setup EZ Bow Maker
If you haven't yet, begin by setting up your EZ Bow Maker. Follow the instructions to hammer in the wooden dowels with a hammer or rubber mallet.
Step 2 – Prep Ribbon

Unroll lots of the ribbon from two rolls of ribbon (two different styles).
Take one end of each of the ribbons and stack one on top of the other.
Step 3 – Make Bow

Gather a section of the ribbons and place it between the dowels. 
Lay ribbon along the EZ Bow Maker and measure out 7 inches for a loop.
Bring it back between the dowels while twisting the ribbon. Next measure out a loop on the other side (7 inches) and once again bring it back between the dowels and twist.
Once you have three 7 inch loops on each side, make two 6 inch loops on each side, once again twisting as you bring it back between the dowels.
Move the 6 inch loops around to form an "x".
Following the same process, make a 5 inch loop on each side. I call these the rabbit ears.
Next, lift the bow out of the EZ Bow Maker. Wrap a piece of florist wire around the center of the bow. 
Fluff and shape the bow loops and then twist the wire to tighten in the back.
How to Make a Double Bow the Easy Way Video
As you can see, the EZ Bow Maker should be especially helpful for those who find it difficult to hold the ribbon tightly in your hand while making your bow. Learn to hand tie more bows in this free video here.
Let me know if you enjoyed this and don't forget to join me on Facebook so you can watch me Live!
If you enjoy watching me and/or learning to make wreaths of various styles, join me in my Wreath Making of the Month Club.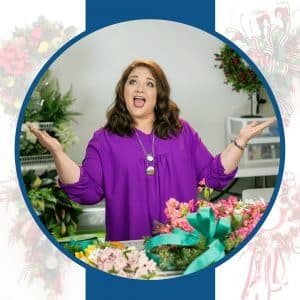 If you found this tutorial useful, please share it now.
Happy Wreathing,
Julie
If you enjoyed this post, you might also like:
How to Make a Simple Spring Wreath Bow
Transfer Print to Chalkboard Ribbon
How to Make a Bow with Multiple Ribbons