How to Make a Silk Flower Summer Lemon Wreath
Lemons are very popular right now and you will not want to miss out on this step by step tutorial of how to make a Silk Flower Summer Lemon Wreath I created this week!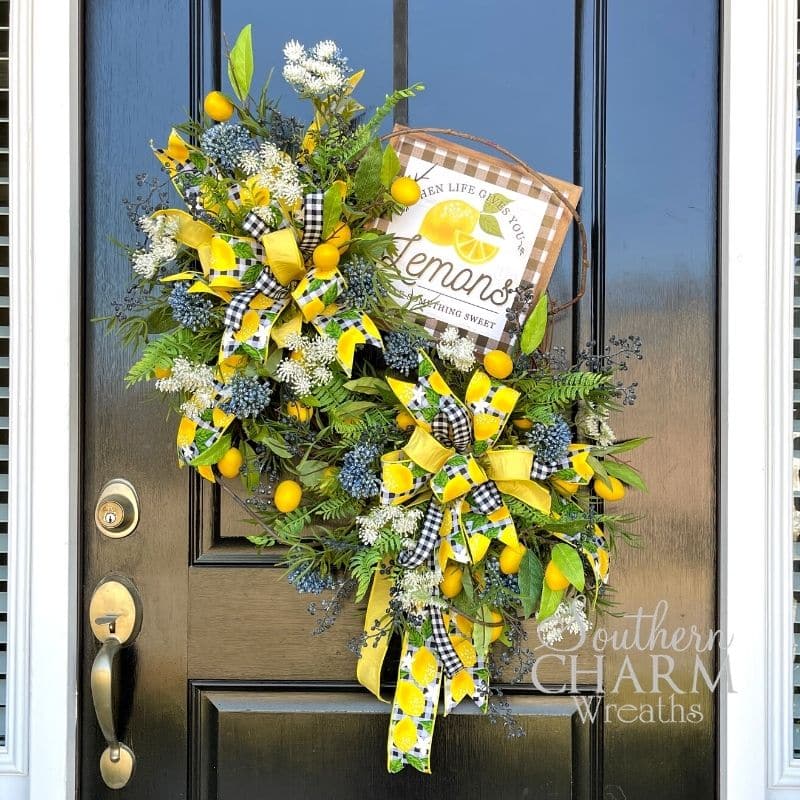 How to Make a Silk Flower Summer Lemon Wreath
This wreath just makes me want to go grab a large glass of lemonade! Nothing is better on a hot summer day than a large ice cold glass of lemonade, well maybe an adorable lemon wreath! You will love seeing this bright yellow silk flower summer lemon wreath on your front door this summer because it is not only fun to make but it will look amazing hanging on your front door!
Supplies for this Project
Lemon Sign
Lemon Wired Ribbon
1.5″ Yellow Ribbon
1″ Black and White Checked Ribbon
Greenery
Lemon spray
Blue Seed Pods
Textured stem
White Queen Anne's Lace
How to Make a Silk Flower Summer Lemon Wreath– Step by Step Tutorial
1. Prep and attach your sign
Flip your sign over to the back and attach wire to the sides using a stapler. These attachment points will be how you attach your sign to your wreath form by threading the wire through the grapevine and twist tight on the back side. Cut off any excess wire and give the wreath a good shake to make sure your sign is nice and secure.
2. Make and attach your bow
Create an 8 inch tail, pinch it, and make a 12 inch loop. Twist it and make one more loop, pinching it in between two fingers and twist away from you. Cut the tail the same length as the first one you measured out.
Pullover a 1.5-inch yellow solid ribbon and do the same thing layering them on top of each other. Add in your one-inch ribbon and do the same loop as previous. Secure with wire. Pulling wire tight. Twist and secure.
Dovetail your ribbon and roll under any tails that may fray on the ends. Attach your bows in a diagonal one of the left beside your lemon sign and the other on the bottom right in a diagonal
3. Attach a hanger to wreath
Using rustic wire, create a hanger by making a loop and threading it through the top of the grapevine, and pulling tight. It is much easier to do it now before you add all your greenery and floral pieces to your wreath.
4. Add greenery
In this wreath, we will be using three different types of greenery for texture purposes. Start by prepping your greenery pieces by separating them and trimming down the stems that need trimming. Be sure to cut them down enough so you are not covering up your sign when you place your greenery in your wreath.
Insert your first type of greenery into the grain of the grapevine. Start by placing around the bottom bow and then add some pieces around the top bow. You are just developing the line of sight while placing.
Keep adding your next two pieces of greenery by repeating the same process.
5. Add focal lemons
To add your focal lemons start by cutting your lemon spray into separate pieces. Trim the stems down so that you can add them to your wreath. Dip the end of each stem into hot glue before placing and add your lemon stems starting around your bottom bow. Repeat adding more lemons around the top bow. You may need to move these lemons around after they are placed to bring them towards the front of the greenery.
6. Add blue seed pods
These blue seed pods are a great way to add more texture and color to your wreath. Start by trimming down the stems where needed and separating these seed pods into smaller sections. Add by dipping them into the hot glue pot and placing them up under your top right bow and working your way from top to bottom placing these in and around your bows.
7. Add textured stems
Before adding these stems be sure to work your stems to look more natural by moving and arranging each piece of the stem. Do not be afraid to try new things! Let's add this piece to the bottom middle of the wreath. Attach it from the back of the wreath pushing it deep into the grapevine.
Continue adding more textured stems around the bows and along the sides of the wreath.
8. Final touches
Using leftover greenery fill in any gaps or empty spaces you may see. You can do this simply by dipping the ends of some greenery pieces that you have leftover in hot glue and placing them into grapevine form.
Place a few pieces of white Queen Anne's lace picks around in your wreath. Just find a few empty spots that may need a little height and place these there. You will watch the wreath come together as you place those Queen Anne's lace into the wreath!
Lastly, add some ribbon streamers to the bottom using your ribbon you used to make your bows. You can if you like add one ribbon tail coming out of the bottom of your left side bow.
Watch The Video: Silk Flower Summer Lemon Wreath
If you enjoyed this post, you might also like:
Liked this How to Make a Silk Flower Summer Lemon Wreath? Pin it for later!