DIY Faux Lemon Centerpiece with Hydrangeas
Am I the only one who's itching to get outside and enjoy the beautiful almost-summer weather? Every time I look outside I get a little more excited for summer weather! But if I can't get out, you can be darn sure I'm at least going to decorate like it! So today in the wreath shop, learn how to make a faux lemon centerpiece with hydrangeas in a rustic container for your summer home decor.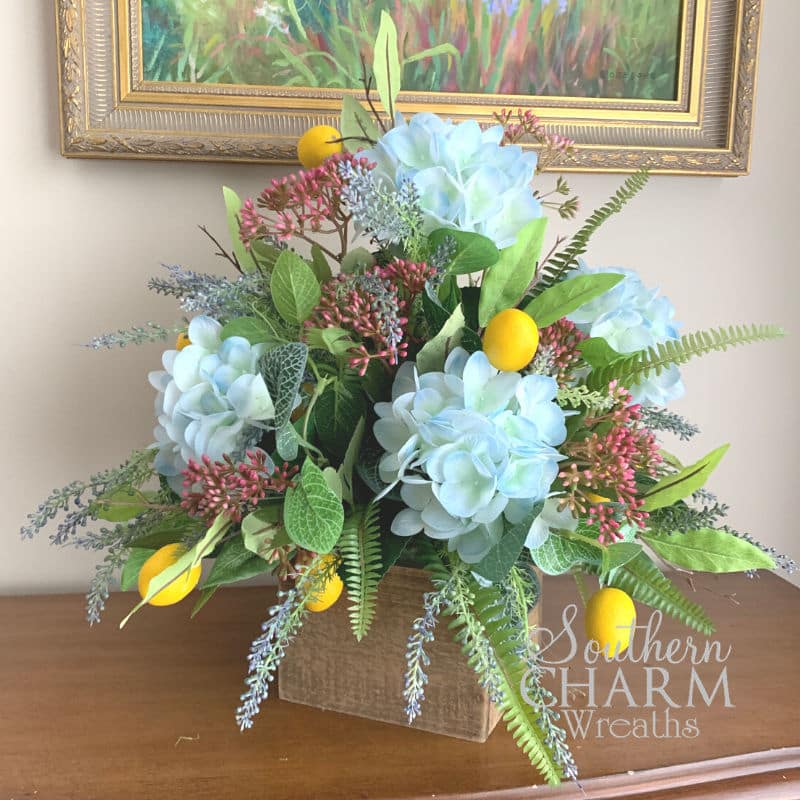 Isn't this summer lemon centerpiece so pretty! The combination of light blue and bright yellow just makes me think of a beautiful sunny day.
But let's not waste any more time daydreaming about that – Let's get started!
This post may contain affiliate links for your convenience. Click here to read my full disclosure policy.
Faux Lemon Floral Arrangement Supplies
Rustic Container
Hydrangea Bush
Berry Bush
Lemon Sprays
Blue Vein Greener Bush
Fern Bush
Berry Grass
All of the florals and greenery I used for this arrangement are from Greenery Market on Etsy. (Formerly Trendz And Gemz. The name may have changed but it's still one of my absolute favorite places to order floral supplies.)
You'll also need:
Foam
Glue Pan
Glue
Wire Cutters
Floral Picks
Florist Tape
Steps for Making a Lemon and Hydrangea Centerpiece
Step 1 – The first thing you'll need to do is prep the base for your arrangement. This means gluing in in the dry foam and securing it with wooden picks. Then covering it with a thin layer of moss.
If you'd like to learn some handy tricks and see exactly how to prep the base for any floral arrangement (right down to how a professional wreath maker cuts styrofoam) head over to my Youtube channel and watch How to Foam and Moss a Container for Silk Flowers
Step 2 – These pretty hydrangeas will take up the most space in your arrangement, so you'll want to start by glueing in those stems. Keep enough space between them to fit in some greenery and the lemon stems.
Step 3 – Next you'll add in your base greenery. I love the Blue Vein Greenery bush from Greenery Market on Etsy. It matches the blue of the hydrangeas and brightens up the whole piece. Perfect for a light, summery arrangement! Glue several stems under and around the hydrangeas until you have a nice base.
Step 4 – Now it's time to add in the lemons and other fillers. The lemons are the focal point of this arrangement, so just be sure you don't cover them up or use any fillers that take away from how big and bright and cheerful they are! Just keep playing around with your different fillers until everything looks how you like it.
And there's your Faux Lemon and Hyrdangea Centerpiece!
Tip for Making Centerpiece Arrangements
I highly recommend getting a Lazy Susan while designing your arrangements so that you can quickly get a bird's eye view.
When you hang a wreath, you only see it from one direction so it's no problem to make it while it's stationery (although I never do that either! If you subscribe to my Youtube channel, you'll probably notice I am always picking up my wreath and moving it around while I work.)
But a table arrangement is likely going to be seen from almost every angle, so you want to make it easy to see all those angles while you are working. A Lazy Susan if PERFECT for that! Just watch how many times I turn it while I'm working – even on such a small project.
How to Make a DIY Faux Lemon Centerpiece with Hydrangeas
If you enjoyed this and want to learn to wreath the professional way, join me in our exclusive Wreath Making of the Month Club!
Happy Wreathing,
Julie
If you enjoyed this post, you might also like:
How to Make a Hydrangea Centerpiece
Liked this Rustic DIY Faux Lemon Centerpiece? Pin it for later!