The Correct Way to Insert Flower Stems Into Grapevine Wreaths
Alright y'all, I'm back again with another quick Tip Tuesday video for you. This one's geared toward the beginner wreath makers out there, but it's one that hardly ever gets addressed in wreath making tutorials: the correct way to insert flower stems into your grapevine wreath.
Learning how to do this correctly cut my wreath making time – no joke! – IN HALF! Because a lot of new wreath makers (my 10-years-ago self included) do this incorrectly and wind up spending just as much time cleaning up all the stems and hot glue that are sticking out the back as they do actually putting the wreath together.
So let's get you started the right way!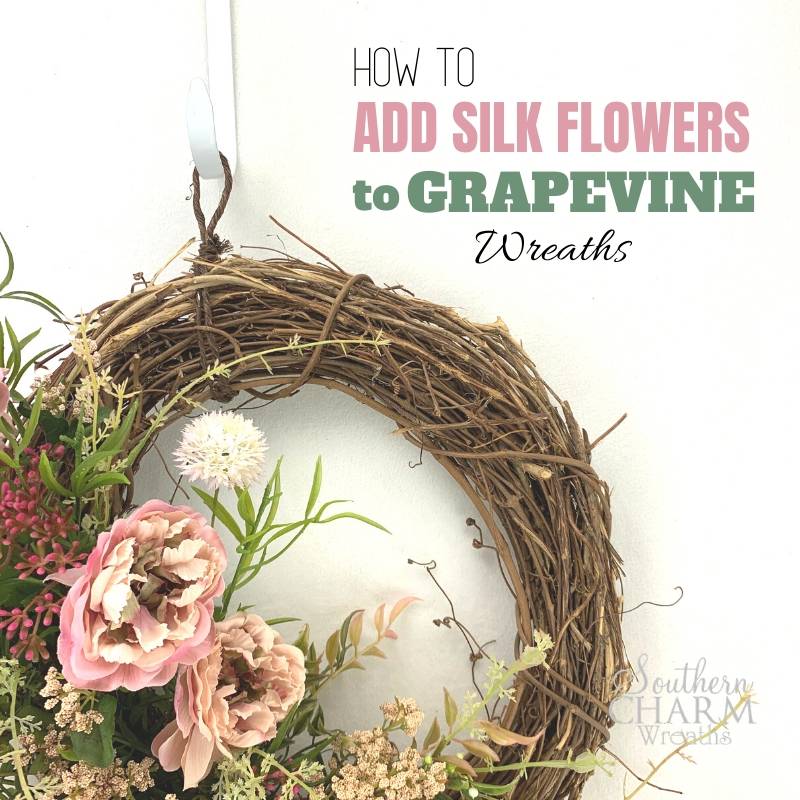 This post may contain affiliate links for your convenience. Click here to read my full disclosure policy.
The Correct Way to Insert Stems in a Grapevine Wreath
A lot of beginners think that because you want the the flowers to be facing forward on your wreath, that you should be placing the stems straight back into the base. They spend time clipping openings into the grapevine so that it's wide enough to fit the stems. Then after it's finished, they have to spend time clipping those same stems off of the back. Not to mention all the extra hot glue strings that come out the back with them.
That's just creating extra work!
But if you play around a bit with the flowers, you'll notice that most of them have wire inside the stems which makes them bendable. And that's great for making an arrangement lay the way you want it. But it also means that you can bend the stem close to the flower and now you can insert the stem into your wreath base sideways!
You can watch the short video below to see me demonstrate. But essentially, what you'll want to do is locate the spot on the wreath that you want your flower to stick out, then dip your stem in hot glue and slide it into the wreath base WITH THE GRAIN of the vines. The stems will weave themselves into the inside of the grapevine wreath. You should hardly have, if any, popping out the back when you're finished.
You'll have a lot more room to add in stems this way, but if it's really thick in one area, use a set of clippers to cut out one or two pieces of vine and that will make plenty of room for your stems.
Was this helpful? Don't forget to subscribe to my Youtube channel so you don't miss any more Tip Tuesday tutorials!
Craft Tip Tuesday Video – Clean Up Grapevine Wreaths
If you enjoyed this and want to learn to wreath the professional way, join me in our exclusive Wreath Making of the Month Club, seats open soon!
Happy Wreathing,
Julie
If you enjoyed this post, you might also like:
How to Clean Up Grapevine Wreaths
Save Time with an Electric Skillet Glue Pan
How to Make a Hanger on the Back of a Wreath
Was this Tutorial Helpful? Pin it to save for later!