Make a Beautiful Lemon Wreath to Welcome Guests
Make this cheerful DIY lemon wreath, complete with sunny silk ribbons, lemon sprays, and white silk hydrangeas. It's the perfect way to welcome loved ones to your home!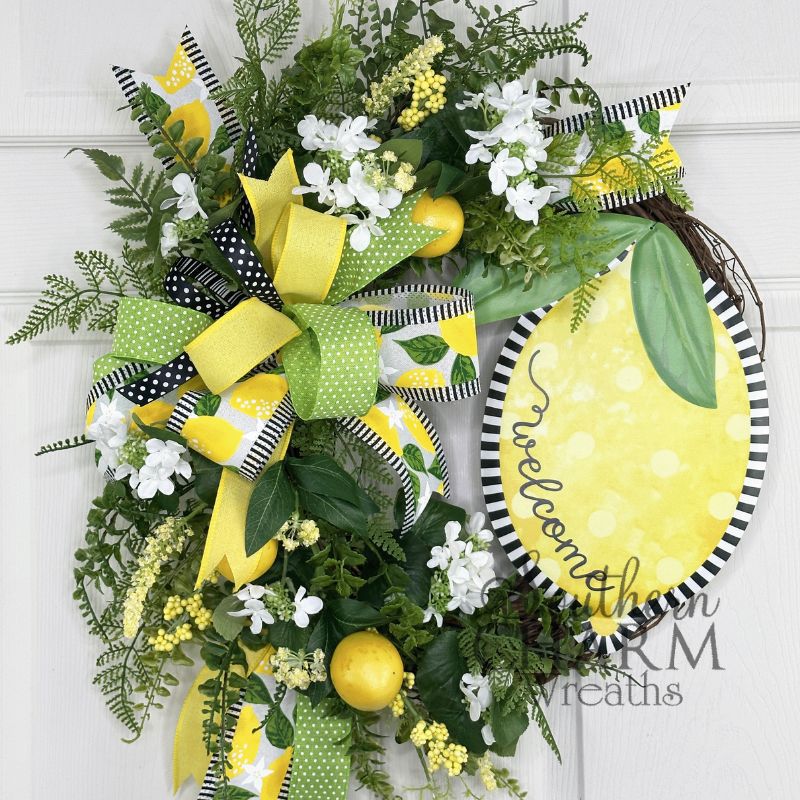 DIY welcome lemon wreath
Whether you're experiencing a fool's spring or temperatures are reaching summer level, it's never too early for a fun, summery wreath. And nothing says summer better than a wreath with lemons!
If you have a handmade business, it's a great idea to include every season in your repertoire. And this DIY welcome lemon wreath is the perfect summer addition.

Supplies for this project
You'll need:
Zip ties (for anchoring)
Hot glue gun
Steelpix machine (optional)
2 ½ inch wired lemon ribbon
1 ½ inch green polka dot ribbon
1-inch yellow ribbon
½ inch black polka dot ribbon
White silk hydrangeas
Greenery
How to make a DIY welcome lemon wreath: Step-by-step tutorial
1. Prep your base
First, prep your base by attaching your lemon welcome sign to one side of your grapevine wreath, using zip ties as anchors.
2. Make your bow
To make your bow, we're going to be using four different ribbons.
Start with your 2 ½ inch lemon ribbon. Measure out a 10-inch tail, pinch, and twist. Then measure out 12 inches for a 6-inch loop, pinching and twisting again. Repeat this step for one more loop, then trim your tail.
Repeat this exact process for your green polka dot ribbon, adding it on top of your lemon ribbon.
For your yellow ribbon, complete this process, this time measuring out 10 inches for two 5-inch loops.
Finally, measure an 8-inch tail for your black polka dot ribbon, then measure 10 inches for two 5-inch loops.
Secure your finished bow in its center, wrapping florist wire around the core. Adjust the bow, fanning out loops before securing completely.
Attach your bow to your grapevine wreath opposite the sign, securing it with florist wire.
3. Add your lemon picks
Next, it's time to add your lemon picks. Measure and trim your first lemon spray, adding a steel pick to the end. Attach it to the bottom side of your bow, insert it into the grapevine, and secure it with hot glue.
Attach your next piece behind the first pick, allowing the spray to come out further at the bottom of the wreath.
Add the third pick to the top side of your bow, making sure it drapes in the natural position of the wreath.
3. Include greenery
Use greenery to fill in any holes, add texture to the wreath, and help draw the eye throughout.
Begin filling in holes with linear, yellow-green greenery that matches closely to your lemon sprays. Make sure your design is symmetrical throughout.
Then, soften your design with some added ferns, including little bits around the edge of your wreath. Allow them to drape with the natural movement of your base. Remember to secure everything with hot glue.
4. Attach accent flowers
Next, add some small white silk hydrangeas to help break up the color throughout the wreath. Trim and add them evenly through the arrangement, using steel picks when necessary.
5. Finish your DIY welcome lemon wreath
Add two ribbon streamers to the bottom of the wreath to draw the eye down.
Then, finishing touches!
Dovetail all of your ribbon ends and fluff up your greenery. And just like that, your summery lemon wreath DIY is complete!
Watch the video: How to make a DIY welcome lemon wreath
If you enjoyed this post, you might also like:
Like this post? Pin it for later!