DIY Summer Watermelon Swag Wreath
Learn how easy it is to make a watermelon wreath. This DIY Summer swag wreath is an attention-grabbing idea for your front door!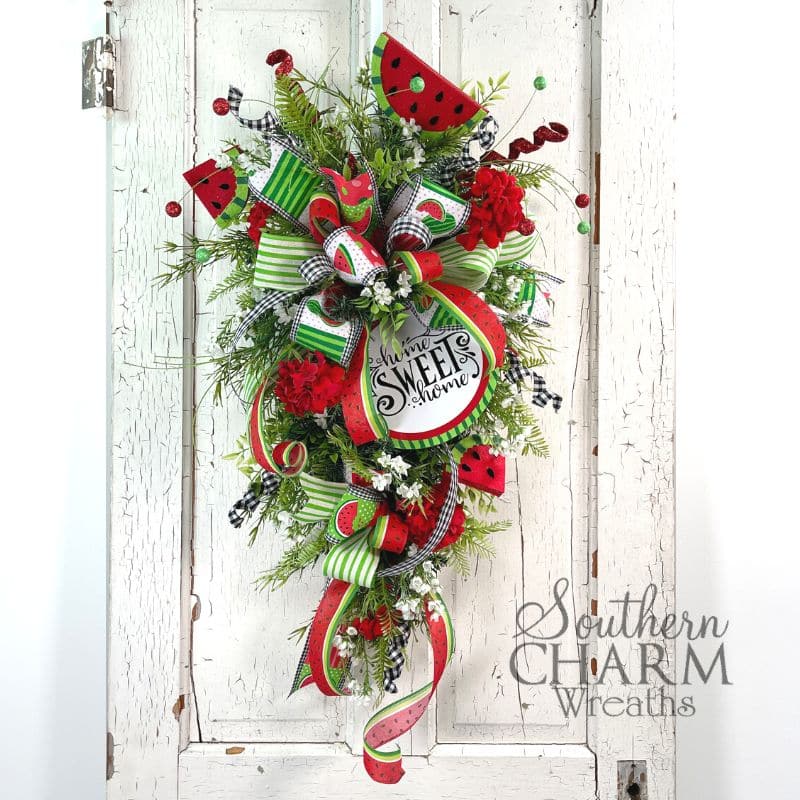 This summer swag wreath really puts a fun new twist on home sweet home! I can't tell if I love the play on words more or the fun, bright red colors.
If you make and sell wreaths on Etsy or at craft fairs, then put this in your rotation. The bold watermelon sign and ribbons will grab everyone's attention and bring them to your booth.
Watermelon is one of those crowd-pleasing types of fruit, and it is the perfect thing to hang up from May to September.
This is a really fun way to use up all of your watermelon-themed ribbons, floral picks, and cute signs. Red and green are the perfect colors and are so easy to find.
This post may contain affiliate links for your convenience. Click here to read my full disclosure policy.

Supplies For This Project
28-inch Evergreen Swag
Watermelon Sign
Multi-Ribbon Bow
Greenery
Various Summer Flowers and Greenery
DIY Summer Watermelon Swag Wreath: Step By Step Tutorial
Follow the steps below and make your own watermelon swag wreath. Remember, my tutorials are just to give you some beginner guidance. Use your creativity to make your wreaths uniquely how you like them to look.
Step One: Make Your Bow
The focal points of this arrangement are going to be the bow and the sign. Then, we are going to have all the other parts tie in with the theme of the sign.
You can make your bow however you like. I used four ribbons that all matched and complimented my watermelon sign.
Finish off your bow with florist wire, and then attach it to your swag. I placed my bow at the top of the teardrop evergreen swag so the sign would be below it.
Step Two: Attach The Sign
Use the correct tools to punch a hole in your metal sign. Then, thread florist wire through the sign and attach it securely to your evergreen swag base.
I placed my sign below the multi-ribbon bow, so everyone's eyes are drawn first to the big bow and then down to the sign.
Step Three: Add More Greenery
If you leave the evergreen base as it is, I think it looks like Christmas. I wanted to lighten it up with some summertime shades, so I glued in some lighter colors of greenery floral picks.
When you are choosing greeneries, choose the colors that are brighter green and add variety and shades of green for visual interest.
Mix in different colors with different textures too. It's all part of adding depth to your swag wreath.
Add the greenery picks around the bow, at the top of the swag wreath, and right below it, building your wreath outward.
Step Four: Make And Add Ribbon Streamers
As I made this swag wreath, I noticed the bottom of it was a bit bare, so I added some ribbon streamers in the empty spots.
Measure out 10 inches of ribbon, fold it in half and make a 5-inch loop. Then, use a ribbon in a coordinating print and repeat that step again, making another 5-inch loop.
Finish by using a 1 1/2-inch wired ribbon in another print, making another 5-inch loop. You are basically making a really quick multi-ribbon bow for the bottom of the swag.
When your small bow is complete, attach it underneath the sign.
Step Five: Fill In Spots With More Greenery And Flowers
Now that you can see some empty spots between your sign and the bottom bow, fill those spots with more summertime greenery picks.
At this point, you can just add greenery and call it done, or you can add some red flowers. I chose to add red flowers to accentuate the red in the ribbon and the sign. I even topped it off with some watermelon floral picks and fun red-coiled picks.
Go through your supplies and make this as full or as simple as you like it.
Watch the video tutorial below or leave a comment if you have any questions! Happy wreath-making!
How To Make A DIY Summer Watermelon Swag Wreath (Video Tutorial)
If you enjoyed this post, you might also like:
Liked this DIY Summer Watermelon Swag Wreath? Pin it for later!