10 Mistakes Etsy Sellers Make | Etsy Tips for Beginners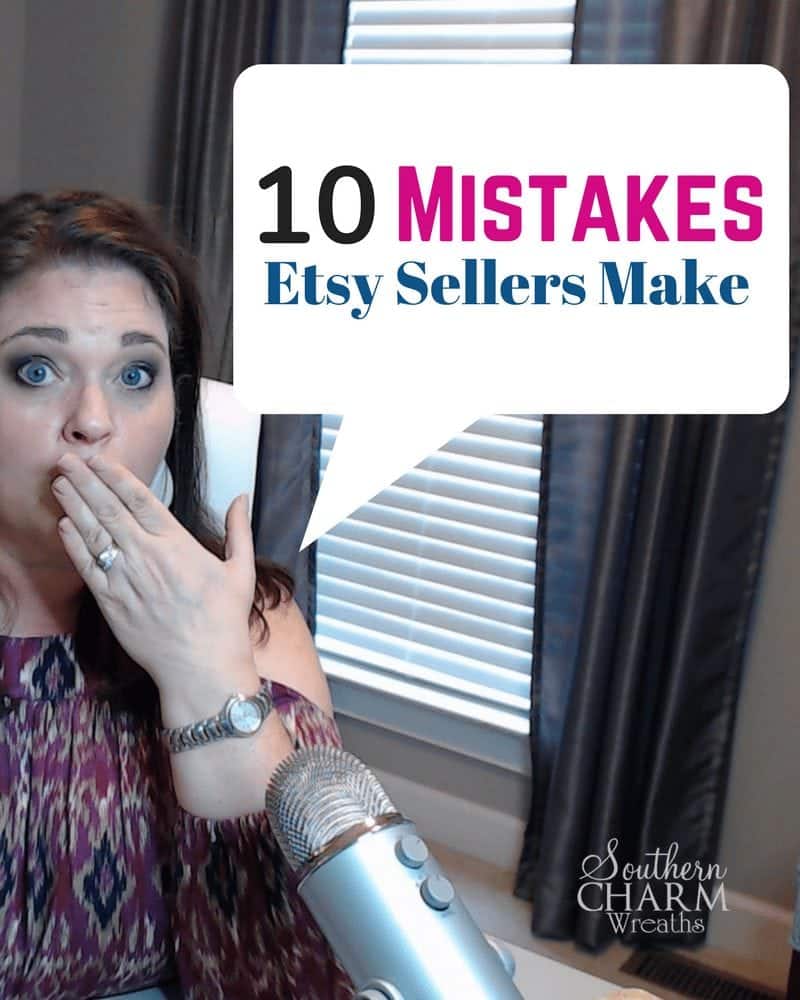 When I'm asked by other Etsy sellers to help them with their Etsy shop, I'm surprised to see so many making the exact same mistakes!  In this video, Etsy tips for beginners and how to get around these top 10 mistakes Etsy sellers make.  This post contains some affiliate links for your crafting convenience. Click here to read my full disclosure policy.
Before I go over my top 10 mistakes Etsy seller make, I want you to know that I've been selling for almost 10 years.  I struggled just like you did in the beginning thinking it was okay just to throw any picture up on Etsy and expect it to sell.  However, after researching how to best sell on Etsy, I realized quickly it's not as easy as you think and there is a formula to it.   Also, not every Etsy shop is created equal and while I do have a lot of knowledge when it come to selling wreaths, remember to do the research for your own niche and maybe my video will help guide you.
Top 10 Mistakes Etsy Sellers Make | My Tips for Etsy Beginners
Complete your entire Etsy shop when, including shop Policies.
Make sure you have clickable and cohesive looking shop and product images.
Use all or most of the Etsy shop photos.
Do your keyword research. Keywords are the only way you can get found.
Use keywords in your shop title, first paragraph of your shop description, product title, first paragraph of product description, and product tags.
Not all of your keywords should have a lot of competition. You want to get seen, not lost in all of the noise.
Put the most important keyword first in your title.
Tap into buyers emotions in your descriptions and product descriptions should be approximately 300 words. Think how can I improve the life of my customer with this product.
Once a day add products to your Etsy shop increasing daily to a minimum of 50 products in your shop.
Make products where you can sell multiple quantities of the same thing. Etsy algorithm likes to see sales and then renewals.
Top 10 Mistakes Etsy Sellers Make | My Tips for Etsy Beginners video
I hope you found these Etsy tips for beginners useful. What tips do you have to share? What do you sell on Etsy? Feel free to post your Etsy shop below so that I can check it out!
If you're ready to join the Etsy team to start selling your craft too, use my affiliate link HERE and receive 40 free listings.
If' you need a more hands on approach and would like to know how to open an Etsy shop or how to make additional money with your creative business, join me in my Business Inner Circle here.
XOXO,
Julie
If you enjoyed this post, you might also like:
3 Signs You Might Be Ready for Creating a Membership in your Creative Business
How to Make Your Etsy Shop Photos Standout