My Favorite Wreath Supply Subscription Box
Looking for a fun way to get wreath supplies? This wreath subscription box is full of them – and this is why it is my all-time favorite!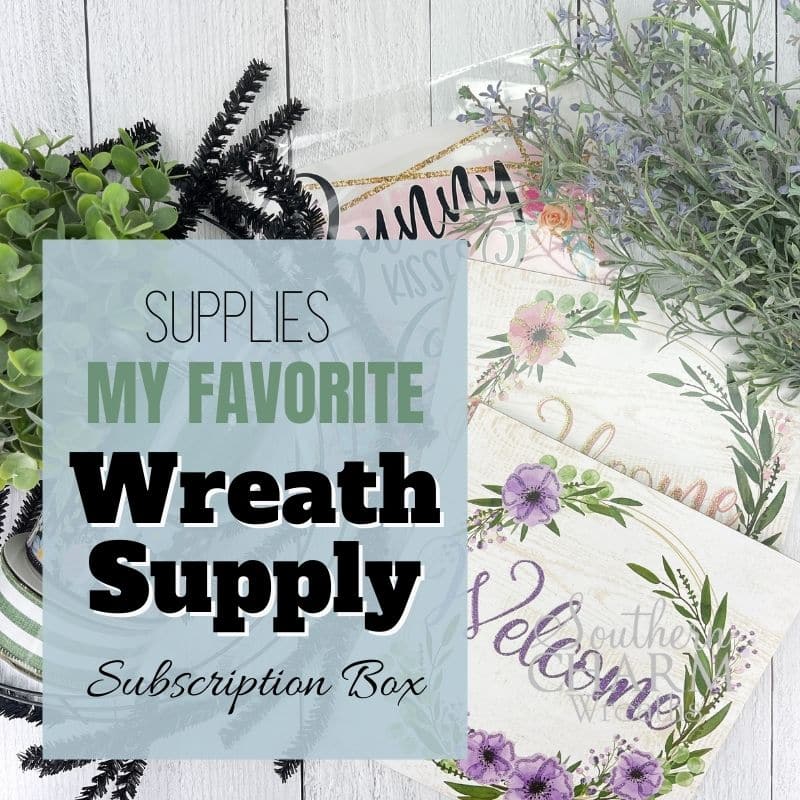 This post may contain affiliate links for your convenience. Click here to read my full disclosure policy.
My Favorite Wreath Subscription Box For Supplies
These days it seems like there is a subscription box for just about anything, and I found a fantastic one that curates wreath-making supplies and delivers them to your door once a month.
The best wreath subscription box for supplies is from Deco Exchange. I've used and loved their supplies for years, so now there is an even easier way to buy and stock up on them.
Keep reading, and I'll share why I love this amazing subscription box – and even unbox one for you.

What Is In A Sample Deco Exchange Wreath Subscription Box?
Every month the box is full of craft-making or wreath-making supplies and materials, and sometimes they include tools. For example, one month, my box included a tool that could punch holes into metal signs.
You'll notice that they include all sorts of things, from ribbons and signs to wreath bases and greenery.
This is what was inside my box for the month of January.
Lavender Sprigs – A pretty blue green shade
Frosted Eucalyptus – This color of green coordinates well with the lavender
4 Rolls Of Ribbon – All of them are wired. Two of them are 4 1/2-inch and two are 1 1/2-inch. All of them coordinate really well with each other and the greenery they included.
24-inch Deco Mesh Wreath Frame – Sometimes they will include deco mesh in the box, sometimes they will send a frame.
3 Signs – In this box they sent 10-inch square signs that say "Welcome" and coordinate perfectly with the lavender greenery and green ribbons. One sign has lavender font and the other has light pink font. The last one says Bunny Kisses and Easter Wishes.
What I Love About The Wreath Subscription Box
There is so much to love about this wreath supplies box! It is super convenient, and I can depend on them to curate the most beautiful and inspiring pieces that go perfectly together.
All The Pieces Coordinate
Check out my video below, and you'll see how exactly all the pieces coordinate. They included three different signs, but all three signs work with the greenery and the ribbons they sent. This leaves me room for creativity but also gives me some starting points.
The colors in the signs are the same shades as the greenery and the ribbons. It's that level of attention to detail that you can depend on from Deco Exchange.
It Takes Guesswork Out Of Designing
Have you ever had one of those days where you just don't have any creativity? That's when you'll really appreciate this box! Since everything in this box goes so well together, you can just grab the supplies and start crafting.
The Supplies Are Sturdy and High Quality
You can depend on Deco Exchange to only source the best and highest-quality materials. The same can be said for what is in this box. The signs are sturdy, the ribbons are strong enough for outdoor wreaths, and the base has sturdy wires that are perfect for your next deco mesh wreath.
The Supplies Are Seasonal
Finally, I just love that in January they sent me Easter and spring-themed supplies. They know that we make wreaths a season ahead of time so we can sell them, so they send it out in plenty of time.
Watch The Video: My Favorite Wreath Supply Subscription Box
If you prefer to watch a video, check it out below!
Final Thoughts
There you have it! Stop worrying about picking out wreath-making supplies and let them do it for you. You will be surprised at how much fun it is to start creating your own works of art! Once you stop spending time shopping, you'll have more time to create those lovely works of art.
If you are interested in purchasing this subscription box, use the link below:
If you enjoyed this post, you might also like:
Like this article? Pin it for later!