How to Not Overbuy Wreath Supplies
Hey guys! I'm back with another Tip Tuesday video for you! Today's tip is going to be geared toward the new sellers out there. We'll be talking about how to not overbuy wreath supplies and what I did when I first started my business to make sure I wasn't spending too much and I could actually make a profit. Let's dive right in!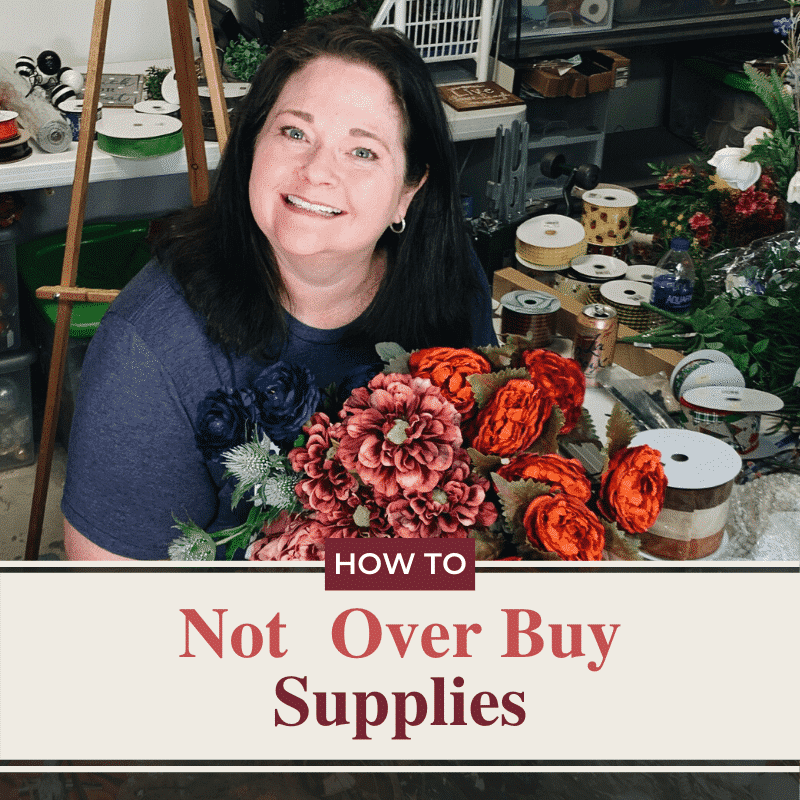 This post may contain affiliate links for your convenience. Click here to read my full disclosure policy.
For anyone who is just starting their business of selling handmade items, it's really easy to fall into this one particular trap – feeling like you need to have ALL OF THE SUPPLIES. I've been teaching wreathmakers for years, and trust me – if you've fallen into that trap and found yourself with tubs of ribbon and shelves full of greenery that you've had for ages and never used, you're not alone.
But it's time for some tough love.
That is not a good way to become a profitable business owner.
Now, if you haven't fallen into this trap yet, great! Keep reading and learn how to avoid it! If you're looking around your work area right now and realizing you're at that point – don't worry! We'll get you back on track.
I do recommend thinking about putting a spending freeze on your account though until you can get your supplies under control. And don't feel bad about that. I still do it myself sometimes and I've been at this for over 10 years!
How to Shop For Wreath Supplies Like A Business Owner
First, let's talk about that 'gotta have it all' trap.
When you were making wreaths just for your own front door, did you go into the craft store and just start throwing everything you thought looked pretty into your cart?
Probably not.
You went in with a plan!
You knew you were making one wreath and you bought the supplies for that one wreath.
But when you start selling, there's a little switch that flips in you that tells you you're missing out on opportunities to sell by not buying more supplies. Don't fall for it!
But that's not to say you can only buy supplies for one wreath at a time. We all know that you're going to need to have more than one wreath in your shop at a time. So what you need to do is find a happy medium between shopping for a single wreath and buying cartfulls of supplies.
Here's how I managed to do that.
My Beginning Shopping Method
When I first started out, my plan was to buy supplies for three wreaths at a time. I needed to build up an inventory but I was also on a budget. So what I would do is go into the store and pick out supplies for ONE wreath.
I would find a sign or a ribbon or flower that inspired me, and I would use that to build up what I wanted the wreath to look like. I would find coordinating materials, and hold everything together to make sure it meshed well. Once I was satisfied with my choices, I would put them in the cart to one side, and start the process over.
I would find another wreath theme, get everything I needed for it, and move on.
Then again once more.
By the time I was done, I had three different piles in my cart, each with exactly enough materials to make one wreath. I never bought anything that I didn't need for one of the three wreaths that I was making that day.
And then I would go home. No more shopping until those wreaths were made and ready to go.
Now, I'm not saying I waited until those three wreaths sold before I would go buy supplies for the next three.
But having a limited amount of supplies can help you be less overwhelmed with choices and more productive in your crafting.
(Even now that I'm able to buy my materials in bulk, I still don't keep everything out and in front of me while I'm working. I still just pull out what I want for each wreath that I make.)
If you stick to this method, not only will you be able to keep track of spending and make sure that you can sell each wreath for a profit, but eventually, you will start getting a stockpile of extra materials. You know, not every wreath is going to use the whole spool of ribbon. There's always extra greenery.
Then you can save the extras and have them for when you need a little something extra in a future wreath. And bonus! It's already paid for!
Tips for Staying Profitable
1. Don't Use Credit
If you look at my business now, it might seem hard to believe that I actually started out with just $500 cash. But once I decided to start selling my wreaths, I knew I had to treat it like a business if I wanted to make this work. So I made the decision to invest ONLY $500 to start. I refused to carry any debt in this business.
I also believe that it's harder to be truly creative when you don't truly own the supplies you're using.
2. Think About How You Can Repurpose Materials
One way you can really save on materials is by using leftovers during other seasons. Take a spool of red ribbon for example. If you bought it to make a Christmas wreath and you have leftovers, you can still use that for Valentines Day, Fourth of July, fall themed, etc… Pink could be Valentines Day, Spring, Easter, Mother's Day… The list goes on.
Once you have supplies, it's your job to use them up until they're gone. You have to make the most out of the money you spent on it.
3. Don't Be Afraid To Use 'Out of Style' Materials
You're in the craft stores all the time. You know what's in this year and what is "so last season". Your customers don't. Not only that, but most of them don't care!
If you've got out of season stuff that you didn't use from a previous year, don't be afraid to use it. Again, tough love. If you spent money on it, you need to figure out how to use it. That's part of being a business owner.
4. Join a Business Group
My favorite tip for business owners is to try not to think of other wreath makers as your competitors, but as your people!
I love to see members of my Inner Circle helping and learning from each other. Even the most experienced makers are learning new things about this business all the time. This is something I really wish I had when I first started my business, which is why I created the group. I'm so excited to see its members succeed and be surrounded with other business minded creatives. It's just such a great community.
If you're interested in learning more about my Wreath of the Month Club, click here! Otherwise, check out the video below. Don't forget to subscribe!
Craft Tip Tuesday Video – How to Not Overbuy Wreath Supplies
If you enjoyed this and want to learn to wreath the professional way, join me in our exclusive Wreath Making of the Month Club, seats open soon!
Happy Wreathing,
Julie
If you enjoyed this post, you might also like:
10 Mistakes Beginner Etsy Sellers Make
How to Make Your Etsy Photos Stand Out
How to Price Wreath to Sell for Profit
Was this Tutorial Helpful? Pin it to save for later!