How to Make Easy Inexpensive Wreath Filler with Ribbon Streamers
It's time for another Craft Tip Tuesday video! Today I'm going to show you how to make a quick filler for when you've got a gap in your wreath that's not quite big enough for more flowers or ornaments. It's simple ribbon streamers! (And did I mention it's the most inexpensive kind of filler?)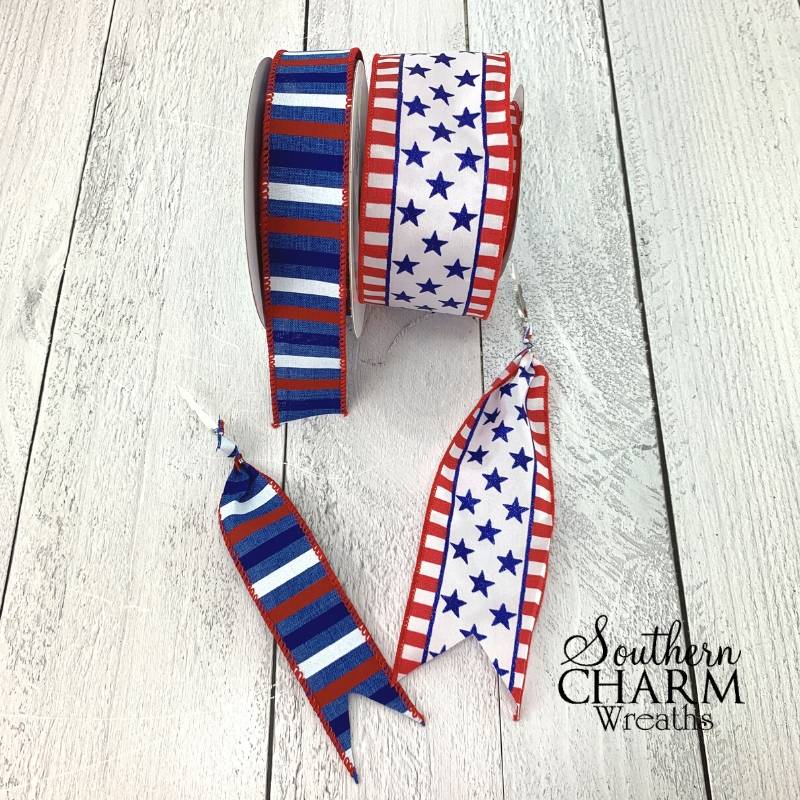 This post may contain affiliate links for your convenience. Click here to read my full disclosure policy.
Ribbon Streamer Wreath Supplies
Steel Pix Machine (or wooden picks)
Wired Ribbon
Pan
Glue
Scissors
How to Make Ribbon Streamers
Step 1 – Locate any spots in your wreath that need filler. If you don't already have ribbon in your wreath, I don't recommend adding it in just one or two places. It should look like it's part of the arrangement.
If you're already using ribbon in the wreath, a single streamer won't look out of place.
Step 2 – Take the end of your ribbon and roll it up to fit inside the end of your Steel Pix machine. Press down to attach a pick to the ribbon.
You can easily do this by gluing the end of your ribbon around the end of a wooden pick if you don't have a Steel Pix machine.
Step 3 – Cut the ribbon off the bolt at the length you want your streamer, and then give it a quick dove tail.
Step 4 – Dip the end of the wooden or steel pick into your hot glue, and stick it into the wreath. Make sure the glue is adhering to the base of the wreath, not just the stem or a flower or another piece of ribbon.
Easy as pie!
Craft Tip Tuesday Video – Ribbon Streamers
Now it's time to cover up all the hard work you've done and add some flowers! See the arrangement that I made with this container here: Summer Lemon and Hydrangea Table Arrangement
If you enjoyed this and want to learn to wreath the professional way, join me in our exclusive Wreath Making of the Month Club! We'll be adding new members soon!
Happy Wreathing,
Julie
If you enjoyed this post, you might also like:
How to Use a Steel Pick Machine
Top 15 Wreath Making Tools for Beginners
How to Use an Electric Skillet Glue Pan
Was this Tutorial Helpful? Pin it to save for later!