Snowman Table Centerpiece
Learn how to make this wintery snowman table centerpiece, complete with flocked greenery, mixed berries, and snowy additions!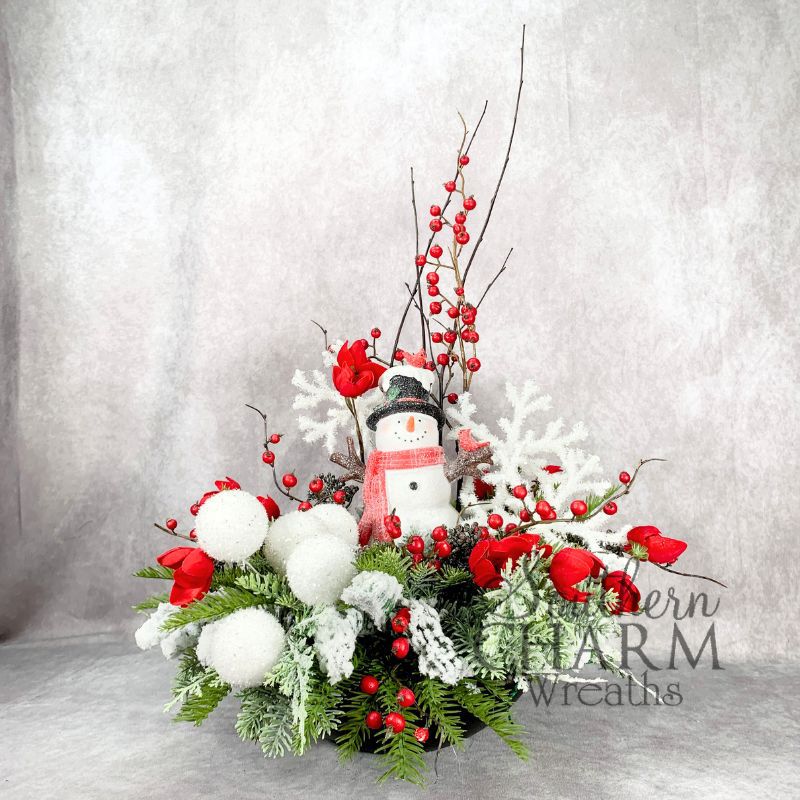 DIY snowman table centerpiece
Today, our arrangement is all about seasonal fun!
This snowman table centerpiece is filled with whimsical details, right down to the cheery snowman figurine.
Plus, I've added lots of cute, snowy accents, like sparkly snowflakes and snowball picks, to tie the design together.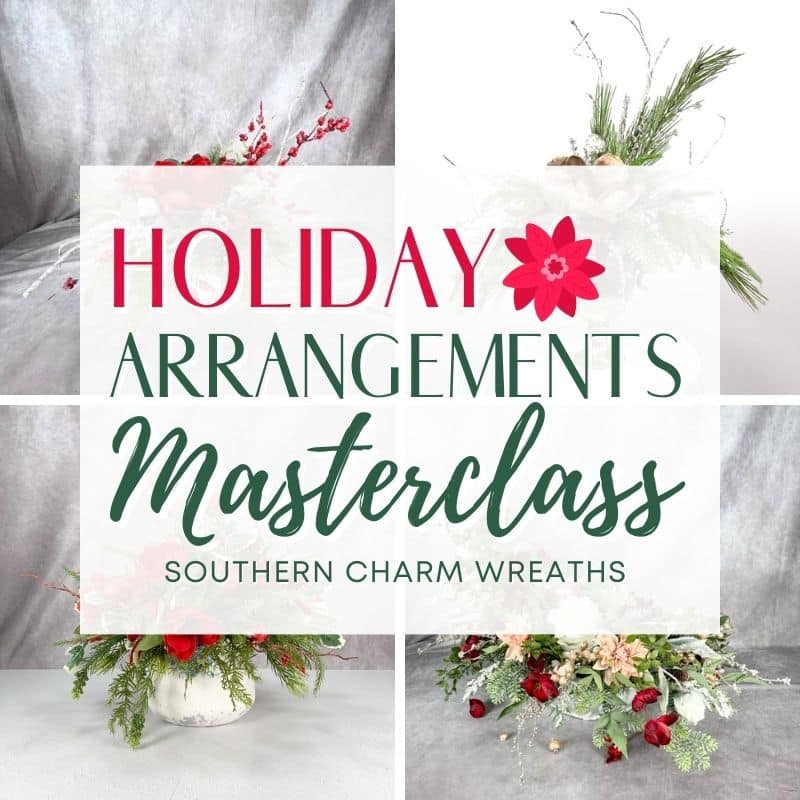 And for more seasonal projects, sign up for my Holiday Arrangement Masterclass!
Supplies for this project
You'll need:
Snowman figurine
Black dough bowl
Assorted faux greenery

Blue-green pine
Darker green pine
Flocked pine
Snowy pine

Snowflake picks
Snowball picks
Red faux flowers
Faux berries
Black twigs
You'll also need:
Florist foam
Spanish moss
Wooden floral picks
Wooden stakes
Floral pins
Duct tape
Hot glue
Clippers
Needle Nose pliers
How to make a snowman table centerpiece
1. Prep the mechanics
Your first step is to prep your base elements – AKA the mechanics.
First, tape a square of duct tape to the bottom of your bowl, hot gluing a small square of florist foam on top; this will elevate the base and save you from chiseling out a huge bowl-sized piece of foam!
Next, add a larger round of foam on top to fill the bowl, securing it with hot glue.
Finally, add 4 wooden stakes through the foam layers to secure them, trimming any excess off the tops.
For the final touch, use floral pins to add a bit of Spanish moss to camouflage your foam.
2. Add your snowman centerpiece
Next up, the cute snowman centerpiece!
Make a space in the moss to place your snowman, and hot glue him to the spot.
3. Make a base of greenery
Now, it's time to layer our greenery.
Begin by using clippings of blue-green pine, working with small pieces, using florist picks when needed, and distributing them evenly around the arrangement.
Remember to manipulate your stems for a realistic look!
Then, repeat this process for each type of greenery, one at a time. Move on to darker pine, then flocked pine, then a snowy pine.
4. Include snowy accents
For a truly seasonal effect, include a few snowflake picks along with a bundle of snowballs.
These accents really up the fun factor!
5. Add pops of red
For a bit of holiday red, add clippings of red flowers evenly throughout the design.
Repeat this step with red berries for more texture and color!
6. Finishing touches
For the finishing touches, add small clippings of gray berries for even more texture and contrast.
Then, add long cuttings of black twigs near the back of your arrangement; this will add height to the design and serve as a sort of backdrop for your snowman.
Fill in any remaining holes with clippings of greenery, add any last touches, and your snowman table centerpiece is complete!
Watch the video: How to make a snowman table centerpiece
If you enjoyed this post, you might also like:
Like this post? Pin it for later!