Traditional Christmas Cardinal Wreath
Seasons greetings from these sweet little cardinals! Learn how to make a traditional Christmas cardinal wreath, complete with textured holly, natural canvas ribbon, and a nostalgic flair.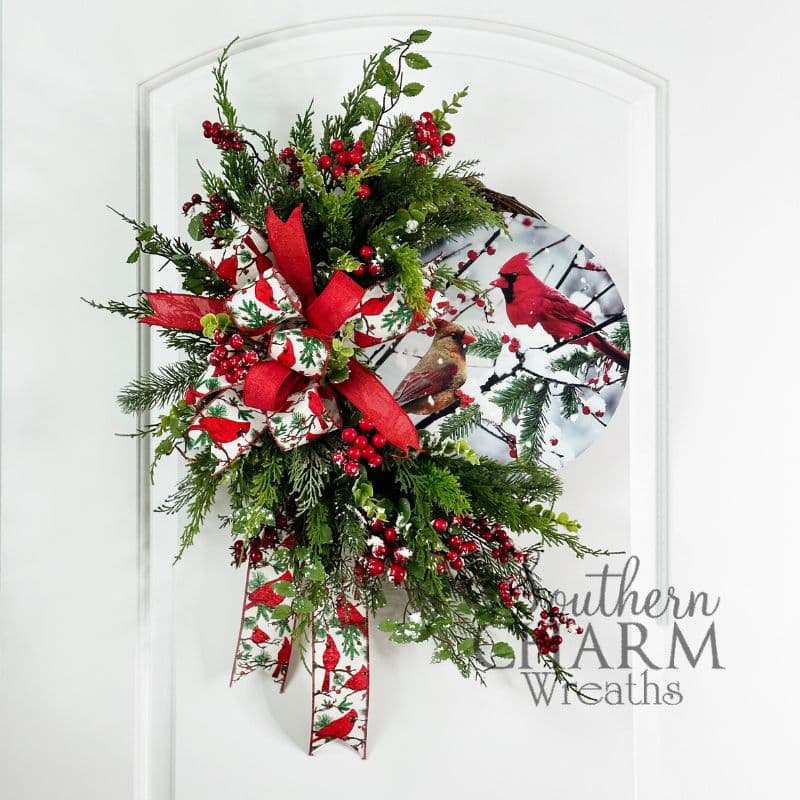 Christmas cardinal wreath
Red cardinals are a classic holiday motif that looks gorgeous on a wreath.
See how natural they look nestled in with all of the greenery?
Today, I'm teaching you how to make this traditional Christmas cardinal wreath with snowy elements, red holly berries, and a subtle canvas bow.
This post may contain affiliate links for your convenience. Click here to read my full disclosure policy.

Supplies for this project
You'll need:
16" grapevine wreath
12" cardinal sign
Canvas ribbons

2 ½" cardinal
1 ½" solid red

Jewelry hole punch
Assorted greenery

Snow-tipped sprays (fern, eucalyptus, holly)
Cypress

Scissors
Wire cutters
Steel picks or wooden floral picks
Hot glue
How to make a traditional Christmas cardinal wreath
1. Attach your cardinal sign
First up, the sign!
If your sign doesn't have holes, you can use a jewelry hole punch to add them – one on the top and one on the bottom.
You'll want the sign slightly off-center on your wreath.
Feed florist wire through the holes and then through the grapevine. Twist, tie, and trim the ends.
2. Make your Christmas bow
Next, your canvas bow.
Measure an 8" streamer of cardinal ribbon, pinch, and pleat. Then measure 12" for a 6" loop, pinch, and twist. Repeat for a total of 2 loops, then trim an 8" streamer.
Repeat these exact steps for your red ribbon, working on top of your cardinal base.
Then add a final loop of cardinal ribbon, measuring an 8" streamer, then 10" for a 5" loop, pinch, pleat, and trim.
Wrap florist wire around the center and pull tightly to secure.
Finally, attach your bow to the grapevine wreath, diagonal from your sign. Feed florist wire through the grapevine and twist to secure.
3. Incorporate greenery
For greenery, we're going to begin with long stem cypress, dividing and trimming for more control.
Attach one stem on the top of the bow and another at the bottom, using hot glue to secure.
Bend pieces with your wreath, adding more cypress to build the shape.
4. Add snowberry bush
Next, break up your Christmas spray, incorporating one element at a time.
Evenly distribute holly leaf, then eucalyptus, then fern, then the berries.
Finally, fill in any holes with leftover cypress clippings.
5. Finishing touches on your Christmas cardinal wreath
For the finishing touches, add a couple of cardinal ribbon streamers to the bottom of the design, using steel picks or wooden floral picks to attach.
Dovetail ribbon ends, add additional streamers if desired, and make sure you don't have any remaining holes.
And with that, your cardinal Christmas wreath is complete!
Watch the video: How to make a traditional Christmas cardinal wreath
If you enjoyed this post, you might also like:
Like this post? Pin it for later!