DIY Rustic Spring Silk Flower Arrangement
Did you catch this week's live video on my Youtube channel? If not, don't worry! You can check out the replay below to learn how to make a this simple but pretty rustic spring silk flower arrangement. It's quick and easy to make and perfect for Easter or Mother's Day! (Actually it's even easier than it looks. Watch the video to find out how I saved a ton of time adding the first layer of flowers.)
Wreath making shop owners: Don't forget to add smaller pieces like this to your shop to to keep a good variety of price points available for your customers! Especially for gift-giving holidays like Mother's Day.
Let's get started!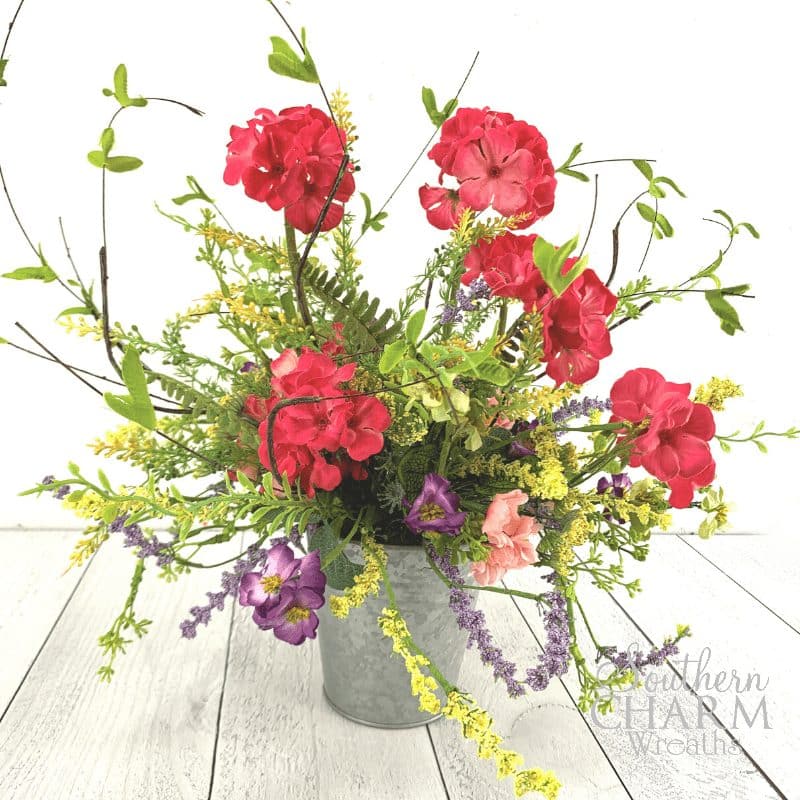 This post may contain affiliate links for your convenience. Click here to read my full disclosure policy.
Supplies for Your Arrangement:
Small Galvanized Bucket
Dry foam
Hot Glue Pan
Hot Glue
(Gorilla Glue optional)
Moss
Floral Pins
Spring silk flower bushes or wreath
Silk geranium bush
Steps for Making the Rustic Spring Centerpiece
Step 1 – First you'll need to prepare the base by gluing your dry foam into the galvanized bucket. I just used a scrap of foam that I had from another project and cut it down into smaller pieces to fill the bucket as best I could. You can use hot glue or even gorilla glue to keep it in place. Then add in a layer of moss and secure it into place with floral pins to hide the foam. 
Step 2 –  Now it's time to prepare and add the flowers. Take your flower bushes and spread out the stems so they take up more space and look bigger. (Mine actually came off a premade wreath, so I had to first unwrap that and pull each bundle out.) Then you can add them to the arrangement by hot gluing the stems into the foam. A steel pick machine makes this even easier if you have one.  
Step 3 – Now is a good time to move around the different stems on the bushes to make it look and lay the way you like. I like to play around with it a little until I find what I think looks good, and then decide from there, which side will be the front. You can also trim off or shorten some of the stems until it's just right.
Step 4 – Once the bushes are in place, you'll add in your geraniums. Trim off the leaves and hot glue the flower stems into place. Usually, I leave the leaves on my stems, but I want this arrangement to be bright and airy, and the big dark leaves just didn't fit. 
Step 5 – You could be done here, but I also had some long pretty stems I thought would be a good fit for this arrangement so I added them in here at the end. They just rounded out the whole thing and gave the whole arrangement a finished look. Just glue them into the foam like the other stems and bend them into place until you find your finished look
And that's all there is to it!
Subscribe to my Youtube channel to see more easy floral arrangements like this!
How to Make a Rustic Spring Flower Arrangement
If you enjoyed this and want to learn to wreath the professional way, join me in our exclusive Wreath Making of the Month Club or join a community of wreath makers in our Wreath Making Madness Facebook Group.
Happy Wreathing,
Julie
If you enjoyed this post, you might also like:
How to Make a Silk Flower Spring Door Wreath
Liked this Rustic Spring Silk Flower Arrangement? Pin it for later!