How to Make a Spring Hoop Wreath
This tutorial shows you how simple it is to make a beautiful hoop wreath with a gold hoop and flowers! This is an easy spring piece with a minimalist design.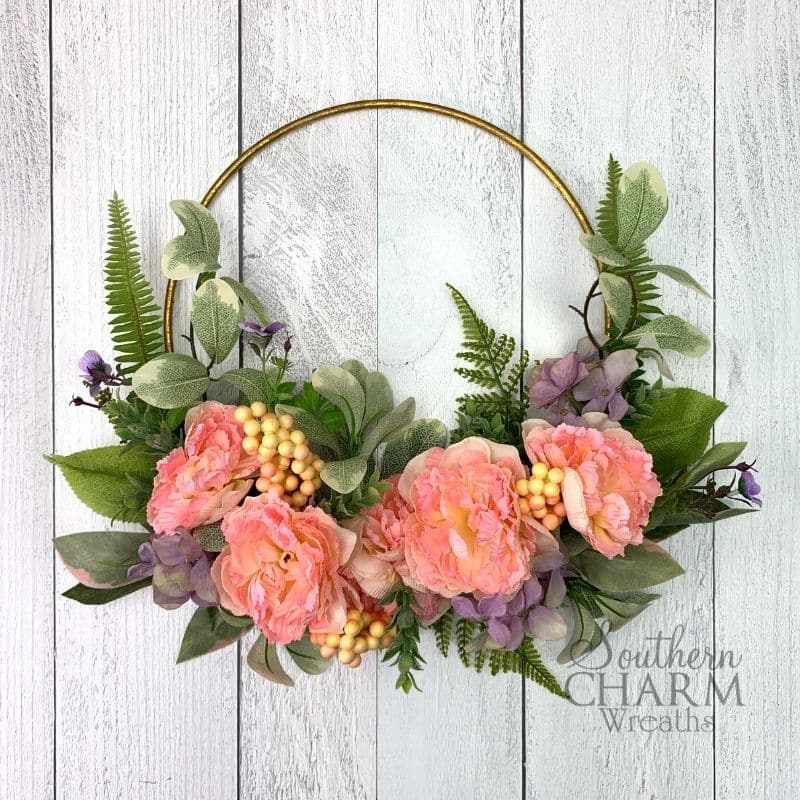 How To Make a Hoop Wreath for Spring
The best thing about making a hoop wreath (besides how cute it looks!) is that it is a wonderful way to use up leftover supplies from other projects. When you use a 12-inch hoop, minimalism and simplicity are the themes that drive all of your design choices (which makes the creativity easier too).
This post may contain affiliate links for your convenience.Click here to read my full disclosure policy.
Supplies
12-inch hoop (optional: spray paint it gold!)
Spring floral sprays
Binding Wire
Paddle Wire
Hot Glue Sticks
Minimalist Spring Hoop Wreath: Step-By-Step Tutorial
Here's how to make this easy spring wreath.
1. Fluff The Floral Sprays
You can also choose to make your own floral sprays, but I prefer to buy them premade. Then, all I have to do is fluff the leaves and blooms out to make them look more full.
2. Cut Leftover Greenery
Next, pick out a few leaves from leftover greenery in your storage. I like to keep sprays and leaves that I didn't use so that I can place them on wreaths like this one.
When I made my spring hoop wreath, I cut out a few different leaves from my favorite varieties. I tried to add a bunch of different textures and colors too.
At this point, you can hand-tie your own spray, connecting your flowers with some green leaves. Buying a pre-made spray saves you this step.
3. Glue Greenery To The Flowers
If you added more greenery, use a binding wire to keep the entire spray together. Then, add some glue to completely adhere everything together.
To do this, I melt glue sticks in a hot plate and then dip a paint brush into the glue and paint it on the flowers to seal them to the binding wire.
4. Attach The Sprays To The Hoop
Using the paddle wire, attach the sprays to the bottom of the hoop. Wrap it around as tight as you can. Keep going around until you feel like you have a really secure attachment that won't loosen.
Start wrapping the wire around the bottom and work your way up towards the top of the spray. As you get closer to the flower blooms, you will have to move the flower around so you can get the wire around it. Pull it as tight as you can, this is very important.
When you reach the top, trim the wire and just secure it to the hoop.
Do this for both sprays (or as many sprays as you choose to add to your wreath).
5. Fill In The Empty Spots
This is where you let your creativity loose! Look at your hoop wreath. Where do you see empty spots? Trim some floral blooms and attach them with hot glue. Do this to make your wreath as full or as simple as you want it to be.
Then, hang it on your door and enjoy!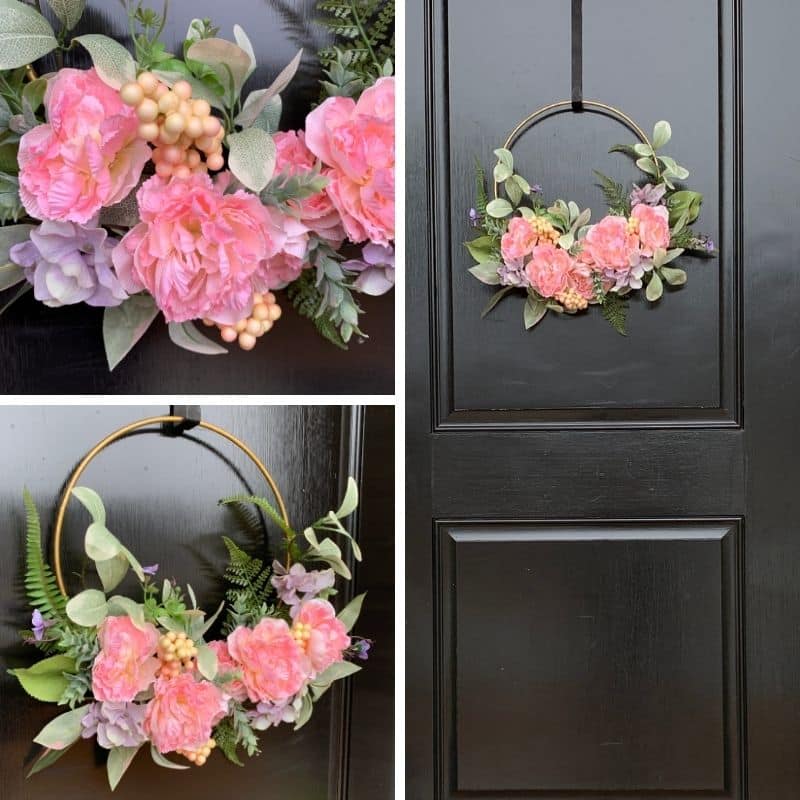 Watch The Video: Minimalist Spring Hoop Wreath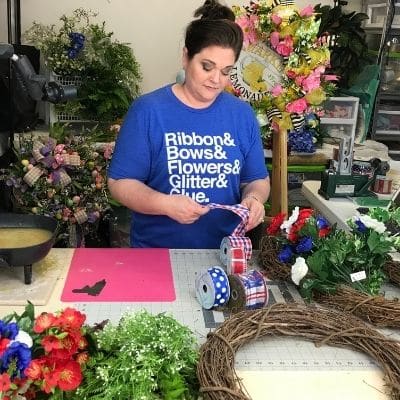 If you enjoyed this and want to learn more on how to get started with wreath making, try my Wreath Making 101 Workshop!
Happy Wreathing,
Julie
More Spring Projects
If you enjoyed this floral outdoor spring wreath, then here are some more spring projects you will enjoy too.
Liked this hoop wreath tutorial? Pin it for later!