How to Make an Easy Spring Tulip Wreath for Front Door
Today in the wreath shop, learn how to make an easy spring tulip wreath for your front door. This wreath uses lots of greenery and tulips on a grapevine wreath base. This post may contain affiliate links for your convenience. Click here to read my full disclosure policy.
Tulip wreaths are a sign that spring is just around the corner so learn to make this one below.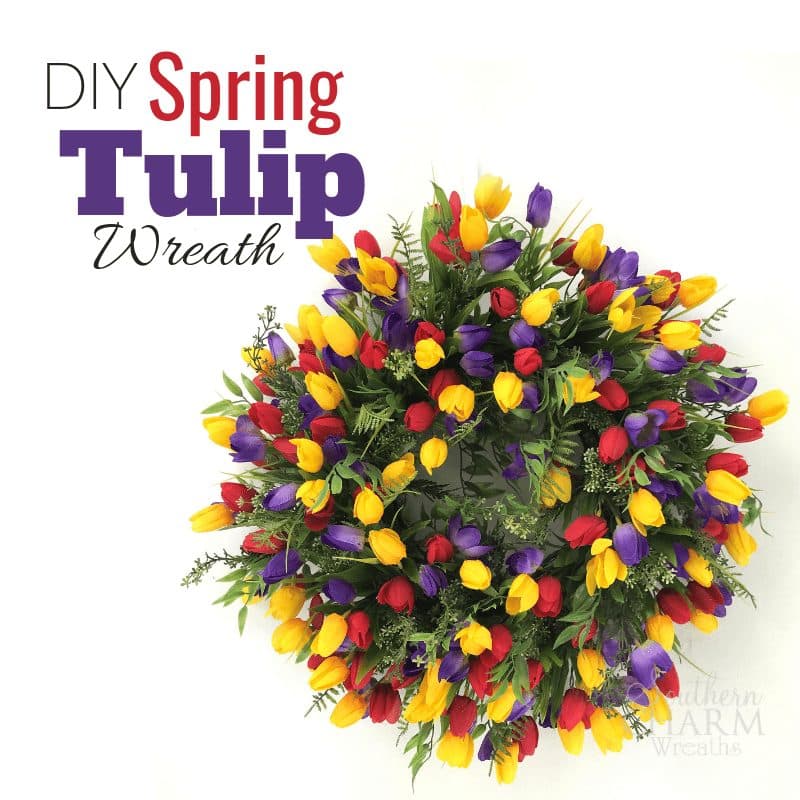 I love this wreath idea because not only is it super easy to make, it's bold in color and will pop off your door!  Let's make this gorgeous spring tulip wreath using just a few simple items:
[Tweet "How to Make an Easy Tulip Wreath for Front Door"]
Supplies
1 14-inch grapevine wreath
2 Mixed Greenery Bush
3 Large Bushes of Tulips
Silicone mat
Wire Cutters
Hot Glue Gun 
How to Make an Easy Spring Tulip Wreath
Step 1 – Divide Greenery 
Begin by separating the greenery pieces. I love this greenery because it's plastic, which means it will hold up well in the weather, and because it has various types of greenery on each stem.
Step 2 – Glue Greenery to the Wreath 
Start by placing the greenery in various places on the wreath. I like to add a piece on one side and then add a piece on the opposite side. Keep adding greenery stems until all of your greenery is used. See the video below for detailed help.
Pro tip: Make sure all of your greenery is going in the same direction.
Step 3 – Divide the Tulip Bushes
Next, trim the tulips from the bushes but make sure to keep them long in length. You want the tulips to come out from the greenery and not get hidden by the greenery.
Step 4 – Glue Tulips to Wreath
Insert the tulips going with the grain of the wreath and then bend the tip stem upward so that your wreath has more dimension.
Now you have a stunning Silk Flower Spring Tulip Wreath for your Door!
Video How to Make an Easy Spring Tulip Wreath for your Front Door
What's your favorite spring tulip wreath color? Comment below and tell me. If you prefer different colors, simply change out the tulips for a different color. I hope this inspired you to get started with your spring decorating.
Let me know if you enjoyed this and don't forget to join me on Facebook so you can watch me Live!
If you enjoy watching me and/or learning to make wreaths of various styles, join me in my Wreath Making of the Month Club, learn more here.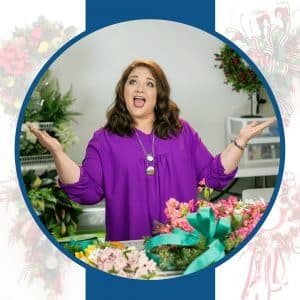 Save
Happy Wreathing,
Julie
If you enjoyed this post, you might also like:
How to Make a Designer Easter Egg Topiary Like the Pros
Easter Lantern Flower Arrangement Tutorial | Easter Lantern Swag
DIY Designer Easter Teardrop Swag Tutorial
How to Make a Silk Flower Spring Door Wreath