Frosty Winter Lantern Swag Tutorial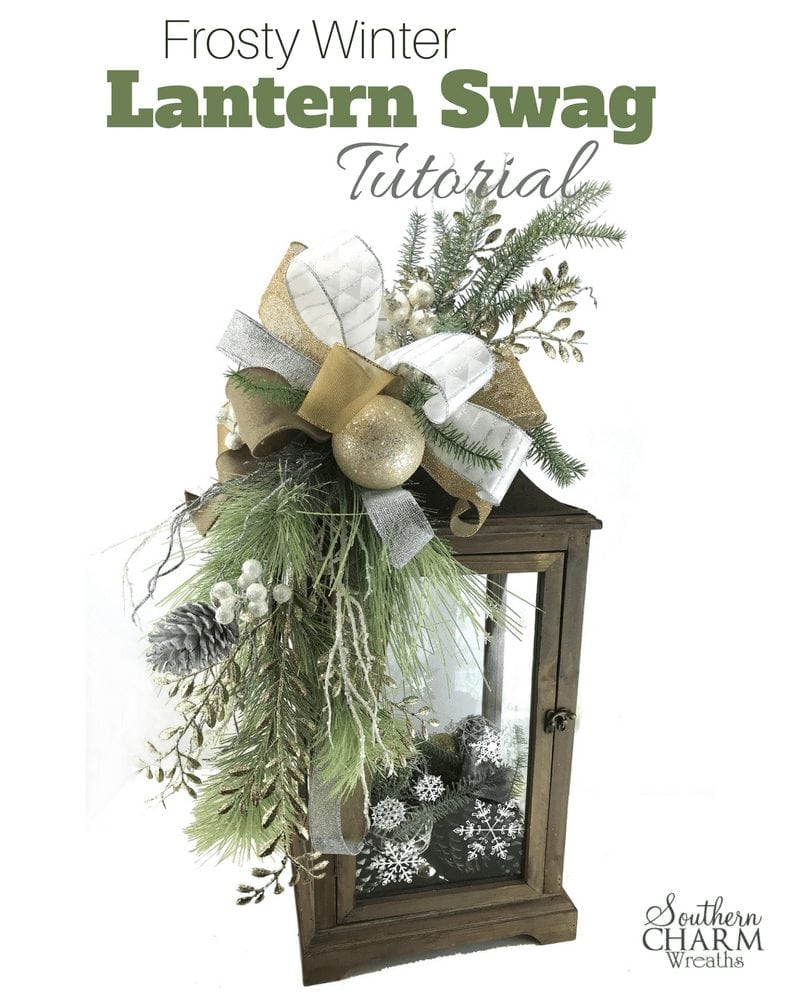 Today I'm showing you a quick way to customize a lantern with a swag and some fun snowflakes on the glass for winter. Plus, everything can be removed after the season and changed for another holiday! This post contains some affiliate links for your crafting convenience. Click here to read my full disclosure policy.
Frosty Winter Lantern Swag Tutorial
In this video, I use my Chalk Couture transfers to make snowflakes on my lantern.  Don't worry, it can be washed off once winter is over.  Then watch as I show you how to make a frosty floral swag to hang down the side. Here's how:
Supplies
Large lantern (Carolina Pottery)
Winter silk greenery stem (Hobby Lobby)
Assorted silk greenery
Wired ribbon
Rustic wire
[Tweet "How to make a Frosty Winter Lantern Swag"]
Frosty Winter Lantern Swag Tutorial
First, start by adding the snowflakes to the lantern glass with Chalk Couture. Simply follow the Chalk Couture instructions and don't forget, it dries fast! You can watch when I did my first Chalk Couture project here.
Now we'll begin the lantern swag. For this swag, I started with a premade Winter Silk Greenery stem.
In addition to the premade stem, we will add our own elements. Start by gathering up the pieces you want to include in your hand. I used pieces of a bluish greenery, some silver and some gold. When you have a grouping you like, bundle it together with florist wire.
Next, add some pieces of the elements you used in the grouping above to the premade stem so they flow and go together. Note: If you have a short stem you want to make longer, simply reuse a long stem you've removed from something else and wire it on.
Attach the top (the bundle you put together in your hand) to the stem of the premade stem with zip ties. It should face the opposite direction. Leave room for a bow in between.
It's time for a bow! I made my Christmas Funky Bow using 5 different ribbons and 12 inch bow loops. For bow making details, click here.
Secure the bow with florist wire between the two swag elements.
For a beautiful finished product, hot glue silk leaves to the back of the swag where you have zip ties etc. showing. Note: Anytime I am cutting apart silk flower stems I keep all of the elements I'm not using. This way I have extra leaves to use for this anytime.
Next, cut the long stem off from the premade stem.
Attach the swag to the lantern with rustic wire. Note: Normally I attach it to the top of the lantern but because this one was so large, I attached it to the handle.
Once the swag is attached, bend and shape your swag. You don't want it looking like it is flying off! Gently bend the swag down so it sweeps along the side. Don't forget to fluff your bow as well.
Lastly, glue small sprigs of greenery throughout your bow to make everything blend together.
Now all that is left is to fill your lantern!
Frosty Winter Lantern Swag Tutorial Video…
I hope you enjoyed this Frosty Winter Lantern Swag tutorial! Have fun filling it with things you love. You could use pinecones, grapevine balls, flameless candles, LED lights, ornaments and more!
If you would like to learn more about wreath making, join my Wreath Making Club.
Don't forget to join me on Facebook Live, for my other DIY tutorials. Even better, join our messenger bot HERE and we'll send you a message on Facebook the next time we go live. It's always more fun to join in on the conversation.
Happy Wreathing,
Julie
If you enjoyed this post, you might also like:
Designer Christmas Table Centerpiece Tutorial
Stocking Stuffer Ideas for Crafters Under $10