How to make a Winter Wreath for Your Front Door
I don't know about y'all, but after Christmas, when I take down all my decorations, everything just seems all bare and boring. So ever since I've been wreath making, I've started making a winter wreath to put on my front door in January, that's just winter themed, not Christmas. That way I've got something pretty on the door until it's time to decorate for Valentine's Day. So today, I'm going to do a tutorial for one of these beautiful (and SUPER easy!) winter wreaths.
This post may contain affiliate links for your convenience. Click here to read my full disclosure policy.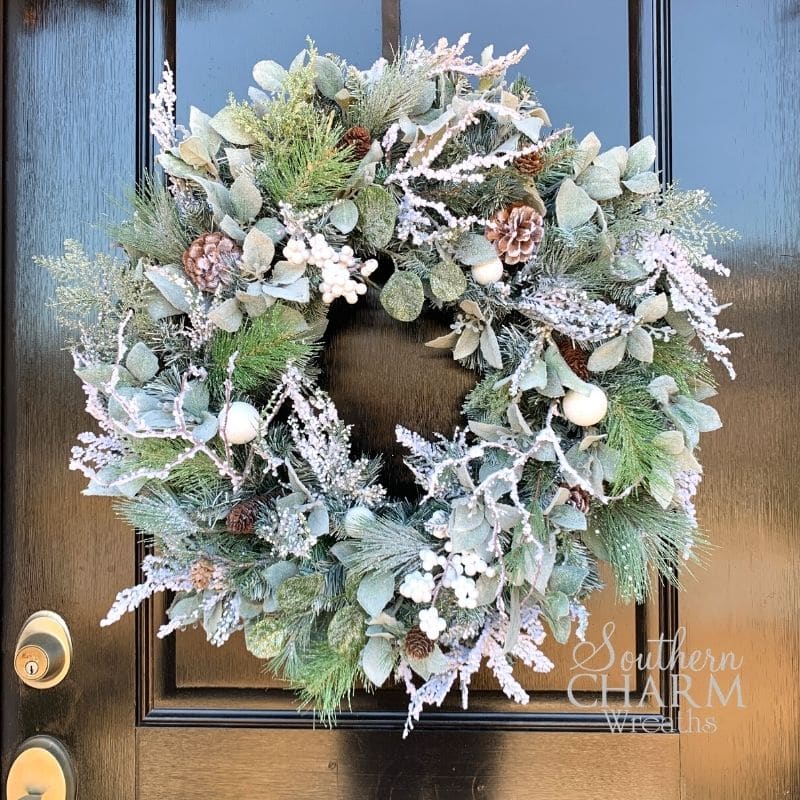 Isn't that pretty?! And it's a great way to use up some of your leftover Christmas greenery without making an actual Christmas-themed wreath.
Ready to make one for yourself?
Supplies for this Project
24" elevated Christmas wreath
Veronica leaf or lambs ear spray
Long needle pine spray
Glitter "Iced" greenery spray
Hot glue pan
Glue sticks
Wire cutters
Check out Greenery Market on Etsy to find some of the beautiful greenery I used in this wreath!
Winter Wreath Tutorial
Guys, I know these tutorials can sometimes get a little long, but we are changing things up a bit today because this wreath because it really only has one step.
I told you it was super easy!
All you need to do for this wreath is take your greenery sprays, and cut them into shorter stems and glue them around your wreath base. Make it even easier on yourself by dipping the stems in glue using a hot glue pan instead of a glue gun.
I find that the wreaths tend to come together better if you just add one type of greenery at a time. It helps you keep things balanced that way.
So for this wreath, I added all my Veronica leaf, then added a layer of the long-needle pine, and then the glittery greenery (instead of mixing and matching as I went.)
And that's all there is to it!
Remember, wreathmaking is just building up layers until you like what you've got. Just like always, you can stop after any layer for a more simple wreath. I really loved how this one looked with just the veronica leaf and the long needle pine. It's all personal preference.
Watch the video tutorial to see it all come together in real time in my wreath workshop.
How to Make a Winter Wreath for Your Front Door Video Tutorial
If you enjoyed this and want to learn more on how to get started with wreath making, try my Wreath Making 101 Workshop!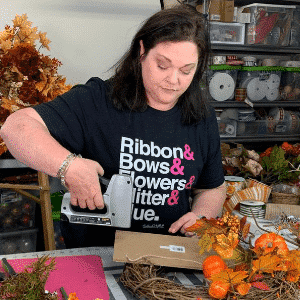 Happy Wreathing,
Julie
If you enjoyed this post, you might also like:
Decorating Your Front Door for Winter
Rustic Winter Table Centerpiece
Liked this Winter Wreath? Pin it for later!