Wreath Making – How to Choose Colors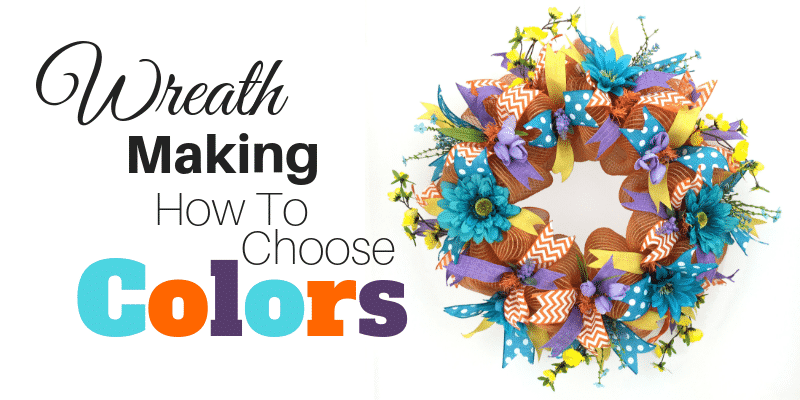 "How do I know what colors to use in my wreaths"? This is one question I get asked a lot and you know what, I've never really thought about it.  Listen, I'm no expert on color or interior design by any means. Seriously, I typically find a ribbon I like with a pretty pattern already on it and I design my wreath to match or coordinate with the colors in the ribbon. This post contains some affiliate links for your convenience. Click here to read my full disclosure policy.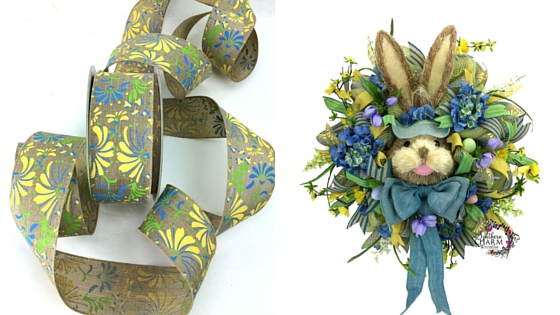 Or I might find a beautiful sign that I want to incorporate into my wreath, then I choose colors from the sign and use ribbons and flowers to match them.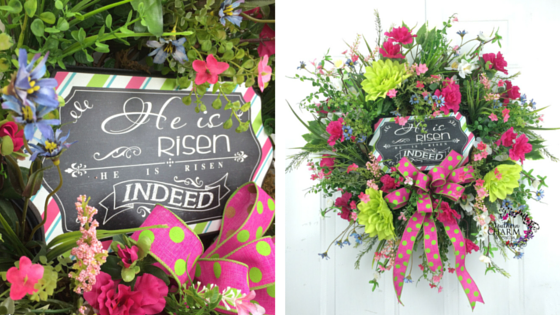 I've also been known to find a color combination from a piece of fabric or an interior designer's picture that I've seen on Instagram. For example, this rose print upholstery fabric can be found here.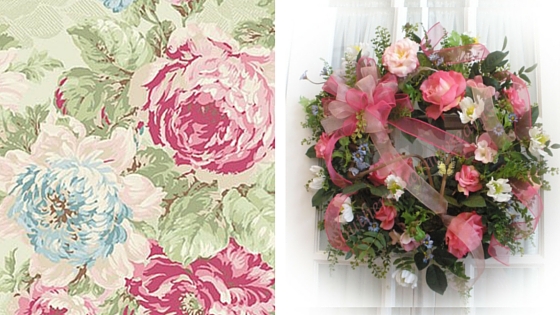 As you can see, inspiration for the color of my wreaths comes from many places.
Another good place to find the color trend for the upcoming season is to look in a home or lifestyle magazine. Or simply do a search for "home decor color trends" on Google or Pinterest. For example, I found this site http://www.lushome.com/12-modern-interior-colors-decorating-color-trends-2016/163975 and with every picture I scroll through, I can imagine in my head the colors I would use and the flowers I would select to play off the wall colors and fabric. But also keep in mind that most people do not have designer homes. They are like you and me, just needing a little pop of color for a wall or a fresh, new and fun wreath for the entryway.
While there are no set rules for choosing colors for your wreaths, it does help for a beginner to have a little knowledge of what colors look good together. While I personally don't give it much thought on where the colors are placed on the color wheel, I do like them to coordinate and blend well with each other. So occasionally I might pick up my color wheel to see where a color may fall and what might look good with it. You can purchase a color wheel like mine here.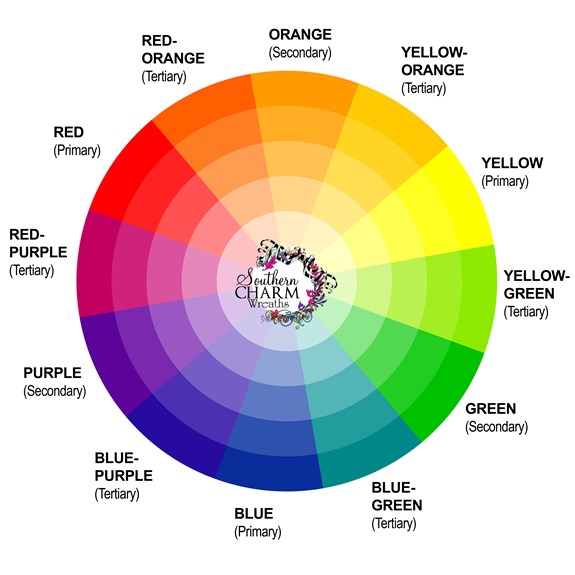 Let's quickly go through the color swatches as seen in the color wheel above: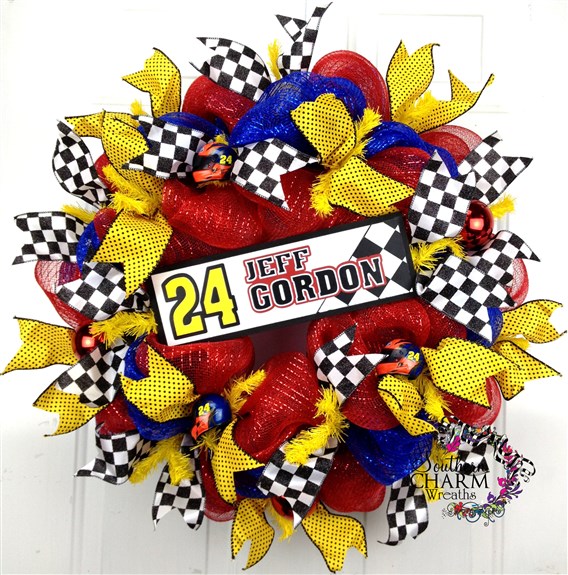 Primary Colors
Okay, so on the color wheel, let's start with the primary colors. We all learned the three primary colors in elementary school (red, blue and yellow). These three colors are pure, meaning they are the only colors that cannot be created by mixing any other colors together. These colors are cheery and not overwhelming. You don't need to use all three either, choose any one, two or focus primarily on two primary colors and add a touch of the third. As you can see to the right, using just primary colors in your wreath will produce a vibrant and eye catching creation. Wreaths made in this color scheme would be good for elementary school teachers, birthday parties, etc.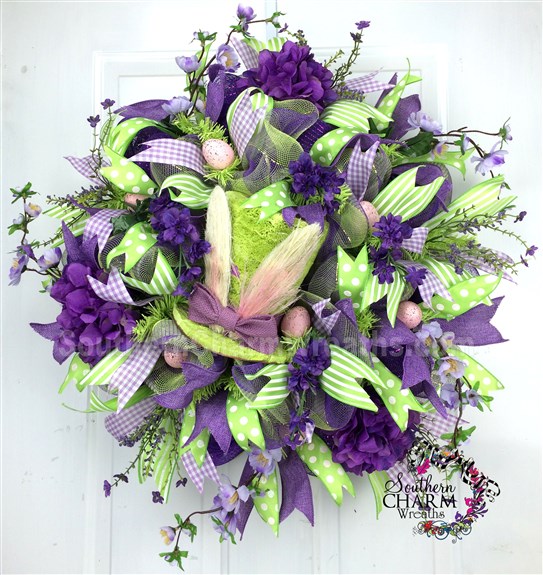 Secondary Colors
When you mix primary colors together, you get the secondary colors such as purple, orange and green. These colors are just as cheerful as the primary colors. When making a wreath using secondary colors, it's not necessary to choose them all, you can mix them using a color relationship (more about relationships below) or in their hues.  For example the wreath to the left is made of hues of green and purple.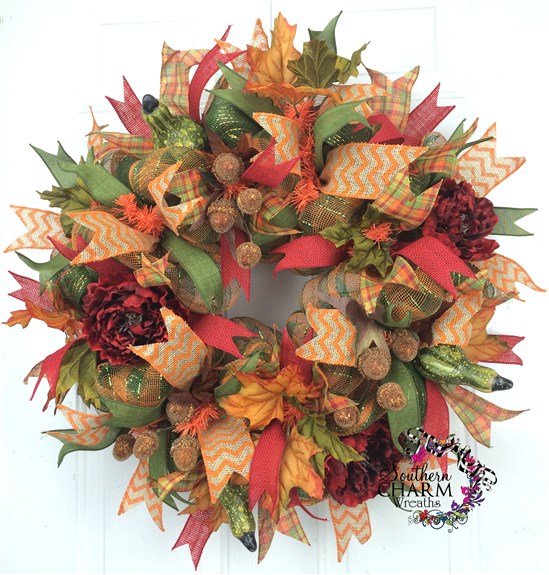 Tertiary Colors
The tertiary colors are created by mixing a primary color with a secondary color. Or as we fancy people like to call "lime green", "burnt orange" or "aqua" but to keep things straight, color theory refers to them by the two colors that make them up with the primary color going first. They are yellow-orange, yellow-green, blue-green, blue-purple, red-purple, and red-orange. As you can see in the wreath to the right, these colors also make beautiful wreaths.
Color Relationships
Color relationships are set methods of choosing colors that connect in some way to each other. Some of the color relationships I use the most are monochrome, analogous, complementary, triad, tetrad and neutral. I'm no color guru but I will attempt to explain them one by one and how they might look in a wreath. When you choose one of these color relationships for your wreath design, you know you can't go wrong.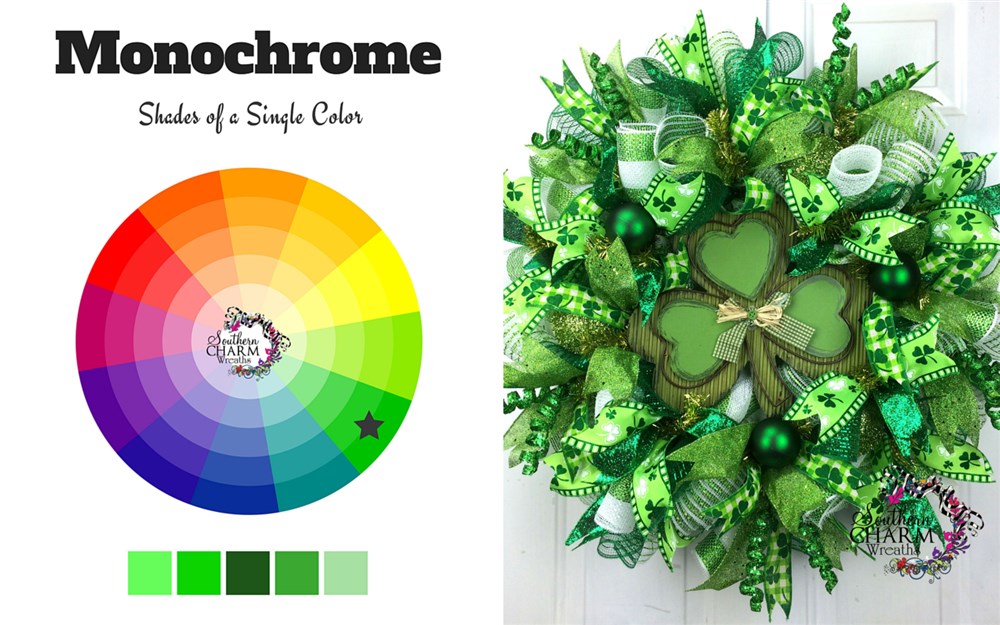 Monochrome is the simplest color relationship because it uses just one color but in different shades. This is my favorite color relationship because it is clean, simple and easy to use in a wreath. This relationship can be used when you want your wreath to feel cohesive. I could make monochromatic wreaths every day because they produce such a dramatic wreath full of depth! Try this color relationship when making Valentine's Day Wreaths, St. Patrick's Day Wreaths or those holidays when one color is very popular.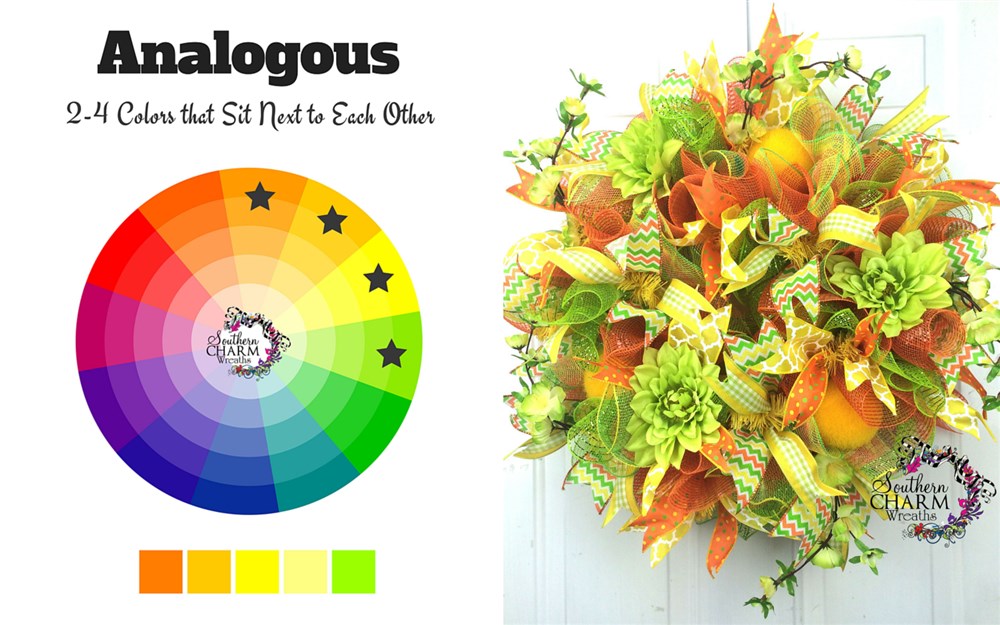 The Analogous relationship uses two or more colors that sit next to each other on the color wheel. Because they are next to each other, using them will give your wreath a sense of blended harmony. This is another easy color relationship to master when making a wreath. Also, a very easy one to shop for since the ribbon supplies in craft stores tend to be set up with this color relationship in mind.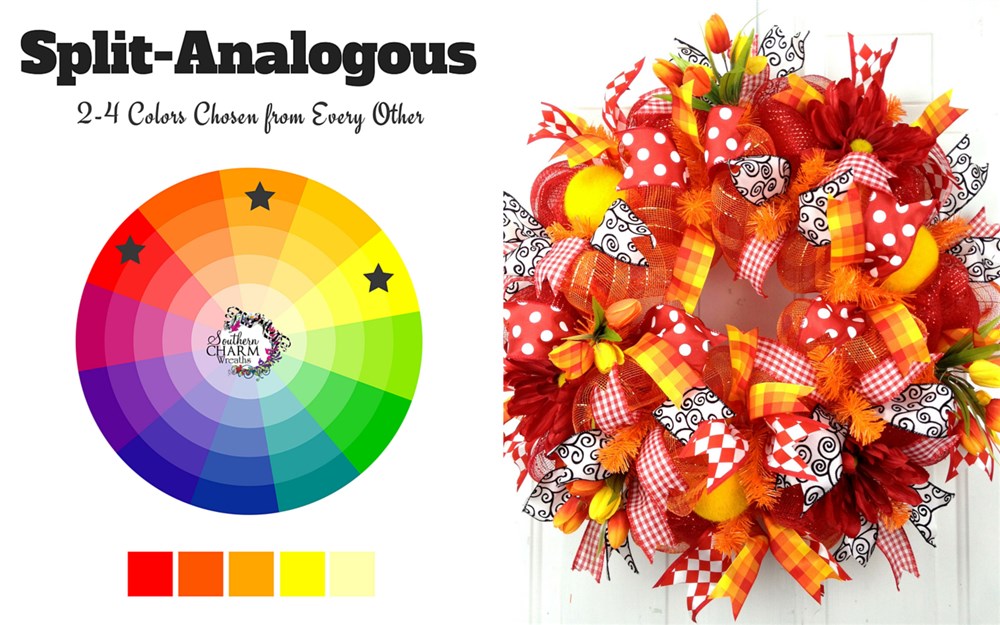 A variation on an analogous relationship is split-analogous, which would still use two or more colors, but you'd choose every other color on the color wheel (assuming your color wheel has 12 swatches). So, a split-analogous example would be blue-green/blue-purple/red-purple, red/orange/yellow, blue/purple/red, etc.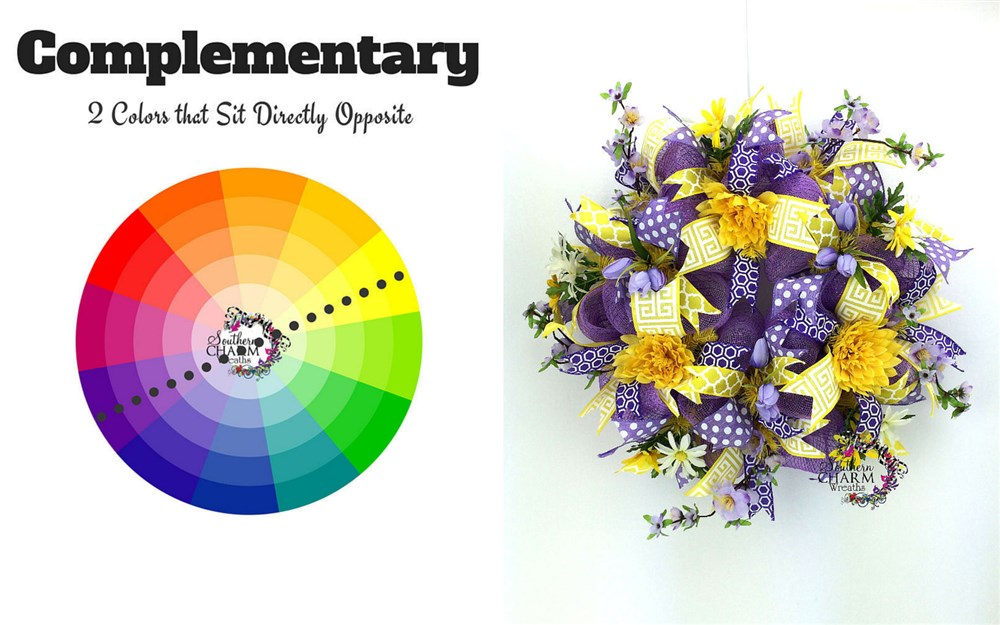 Complementary relationships are done in pairs sitting directly opposite each other on the color wheel; pairing a cool color with a warm color. These colors naturally play off of each other enhancing each other making each color look more vibrant. This is another easy color relationship to master when making a wreath. However, depending on the color selections, I sometimes feel that using only two colors can make a wreath look flat or lifeless. To get around this, you could always add in varying hues of one of the colors as seen above with the purple and lavender or try adding in some white or a touch of black. More about using black below.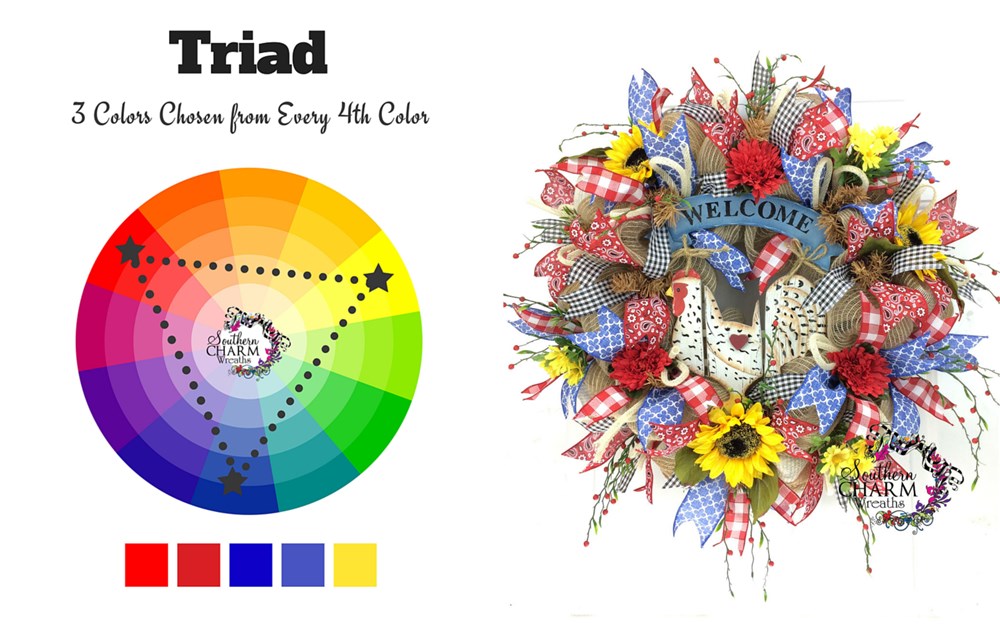 This relationship uses three colors by choosing every fourth color on the color wheel; thereby creating a triangle. Using this color relationship always produces a rich and very colorful wreath.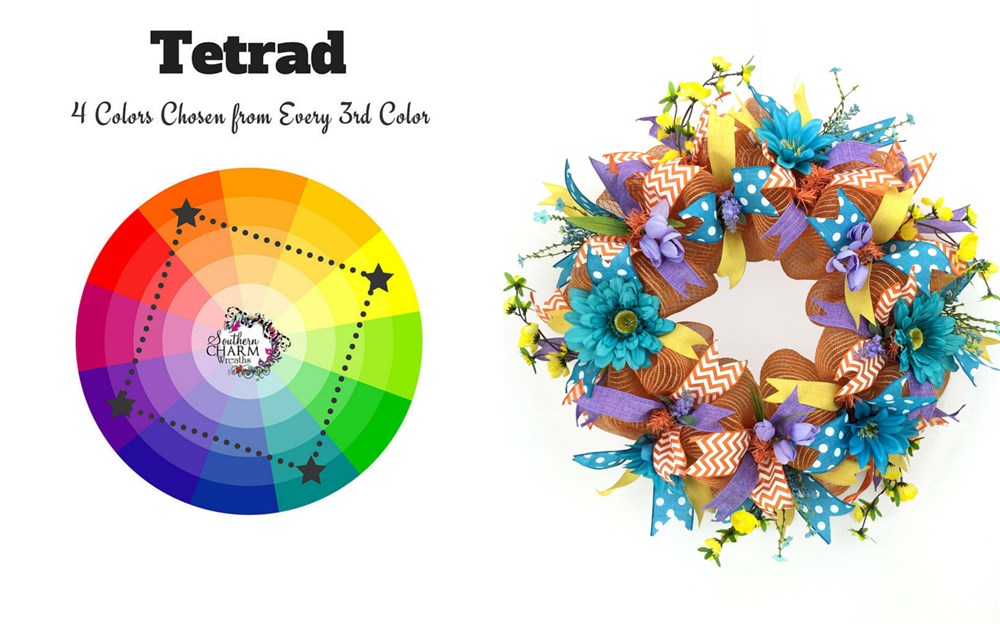 The tetrad relationship uses four colors that are chosen from every third color on the color wheel. Like the triad relationship, the name tetrad comes from the shape made between the colors. Choose this color relationship when you want a more complex colored wreath. This is by far the hardest color relationship to use, for me anyway. Honestly, I don't think I've ever used it. But I was determined to create a wreath using this relationship for this post in hopes of giving you an idea.  I was very surprised by the outcome. I was expecting it to look too busy but it doesn't. I think the trick to using this color relationship in a wreath is to find the right hues. As you can see in my wreath above, instead of deep purple, its more lavender and instead of bright yellow, it's a butter yellow.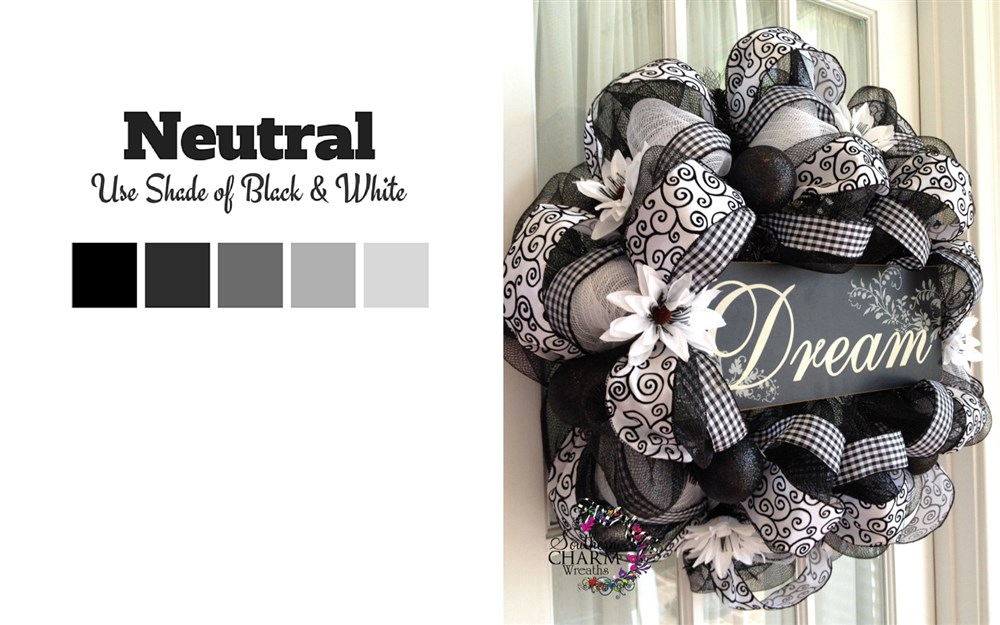 The neutral relationship uses variations of black and white and can be very dramatic in a wreath. Some people may refer to neutrals as hues of browns, like taupe, but really that is a color. True neutrals have no hues and therefore no color. If you want to add richness and more depth to a black and white wreath, try blending it with the monochromatic relationship mentioned above and accenting it with hues of one color. For example, a black and white wreath with hues of red. Also I find that adding a little metallic such as gold or silver to a black and white wreath produces a luxurious wreath ready for any formal decorating such as New Year's, anniversaries, etc.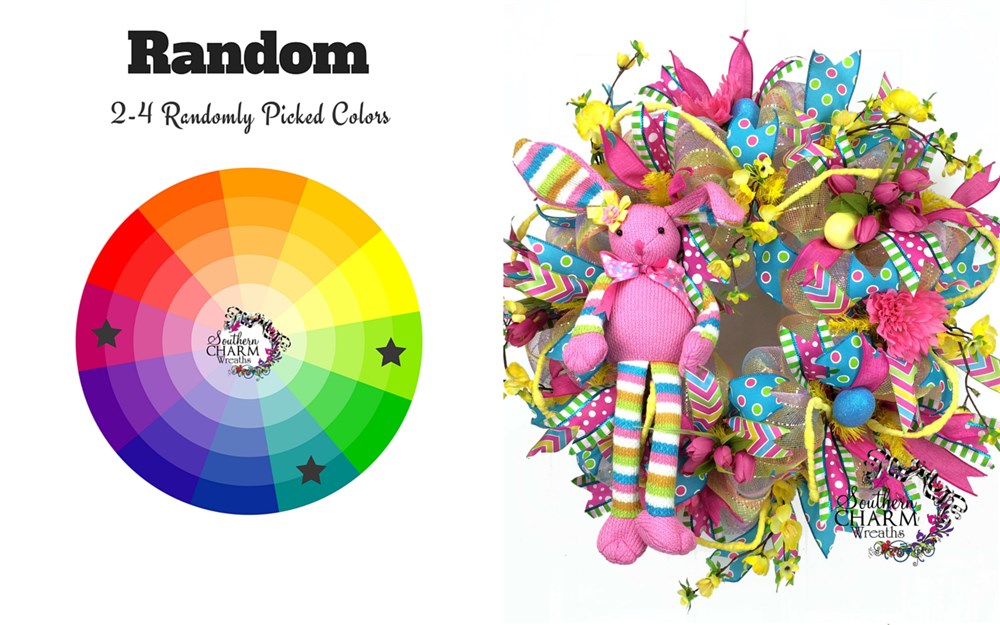 In addition to the above color relationships, there is always the random method of picking colors and using those. These random combinations typically are picked from a focal piece I'm using in the wreath (the rabbit) and have no direct relationship with other colors. It can be scary choosing random colors but if you can already visualize it on a focal piece, then you can get a sense for how the colors will look on a finished wreath.
[Tweet "Wreath Making – How to Choose Colors"]
Additionally, I like to consider my wreath base as my canvas before starting my wreath design. Will it be a nude base like a cream, burlap or jute color to really make the colors of my ribbons and flowers pop or will the base be one of my chosen colors, giving the wreath a sense of unity? The base on a deco mesh wreath would be the deco mesh and with a silk flower wreath, typically the greenery.
Also keep in mind that when you select a focal point for your wreath (a sign, grouping of flowers, a large bow etc.), you want the item to be visible. I mean it is the "focal" point so you don't want the eye to have to search for it. This seems to be a big problem for many and occasionally myself. I want my base and other items to enhance and blend with the focal point but not camouflage it. And since the focal point tends to be the most expensive items in my wreaths, I definitely want it to be seen!
In hindsight, I guess God placed a little "color sense" into my repertoire of talents because frankly, choosing color for my wreaths hasn't been a hurdle. Or maybe I just don't over think it? I know when starting out, there tends to be a lot of thinking, studying, researching and then the procrastination. No, for me it's more like I know the color I want to use but I have to search through my MASSIVE SUPPLY of RIBBONS to find what I need! To see what I mean, take a peek inside my wreath shop using link below.
I hope this blog post on color sparks some ideas for you when choosing colors for your next wreath creation. What color relationship do you tend to use the most? Was this article useful to you? I would love to know how you pick colors when making your wreaths. Comment below and tell me.
Julie
Happy Wreathing!
PS – Hey, I forgot the tip about using black!  Did you know that adding a little black immediately gives your wreath a whimsical and modern look? Try it out on your next wreath. Substitute one ribbon for a black and white polka dot or a black and white striped print. How neat is that?
If you liked this post, you might also like:
Transfer Print onto Chalkboard Ribbon
 To Learn How to Wreath like a Pro, Join Me in the Club!