When To Make Seasonal and Holiday Crafts to Sell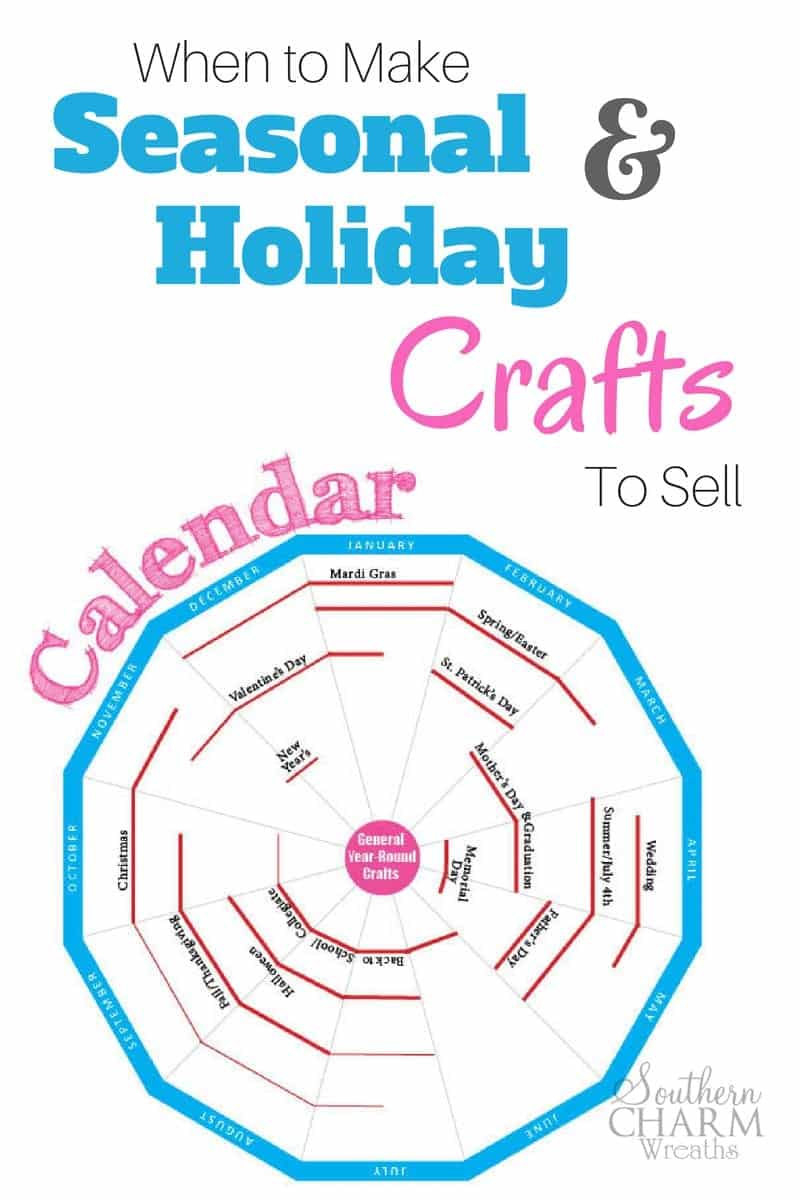 When to make seasonal and holiday crafts to sell is a question I get a lot from my ebook customers. My answer? To stay ahead of the buyer. Buyers start searching for seasonal and holiday items well before it's time to display them. Even if they wait to purchase, they start looking and dreaming of that perfect piece for their home or that special loved one.
[Tweet "Calendar -When to make your seasonal and holiday crafts to sell!"]
For your convenience, I created a handmade craft calendar.  So when looking at the calendar for the month of April, a wreath shop owner or craft maker would be finishing up spring items, working on Mother's Day and beginning summer items. Additionally, you may think that June and July would be slow months for making handmade items to sell. But as you can see, there really are no slow months because you are always preparing for the next holiday or season. In June, I like to be finishing up last minute summer wreaths and my patriotic wreaths for July 4th.  In July, I like to start my collegiate wreaths for the back-to-school and football season as well as Christmas…yes I said Christmas in July!
Why make Christmas wreaths in July which is mid-summer, isn't this too early? Well it's popular for online retail shops to hold an annual Christmas in July sale. Believe it or not buyers know this and they are looking for Christmas items whether it be for gifts or décor in July. Etsy.com always holds an annual Christmas in July sale towards the end of July and I like to take advantage of their advertising power and jump on board with their campaigning. So I discount any leftover Christmas wreaths from last year and make smaller priced, gift giving sized wreaths to add to them. My screen door wreath recipe from my ebook is a perfect example of a lower priced item perfect for gift giving.
[Tweet "Sellers, when craft stores change seasons, you should too."]
Another good measure to stay ahead of the market is to watch your local craft stores. If you see Hobby Lobby setting up seasonal or holiday décor, this is a sure sign that you should also be gearing up to display the same seasonal/holiday items in your shop.
This is the schedule I use and of course can be modified to include other holidays which are not popular in my area/shop (i.e., Fiesta in April, which means I would suggest finish making in March). This yearly schedule will work for any crafter who is looking to stay ahead of the game.
Does this help answer your question of when to sell seasonal and holiday crafts to sell?  I would love to hear of other holidays you make wreaths/crafts for which I left off? Please leave a comment below and share it on Twitter, Facebook or Pinterest.
Tip: Use this same calendar to help with posting ideas on your social media accounts too. This calendar works very well with Pinterest because buyers use Pinterest to help plan upcoming events well in advance. However, for Facebook, Twitter and Instagram, I would wait and not post holiday topics too far in advance since these social media accounts are used more for current events.
Happy Wreathing,
Julie
If you enjoyed this post, you might also like:
10 Proven Productivity Tips for Successful Etsy Shops
How to Beat the Competition on Etsy and Win