DIY Year Round Front Door Wreaths On Evergreen Base
Learn how to easily make year round front door wreaths with an evergreen base. These tips will help you put one together in no time at all.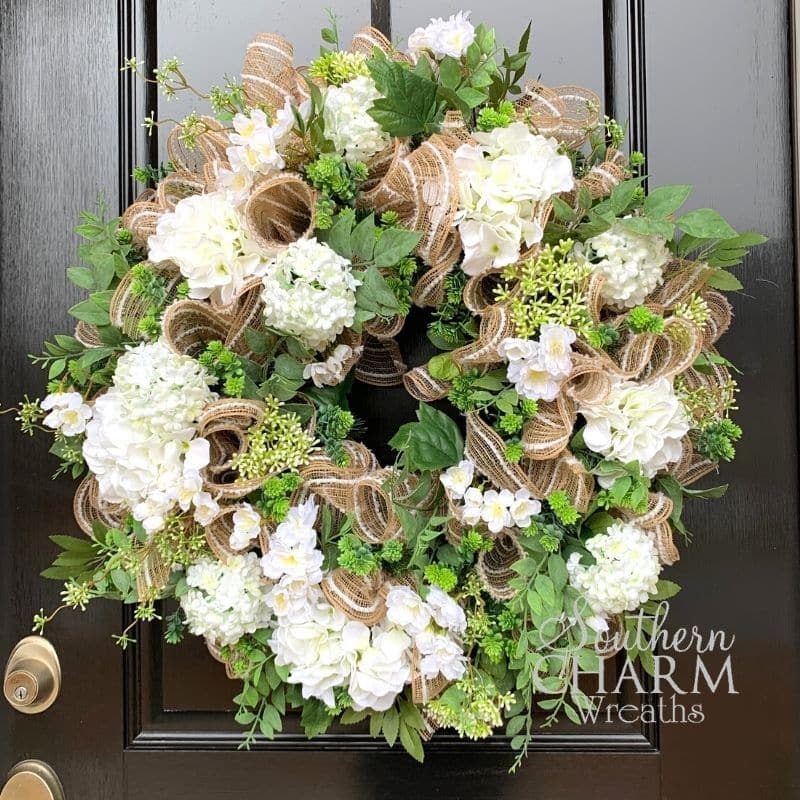 How To Make Year Front Door Wreaths With An Evergreen Base
I love working with evergreen bases! They are so user-friendly and lend themselves to so much creativity. Learn how to make year round front door wreaths with an evergreen base. They won't go out of style and they sell like crazy in wreath shops!
This post may contain affiliate links for your convenience. Click here to read my full disclosure policy.
Supplies
Evergreen wreath base
10-inch mesh – cut into 14-inch long pieces
Floral and Greenery Picks
Glue Sticks
Glue Pan
Year Round Front Door Wreaths: Step-By-Step Tutorial
Use these tips to make a year round front door wreath of your own. The best thing about it is that you can leave it on your door in between all of the seasons and holidays.
1. Cut Mesh Ribbon Into Strips
The easiest way to make the evergreen base not look "Christmasy" is to add some mesh ribbon pieces. Instead of weaving the mesh ribbon around the base, I have a really easy hack.
Cut the mesh ribbon into 14-inch long strips. Then, pinch them in the middle and secure them into the wreath. Use the wreath's needle ties to twist around the mesh strips.
I used about 15 different strips around the wreath. You can use as many or as few as you want.
2. Add Greenery
The next step is to add your favorite greenery to the wreath. To make a wreath that isn't seasonal and can hang on your door all year long, I prefer to use flowers that have neutral tones. For this one, I used some laurel among a few others.
At this point you have two options: you could use them as they are (in larger pieces). Or, you can cut them and add them in smaller pieces. I chose to split them up into smaller pieces because I wanted to spread them out evenly throughout the wreath.
To secure them to the wreath, I melted some glue sticks in a hot plate and then dipped the picks into the glue and stuck them into the wreath. As they dry, they are secured.
It's important to trim the greenery shorter. This is because the evergreen wreath base doesn't have the weight to be able to hold longer stems/picks.
3. Insert Hydrangeas
Cream hydrangeas are more neutral so they fit better on a year round wreath for your front door. Just like with the leaves, trim the floral picks shorter so they fit on the wreath.
For this step, I suggest you add the flowers on the wreath before you put glue on them. This way, you can see how it looks. Once you are happy with the position of the flowers, hot glue them in.
At this point, you can use as many different types of flowers as you want. The more flowers you use, the more evergreen base you will cover up.
I like to hang up my wreath on an easel so that I can see what it will look like on the door. This helps me really know whether I like the way the flowers and leaves are layered on it.
That's it! Making year round wreaths for the front door is so simple and a really fun experience, especially if you have lots of greenery and flowers to use up.
Watch The Video: Year Round Wreath With An Evergreen Base
If you enjoyed this and want to learn more on how to get started with wreath making, try my Wreath Making 101 Workshop!
Thanks for joining me today in the wreath workshop! Comment below and tell me what's your favorite part or let me know what I should make next!
Happy Wreathing,
Julie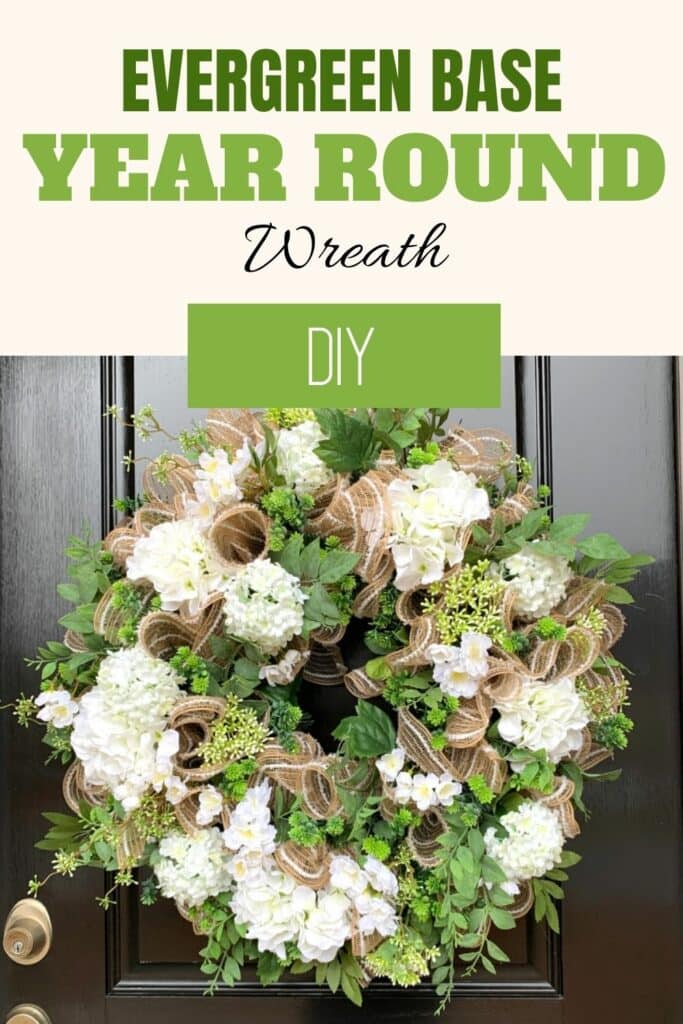 More Evergreen Wreath Ideas
If you enjoyed this year round wreath for your front door, then here are some more evergreen wreath projects you will enjoy too.