Quick 30 Minute Fall Wreath Tutorial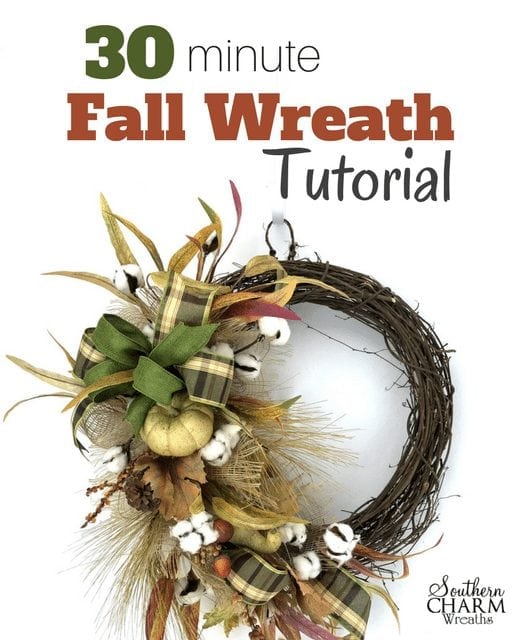 Today in the wreath shop, learn to make a quick 30 minute fall wreath for your door. This super simple wreath is perfect to get you in the mood for fall!  This post contains some affiliate links for your convenience. Click here to read my full disclosure policy.
Quick 30 Minute Fall Wreath
If you have 30 minutes you have time to make this wreath! I started with a fall spray from Hobby Lobby to take the guess work out of finding elements that go together. Complete with a pumpkin, this wreath will have you ready for fall in no time! Here's how to make it: Supplies
18″ Grapevine Wreath
Fall Spray 1 (Hobby Lobby)
Fall Spray 2 (Hobby Lobby)
Frayed Mesh (Trendy Tree)
2.5″ Wired Ribbon (Amazon)
1.5″ Wired Ribbon (Amazon)
Cotton Boll Pick (Hobby Lobby)
Sheet Moss or small silk flower leaves
[Tweet "You can make a beautiful fall wreath in 30 minutes!"]
Quick 30 Minute Fall Wreath Tutorial:
Start by gathering your supplies and cut off all tags from your items.
Begin with your grapevine wreath and your first fall spray. Lay the spray out on the wreath to determine placement. Then zip tie or wire the spray to the grapevine in place – you will probably want to zip tie in multiple places.
Next, cut off the long stem from the end of the spray.
Cut frayed burlap mesh pieces 10 inches long. Then cut a pipe cleaner in half and wrap around the burlap to make it sort of a bowtie. Add a steel pick to the pipe cleaner or you can simply wrap the pipe cleaner around the wreath where you would like it. Start by making 4 of these.
Add the burlap to cover some of the bare areas of the wreath or to cover things like zip ties. Add a bit of hot glue if needed to keep them in place.
Next, make a loose bow. I used 12 inch loops for the first ribbon and 10 inch loops for the second. Attach the bow above the large spray. Note: For detail bow-making instructions, click here.
To add more texture and color to your 30 minute fall wreath, I added beautiful fall leaves. If using leaves from a spray, cut the leaves from the main stem so you have individual pieces.
Place the leaves before attaching to confirm where you want them. I added steel picks to make it easier to insert into the wreath but that is optional.  Add a bit of hot glue to the stems to ensure they will stay in place.
If you feel like you need more texture and fullness, you can always go back and add more burlap pieces as well.
To add a bit more interest and brightness, I added cotton boll stems. Again, add a bit of hot glue on the stems to ensure they stay in place.
For a beautiful finished look, hot glue leaves into the bow loops.
Lastly, I added a piece of ribbon at the bottom, attached with wire, to give the look of a tail of ribbon coming down out of the spray.
To clean up the back of the wreath, trim any wires etc. that are sticking out. You can also hot glue leaves to cover up any exposed wires and zip ties on the back.
Quick 30 Minute Fall Wreath Tutorial…
Wasn't that quick and easy? Starting with a spray that already has various elements included, really does make an easy start to a wreath. Will you make this? I would love to see your creation!  Don't forget to join me on Facebook so you can watch me Live! If you enjoy watching me and/or learning to make wreaths of various styles, join me in my Wreath Making of the Month Club, learn more here.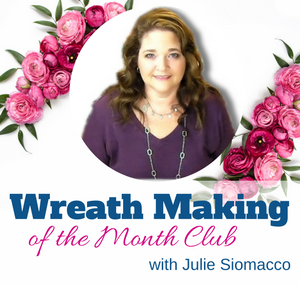 Happy Wreathing,
Julie If you enjoyed this post, you might also like:
Top 15 Wreath Making Tools Needed for Beginners