DIY Fall Door Wreath Idea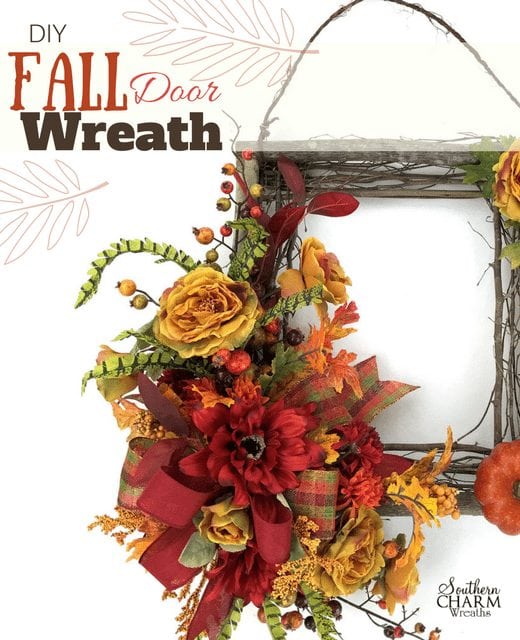 Are you ready for Fall? With this South Carolina Summer heat I'm ready to start dreaming of Fall colors and cooler temperatures so today we're making a DIY Fall Door Wreath! This post contains some affiliate links for your convenience. Click here to read my full disclosure policy.
DIY Fall Door Wreath Idea
Today we're using a fun rustic wreath made from branches as a base for a silk flower swag. This would look beautiful in your home this Fall. If you can't find the same branch wreath or you just prefer a different look, you could easily use a grapevine wreath in it's place. I used some of my favorite Fall colors but choose whatever colors are your favorites and work best in your home. Also, go through your flower stash and use leftovers. Here's how to make it:
Supplies
Rectangle Branch Wreath (Carolina Pottery)
Fall Colored Silk Flowers, Leaves, Pumpkins
2.5″ Wired Ribbon
1.5″ Wired Ribbon
Floral Zip Ties
Florist Wire
Sheet Moss or small silk flower leaves
Pipe Cleaners
Glue gun
[Tweet "I love this DIY Fall Door Wreath Idea using a square wreath frame!"]
DIY Fall Door Wreath Tutorial:
Begin by pulling flowers together and determining the layout for how you want to arrange them (again, I used leftover pieces of floral stems). Stagger the flowers so they are at different heights. Trim the stems as needed. Note: I love the frame I used so I didn't want to cover it completely!
When you have your flowers bundled together in a layout you like, put them together with a floral zip tie.
Now begin adding flowers going the other direction, to create the swag. Leave approximately the width of your fist between the two sides so you can add a bow later. Zip tie this second bundle together.
Zip tie one more time so that both bundles are now bundled together. Cut off the excess ends of the zip ties and floral stems.
Next, make your bow. For detailed bow making instructions, see the video below. I used two different ribbons with 10 inch loops. Secure the bow together with florist wire.
Add the bow to the center of the swag where you left space and secure it with florist wire.
Zip tie the swag to the wreath frame. Note: You may need more than one to extend it's length!
Once the swag is secured to the frame, begin bending the swag to form an "L" along the frame.
When the swag is in place, it's time to step back and see what needs to be "fluffed" or moved around. As you work on your arrangement it tends to get flattened so now is the time to adjust how your flowers are laying. Silk flowers are very bendable!
For a beautiful finished touch, hot glue silk fall leaves, berries or flowers into the bow loops. Note: Remember to rotate your arrangement and look at it from all sides.
If you have any gaps in the swag, now is a good time to hot glue in small flowers or greenery to fill in.
Next I added a small pumpkin in the corner using a pipe cleaner and a flower in the top corner.
Cover the pipe cleaner and any other stems that are showing in the back by hot gluing sheet moss over it.
After the video, I decided to hot glue a flower bud and leaves in the top right corner.
DIY Fall Door Wreath Video…
This was such an easy project using many of the supplies I had leftover from other projects. Don't throw those scraps away! There are so many ways to reuse them. Are you ready for Fall now?
Let me know if you enjoyed this and don't forget to join me on Facebook so you can watch me Live!
If you enjoy watching me and/or learning to make wreaths of various styles, join me in my Wreath Making of the Month Club, learn more here.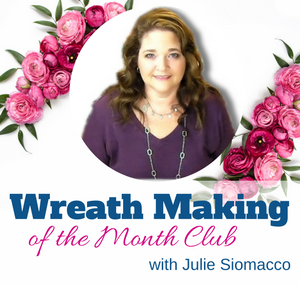 Happy Wreathing,
Julie
If you enjoyed this post, you might also like:
How to Make Pumpkin Centerpieces Video
How to Make a Fall Lantern Swag Video