Boho Sunflower Wreath Design
Learn how to make this elegant boho sunflower wreath, complete with fall foliage, cream sunflowers, and bohemian accents.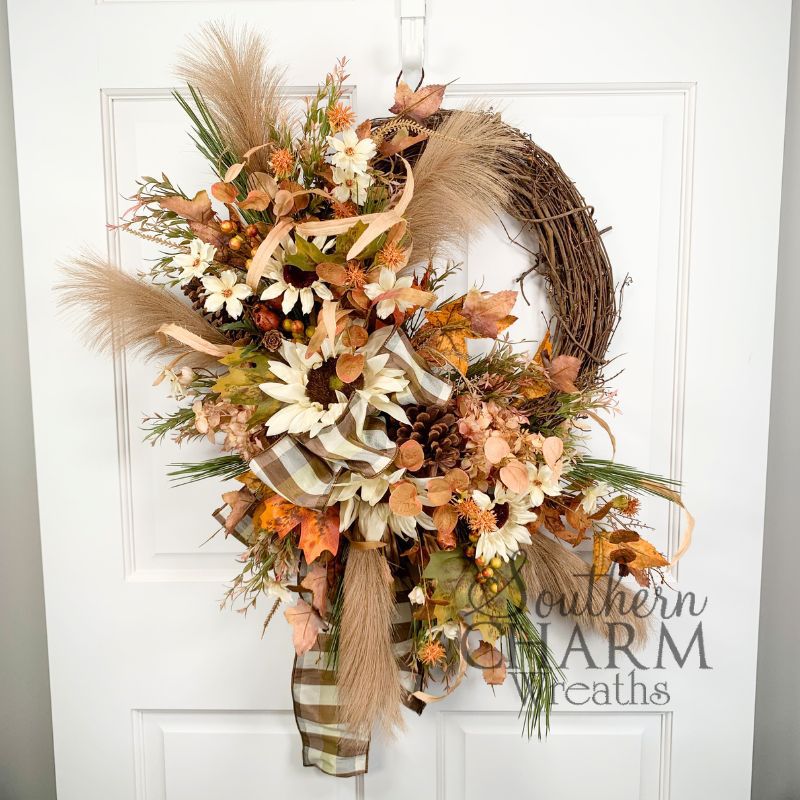 Boho sunflower wreath
Today, I'm sharing a simple fall wreath with a little bit of boho charm.
Now, I'm an extra gal at heart, so simple looks a bit different in my wreaths. In this case, it's a crescent-shaped design with a ton of dimension and muted fall colors.
Cream sunflowers, peachy hydrangea, and beige pampas grass look elegant when combined, with ample texture to please the eye.
Let's get making!
This post may contain affiliate links for your convenience. Click here to read my full disclosure policy.

Supplies for this project
You'll need:
Silk, wired ribbon
Assorted faux flowers

Sunflower fall sprays
Muted hydrangeas
Filler flowers

Greenery

Pampas grass
Long needle pine
Light-green foliage
Autumn leaves

Hot glue
Clippers
Bind wire
How to make a boho sunflower wreath
1. Make your bow
Our first step is the bow! Grab a 4" plaid ribbon and measure a 21" streamer, pinch, and pleat. Then, measure 14" for a 7" loop, pinch and twist.
Repeat for a total of three loops, then trim the streamer.
Secure the center with some florist wire, then use the wire to attach to your grapevine wreath.
2. Attach boho sunflower sprays
Next, attach your fall sprays with focal sunflowers to the wreath.
Add the first spray moving up and around the wreath and the second spray down and around the wreath, using the bow as a centerpiece.
Secure with hot glue, then use bind wire to tack down the ends for extra support.
3. Include silk flower hydrangea
Next, add two peachy hydrangeas evenly spaced on either side of the bow.
4. Add long-needle pine
For a pop of fresh green, add clippings of long-needle pine throughout your base, securing with hot glue.
5. Fill in with filler flowers
Add sweet bits of white filler flowers throughout your design, filling holes and distributing pops of white.
6. Add boho pampas grass
Now, add a few pieces of boho pampas grass evenly spaced at the back of your wreath to add depth to the design.
7. Fill in with fall foliage
Use fall foliage to fill in any holes, trimming small pieces and securing with hot glue. Then, repeat this step with yellow autumn leaves for more dimension and length to your design.
Remember to step back and assess your design from a different point of view as you go. This will help you see areas of need.
8. Finishing touches on your boho sunflower wreath
Finally, the finishing touches!
Add a long ribbon tail to create the illusion of a longer, luxe bow. Fill in any holes with table scraps. Fluff your wreath – and you're done! Your beautiful boho sunflower wreath is ready to enjoy.
Watch the video: How to make a boho sunflower wreath
If you enjoyed this post, you might also like:
Like this post? Pin it for later!