Fall Flower Arrangements for Seasonal Joy
There's nothing like some stunning fall flower arrangements to bring seasonal joy into your home. Explore 12 autumn-inspired arrangements, from cascading lantern toppers to pumpkin floral centerpieces!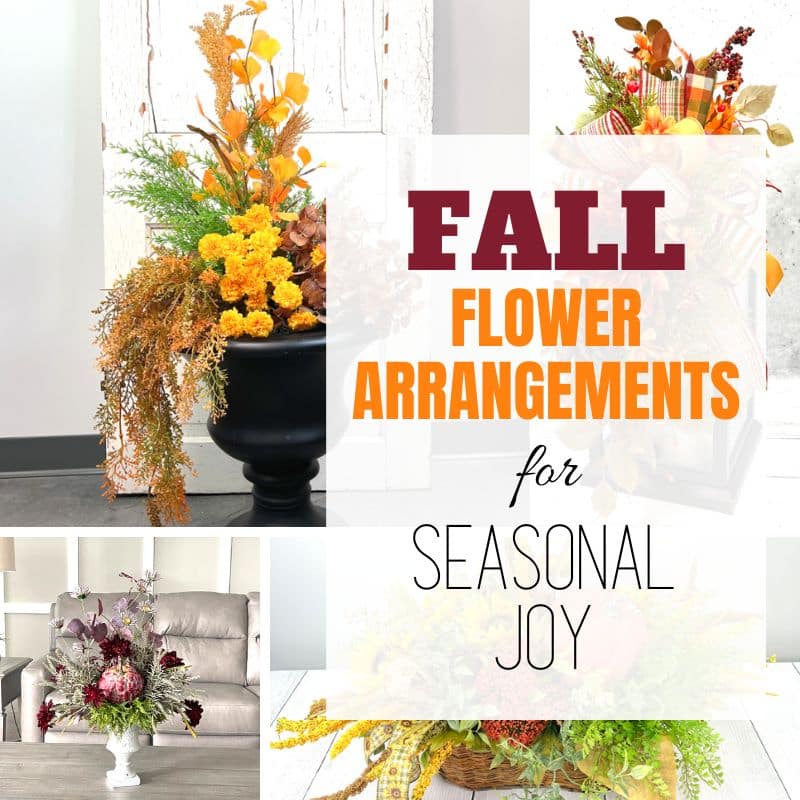 How to make gorgeous DIY fall flower arrangements
It's hard not to get inspired by the upcoming holidays and the beautiful changing leaves. And I don't know about y'all, but as we wrap up these last summer days, I'm ready to get crafting!
Fall decorating gives me all of the warm and fuzzy feelings. It reminds me of cozy times on the couch, shared meals, and tons of family time.
As wreath makers and overall crafty humans, we have the power to amplify the best feelings of fall through our creations. That's why I've gathered up my very favorite DIY fall flower arrangements to do just that!
In this post, you'll find projects featuring autumn colors, beautiful faux florals, and seasonal accents. These faux fall flower arrangements will take you through the season, celebrating its gorgeous hues.
12 fall flower arrangements
Are you feeling inspired by autumn? Gather your fall faux florals, and let's get crafting!
1. Fall urn planter
This fall urn planter was made with your front porch in mind, welcoming any guest in with beautiful fall flowers.
The combination of yellow mums with yellow ginkgo leaves provides a sunny display, especially when combined with orange grass and hanging greenery.
2. Peony lantern topper
While peonies aren't traditionally autumn flowers, this peony lantern topper fits perfectly into any fall design story.
The orange and red peonies resemble a candle's flame. Paired with the muted beige and gold accents, the results are cozy and understated.
3. Berries and florals
This fall lantern swag adds major color to a traditional lantern, bursting with different shades of orange, yellow, and green.
It's filled with all the classic fall elements, including red berries, pinecones, and mixed plaid ribbons.
4. Sunflower pumpkin basket
This sunflower pumpkin basket would look amazing on a coffee table, mantle piece, or wherever else needs a little touch of festivity!
I love the feathery greenery combined with yellow yarrow; they make the piece look super natural.
5. Burgundy fall flower arrangement
My DIY fall pumpkin arrangement is a great example of how to take a typical bouquet to new heights.
With burgundy silk flowers, icy greenery, and a unique gourd, each element works together to create professional results.
6. Sunflower topper
This sunflower lantern topper is made with sunflowers of all sizes, seasonal berry sprays, and a variety of textured greenery.
A gorgeous gingham, plaid, and burlap bow ties everything together!
7. Farmhouse fall flower arrangement
The pumpkin planter for this farmhouse table arrangement is just too cute. It's the perfect base for an autumn arrangement.
This piece would look gorgeous on a side table for just a hint of farmhouse charm.
8. Simple fall swag
This fall swag lantern topper features muted-green gourds, pine needle sprays, and bright fall leaves. In other words, it doesn't get more autumnal than this!
I love how this design uses classic fall colors that are slightly muted for a natural, woodsy feel.
9. Cornucopia centerpiece
If you're in the market for show-stopping fall flower arrangements, this cornucopia centerpiece is your money-maker!
Nothing compliments a fall harvest better than a cornucopia stuffed with silk coneflowers, faux corn, and an adorable faux pumpkin.
This arrangement will be a favorite at the craft fair, and a guaranteed talking piece at any seasonal gathering.
10. Cream sunflower arrangement
While I'm a huge lover of all things color, this neutral cream sunflower arrangement is after my heart.
I love flower arrangements that can take you through the seasons. And this display will look perfectly seasonal through summer and fall!
11. Pumpkin centerpiece
For a DIY floral arrangement that comes straight from the pumpkin patch, check out this cheerful pumpkin centerpiece.
All you'll need is a faux pumpkin, assorted silk flowers, and lots of fall greenery. You can feel free to get creative with this design, choosing autumn-inspired elements that speak most to you!
For my piece, I chose to include sunflowers, fall berries, and an unexpected moss ball.
12. Fall mums
I couldn't make a fall floral post without mentioning the iconic chrysanthemum! This fall flowers lantern topper design couldn't be simpler, made with fall mums, leaves, and assorted wire ribbon.
I love how the turquoise ribbon pops against the classic orange and red color scheme – it adds major visual interest with just a small twist!
FAQs – Fall flower arrangements
Want to know more about faux floral design? Here are the questions I get the most:
What flowers work in a fall bouquet?
When choosing flowers for a fall arrangement, you'll want to consider color, season, and texture.
For color, I typically opt for autumn palettes with various shades of yellow, orange, red, and brown. Think about the colors of fall leaves!
That being said, there are plenty of fresh designs featuring shades of blue or green, along with cream or white.
Keep in mind which flowers commonly bloom throughout the season. Sunflowers and chrysanthemums are quintessentially fall. Others include dahlia, hydrangea, and coneflowers.
Lastly, when mixing florals, try to combine a range of shapes, sizes, and textures. For example, pair bulbous peonies with small, whimsical filler florals.
How do I make faux flowers look real?
Making faux florals look real is all about manipulating your materials.
Real flowers are imperfect. Bend your stems, fluff and separate your petals, and trim any excess leaves.
By simply playing with your materials, you can create beautiful, realistic-looking arrangements.
How do I store my fall flower arrangements?
At the end of the season, make sure to pack up your fall floral arrangements to help preserve them for next year.
Clear, labeled, lidded buckets are great for finding what you need quickly and efficiently. Plus, they're great for stacking, saving you storage space.
I always suggest that you store your projects away from direct sunlight; this will help prevent fading throughout the year.
Also, remember to choose a dry, room-temperature location because heat and moisture can hurt your arrangements!
If you enjoyed this post, you might also like: