Deco Mesh Valentines Day Wreath
Today in the wreath shop, I'm teaching you how to make this beautiful Valentines Day deco mesh wreath with a cute buffalo plaid heart sign and silk flowers. My house always feels so bare after the Christmas decorations come down, and I love the pop of color that Valentines Day brings in my decor.
This post may contain affiliate links for your convenience. Click here to read my full disclosure policy.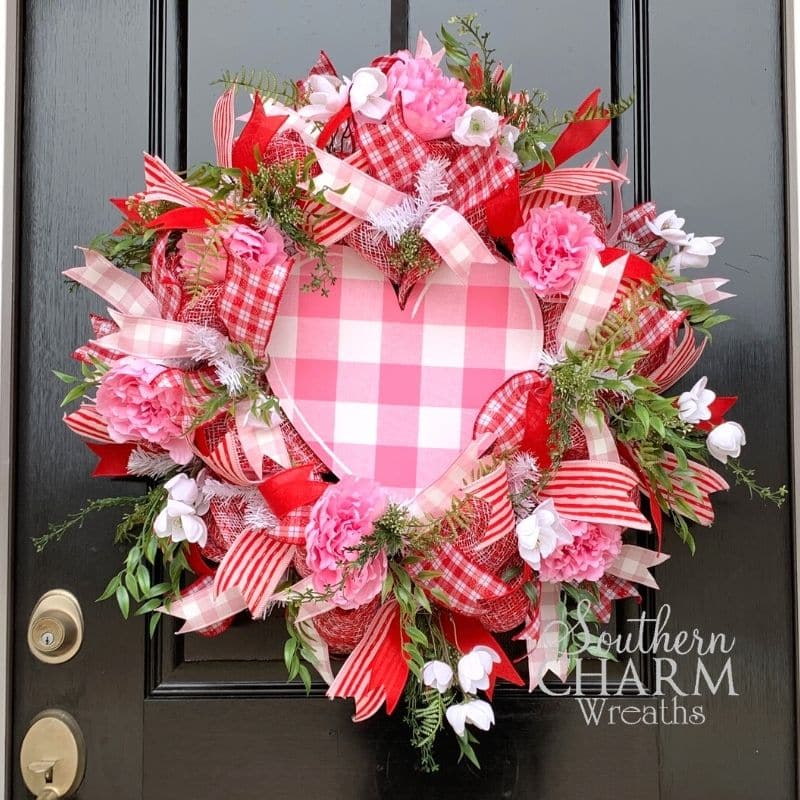 And wreath sellers, this is your reminder to put Valentines Day items in your shop. A lot of people think they won't sell much for Valentines décor, but there's plenty of buyers out there who feel the same way I do about that nice bright red and pink décor after a bland month of January.
So let's get started!
Supplies for This Project
24" Work Wreath
10" Deco Mesh (poly burlap)
Two 1.5" coordinating wired ribbon
Two 2.5″ coordinating wired ribbon
Greenery
Pink and white silk flowers
Florist wire
Staple gun and staples
Hot glue pan and hot glue
I purchased most of the flowers and ribbons used in this project from Trendy Tree.
Steps for Making A Multi Ribbon Valentine's Bow
Step One: Attach Deco Mesh
Deco mesh is always the first thing that gets placed on these kinds of wreaths. It builds up a foundation for the wreath and then everything else gets layered on top as decoration.
To start, grab one of your cut pieces and pinch it right in the middle. Then press it down into the branches of your work wreath.
The branches are made of wire, so you can use them to attach the mesh rather than glue or more wire. Just twist the branches around the middle of your mesh piece to secure it in place.
Start with the smallest ring and work your way to the outside of the wreath using this method.
Measure each loop 10 inches long.
Step Two: Add Ribbon Streamers
Cut your wire ribbon into 13" streamers with dovetails at both ends. Pinch two streamers together in the middle and twist them into the stems of the work wreath.
Work your way around the wreath like this, making sure to separate them close to evenly and to mix up your color combinations so you don't get a bunch of the same streamers crowded together.
Step Three: Attach the Valentines Day Sign
Next, use your staple gun to attach three pieces of florist wire to the back of your sign.
If it's a thin sign, you may need to fold up some ribbon on top before stapling so that the ends don't pop through the front. (Watch the video to see how I do this!)
Once the wires are all secure, attach the sign to the middle of the work wreath using those wires. Make sure they are twisted around the wreath form, not just the deco mesh.
Step Four: Add Greenery and Silk Flowers
Like always, you can stop after any step. It's all about what YOU like, but y'all know I love to be a little extra, so for my last step, I cut up a couple greenery and silk flower bushes and attached them throughout the wreath using hot glue.
To add flowers to a Deco Mesh wreath, just dip the stem in hot glue, and insert it into the wreath wherever you like. Be careful that you aren't gluing the stem just to mesh, ribbon, or any other attached pieces.
It will stay in place much better if you make sure it's attached to the actual wreath form.
Arrange the stems however you like, (making sure they are spaced out around the whole wreath) and keep going until the wreath looks as full and beautiful as you like.
And that's all there is to it!
How to make Valentines Deco Mesh Wreath with 10 Inch Mesh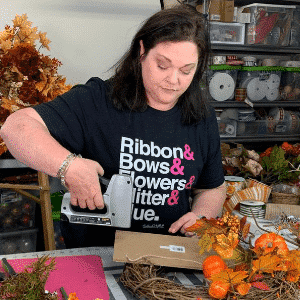 If you enjoyed this and want to learn more on how to get started with wreath making, try my Wreath Making 101 Workshop!
Happy Wreathing,
Julie
If you enjoyed this post, you might also like:
How to Tie an Multi Ribbon Bow for Valentines Day
How to Make a Deco Mesh Valentines Wreath
DIY Deco Mesh Rustic Valentine's Day Wreath
Liked this Deco Mesh Valentines Wreath Tutorial? Pin it for later!