DIY Deco Mesh Fall Truck Wreath
Celebrate harvest blessings with this rustic fall truck wreath. Not only does this piece look amazing and add plenty of curb appeal, but this deco mesh wreath is a beginner-friendly project that's a breeze to put together too.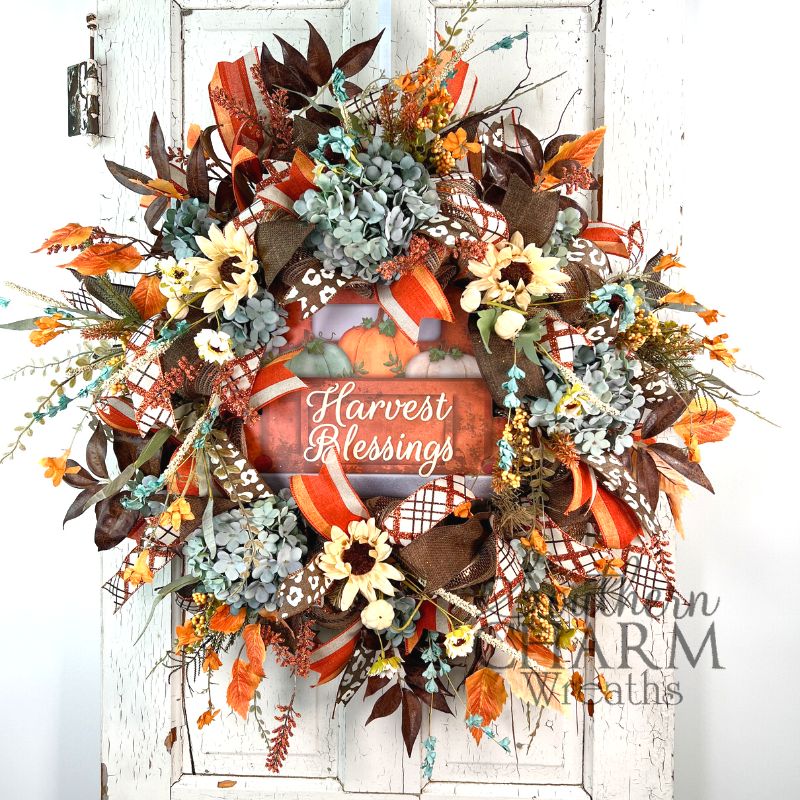 How to make a deco mesh fall truck wreath
Fall is one of my favorite seasons y'all! I just adore it when the leaves change colors, and it's colder outside (which gives me an excuse to stay inside, making more wreaths).
This wreath is bursting with seasonal grey-blue and burnt orange shades. The best part is that I pulled all the colors from one simple tin sign. It's a cute orange pickup truck filled with pumpkins and displaying the greeting, "Harvest Blessings."
If you are an Esty shop owner or sell wreaths at craft shows, this is one you want to make. It's so showy and attention-grabbing that it will pull people into your booth.
The best part is that it might look intricate, but deco mesh wreaths like this couldn't be any easier to make. In fact, if this is the first wreath you're making, you are in for a surprise! You are about to fall in love with the art of wreath making.
This post may contain affiliate links for your convenience. Click here to read my full disclosure policy.

Supplies for this project:
10.5" Brown and Gold Striped Deco-Mesh
2-tiered Work Wreath Base
Harvest Blessings Truck Sign
Pale Blue Hydrangea Bunch

Fall Greenery Bush

Orange Fall Leaves Bush
2.5" Orange and Red Striped Ribbon Roll
2.5″ Brown Wired Ribbon
1.5" Brown and White Print Ribbon Roll
1.5″ Cream and Gold Plaid Wired Ribbon
Pipe Cleaner
Wood Easel (Optional)
How to make a deco mesh fall truck wreath: Step-by-step tutorial
1. Insert the deco-mesh onto your frame
We are going to start by attaching the deco mesh to the work-frame. To do this, attach the end of your deco-mesh to the inner ring of your work wreath by twisting it into the pine tines. Then, measure 10" loops (or eyeball them) and attach the mesh to the next set of ties.
Curl the sides of the ties under the frame to hide your edge. Give the deco mesh a nice poofing as you go. Continue throughout the inner ring of your work wreath.
After the deco mesh is completely attached to the inner ring, make more 10" loops throughout the outer ring. Twist each loop in place with your ties, and remember to fluff the loops as you go.
Once you've reached the last loop on the outer ring, add a third ring of 10" loops. Secure with the outer ring pine tines. Cut the end of the mesh and tuck it under a loop.
Just look at all that puffy deco mesh!
2. Add your ribbon streamers
Now it's time to add the ribbon streamers to your wreath. Cut the wired ribbons that you are going to use into 13-inch strips.
Then, place the 1.5″ ribbon on top of the 2.5″ one. Fold it in half to find the center. Pinch the center and add these streamers to your work wreath pine tines by wrapping the tines around the ribbons. Adjust the streamers to be in an "X" pattern. Repeat this process to add streamers into each set of ties.
Mix it up by layering different ribbons together.
3. Attach harvest blessings truck sign to wreath
Next, you are ready to attach the sign to the middle of the wreath.
If your sign doesn't already have wires on it, you'll have to use a metal punch to create small holes on the sign and thread some florist wire through it.
Then, feed the wire and attach it to the work wreath base. Twist the wire to secure your sign. Do the same to attach through the top of the metal sign onto your wreath base. Attach each side with wire as well.
Pull the mesh loops out from under the sign, so they are completely puffed out.
4. Add some greenery
At this point, I think we should put the wreath on an easel so it is easier to work with.
Choose greenery and florals that complement the colors in the ribbons and sign. I used pale blue hydrangeas and some fall floral picks with blue. I also included some brown florals to match the deco mesh.
Attach the greenery to the outer ring. Then, work your way around the inner ring and hot glue the stem into the pine tines, evenly spacing the remaining greenery you have.
Continue to repeat this process until you are satisfied with how your wreath looks.
5. Final touches
That's it! You can stop whenever you think it is finished.
Take a step back and look at your wreath. If you see some empty spots, fill them in with more greenery or florals. Continue adding more fall greenery or floral stems around the wreath base in various spots.
Fluff or adjust any ribbons and greenery that may have been flattened. Enjoy your beautiful fall wreath!
Watch the video: How to make a deco mesh fall truck wreath
If you enjoyed this post, you might also like:
Like this post? Pin it for later!