DIY Deco Mesh Tailgate Time Football Wreath
Learn how easy it is to make your own DIY Deco Mesh Tailgate Time Football wreath by following this step by step tutorial. You will love how full and festive this wreath looks hanging on your front door to help you and your family kick off a new football season this year!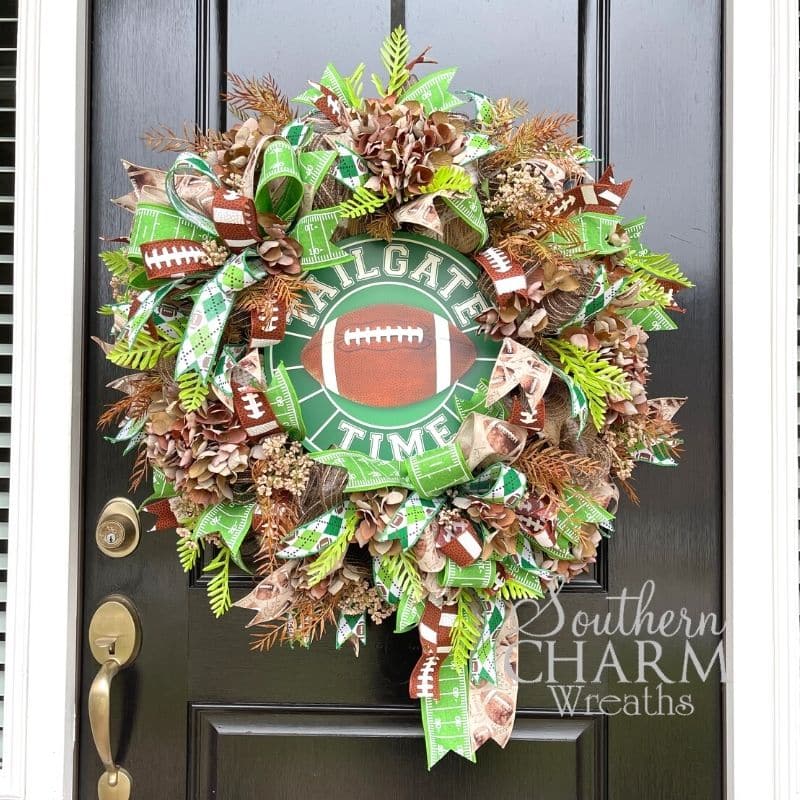 How To Make A DIY Deco Mesh Tailgate Time Football Wreath
Are you looking for a fun DIY wreath to do with your friends? This is the perfect wreath to make with friends and display on your front door just in time for tailgating and football season. Everyone loves a good tailgate with family and friends so why not gather with a few friends and make a cute DIY Deco Mesh Football Tailgate Time wreath displayed on your door!
You will learn how simply adding deco mesh to a wreath form can really jazz up your wreaths. I will teach you in this tutorial exactly how to attach the deco mesh to a wreath form and in no time you will be an expert yourself at adding deco mesh to your wreaths.
Supplies for this project:
14″ Work Wreath Frame: Brown Taupe color
Tailgate Time Sign
2.5" Antique Football Wired #40 Ribbon
2.5" Lime Green Yardage Wired #40  Ribbon
Football Pigskin Wired #9 Ribbon
1.5" Lime, Emerald Green, and Brown Wired #9 Ribbon
Greenery – Lime green and brown foliage 
Brown Berries 
How to Make a DIY Football Tailgate Time Wreath – Step by Step Tutorial
1. Prep Your Work Wreath Frame and Ribbons
First, lay your work frame wreath out on your workspace. Position your twist tie arms so they are open and ready to receive the mesh we will later add. Work them so they are poking out away from your wire base.
Next, cut 14″ streamers of each ribbon with dovetail ends, and set them off to the side.
2. Attach Your Mesh To The Wreath
Now we will start putting the deco mesh on the wreath. Start with your main roll of mesh, making 10″ loops all the way around the inside ring. Secure each loop with the twist tie arms on the wreath frame and gather. Once you make it all the way around, just slide the mesh down to secure on the outside ring, and work around it the same way.
Then, if you're adding an accent mesh, you'll cut it into 18 strips with your rotary cutter and accordion fold each one in the middle, securing with the same 18 twist tie arms. Place strips around the whole wreath until it looks nice and even.
3. Create Your Ribbon Streamers
Next, bring out your ribbon streamers and you'll start adding them into the wreath in pairs, layering a 1.5" on top of a 2.5" ribbon. Begin first with your yardage ribbon paired with your pigskin ribbon. Then, use the antique football ribbon with the multi-colored ribbon, alternating placements on your wreath as you add. This helps to make sure you don't end up with big patches of the same color.
Attach the ribbon in the same way you attached the accent deco mesh. Accordion fold them in the middle and twist tie them onto the base.
4. Attach The Sign To The Wreath
After attaching ribbon, we need to attach the sign. If your sign comes without holes, simply use a beadsmith tool to punch holes in the sign in the locations you want to add the wire. Then, use florist wire to thread it through all the mesh and ribbons, so the sign can attach it to the wreath form. Twist the wire tight on the backside. Make sure it is not too tight that it flattens your mesh, but instead resting right on top. Cut off any excess wire and give the wreath a good shake to make sure your sign is nice and secure.
5. Add a Hanger To The Back
Next, we need to add a hanger. Use a chenille stem to create a door hanging hook by twisting a loop on your work from the wreath in the back. Use glue to secure it in place. Be sure to check for proper placement so your sign hangs straight.
6. Fluff, Fluff, Fluff
Once your wreath is hanging, go around and fluff all of your ribbons and mesh so they are nice and pretty. Be sure nothing is out of place and everything is facing the right direction. Check that your sign is straight and everything looks eye appealing.
7. Attach Your Premade Bows
Keep balance in mind as you add the bows and greenery to your wreath. This means, whatever you add on one side should balance out the elements that you have on the other side.
If you are unsure how to make a bow, don't worry. Check out my free video that shows you how to make 9 different types of bows.
When you are satisfied with your bows, secure it with florist wire to the wreath.
8. Add Your Greenery
Trim some sections of your greenery from the main bush. Be sure to open up the greenery and play with them a bit to give them some shape before you add to the wreath. Add them directly to your needle ties by dipping them first in hot glue along the outer ring first. Remember to use some melted glue sticks in a hot plate, to help save time as you work on your wreath.
Alternate your greenery colors as you add. This will add texture and establish our line. Repeat on the inner ring.
9. Attach The Silk Flowers
Finally, we will add some florals. Use wire cutters to separate bunches of flowers and add them as individual blooms. We will do this with our large hydrangeas. Remove excess foliage from the bottom of your florals and set them aside to use later.
Dip stems in your hot glue plate, and place them around your wreath a little deeper into the mesh and work form. You will be creating a triangle shape with your 3 hydrangea bundles. Some excess bits of hydrangea can be added here and there throughout your wreath giving little pops of floral.
Add in some berries throughout your wreath, adding to each layer where you see fit. Use hot glue to secure in place. Be sure it is even and eye-appealing as you work. Fill in any gaps. You could even add some into your little bow loops if you like that look.
Play with your ribbons, bows, florals, and mesh to ensure you can still read your Tailgate Time sign. You want everyone to know you are ready for football season in your house right, and this is an easy way to do that!
Are you ready for some football… wreath making? I know I am!
Watch The Video: DIY Deco Mesh Tailgate Time Football Wreath
If you enjoyed this post, you might also like:
Like this Post? Pin it for later!