DIY Fall Sunflower Pumpkin Basket
Making a beautiful fall centerpiece can be quick and easy, and I'd love to show you how! This fall sunflower pumpkin basket is festive, and will be the star of any holiday table! Find out how you can make it here.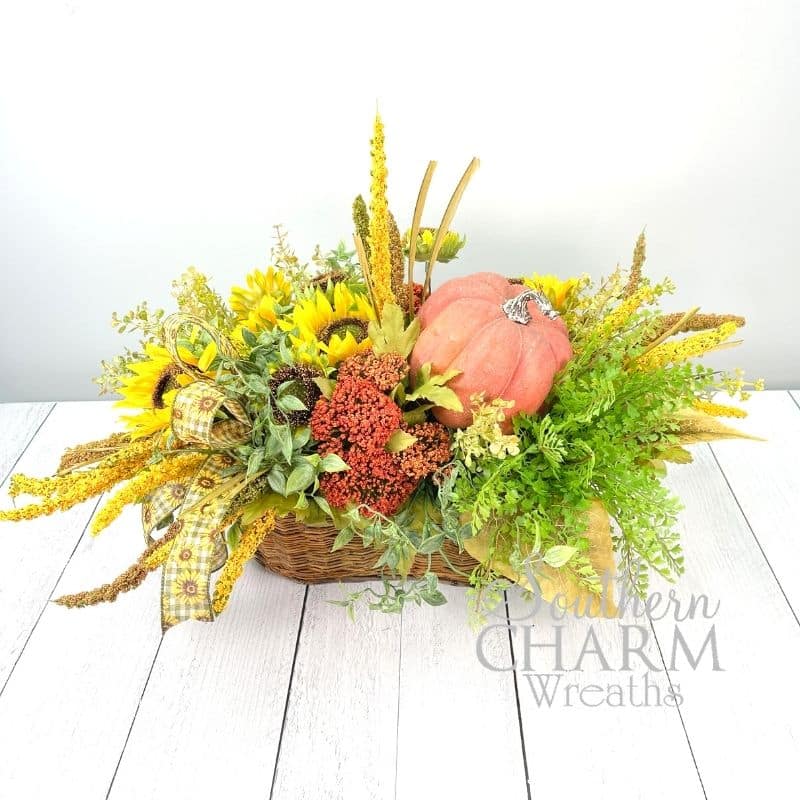 How to Make a DIY Fall Sunflower Pumpkin Basket
Making a beautiful Fall Sunflower Basket with Pumpkins is quick and easy, and I'd love to show you how! The stunning Fall color palette is reflected in this piece with big bright Sunflowers and orange yarrow and cattails. There's height, texture, and whimsy surrounding your pumpkin.
It'll be perfect for any festive table or mantle during this upcoming Fall season! Impress your holiday guests or gift this centerpiece to a neighbor to show how much you care. Let's get started!
This post may contain affiliate links for your convenience. Click here to read my full disclosure policy.

Supplies for This Project:
Basket of Choice
Pumpkins
2 Sunflower Sprays
Fern Greenery Bunch
2 Assorted Greenery Bushes
Yarrow Bunch
U-Pins or Floral Pins
Garden Stakes or Skewers
How to Make a DIY Fall Sunflower Pumpkin Basket – Step by Step Tutorial
1. Prepare Your Container
First, prepare your basket by adding some craft foam inside covered by some Spanish moss. Start by placing your Sunflower bunch diagonally across the center of the basket and bend the stem towards the center so it doesn't hang over your basket. Secure the flowers into the foam with a few u-pins, dipped into the hot glue.
2. Add Your Sunflowers and Pumpkin
Now, fluff your sunflower bunch so the flowers have some height. Use wooden skewers or garden stakes and clip the ends at an angle. Insert them into the bottom of your craft pumpkin so that when adding your pumpkin to your centerpiece, it's at a slight angle. Dip the ends of the skewers into the hot glue and add it into the craft foam to secure.
3. Insert Surrounding Greenery
Grab your fern greenery and fluff the branches. Dip the stem in hot glue and insert the greenery onto the side of your pumpkin. Take a second bunch of greenery and use your wire cutters to separate some individual stems.
Dip your greenery stem into the hot glue and add into the foam between the pumpkin and flowers so that it drapes over the edge of the basket. Continue adding a few stems in the front to fill in any holes.
4. Add More Sunflowers and Balance
Next, take your second sunflower bunch and use your scissors to separate into the various stems with your wire cutters. Add a larger sunflower to fill in a hole in near the previous sunflower bunch of your centerpiece. Now let's add some yellow to balance the opposite side. Insert some individual sunflowers and small yellow berries into the other side of your centerpiece.
Add some long yellow cattails to the left of the pumpkin to add some balance. Add a large leaf from your Sunflower bunch into the foam near the pumpkin to mirror the opposite side. Secure each stem by dipping it into hot glue before you insert them into your centerpiece. At the base of your pumpkin, insert a few more cattails to add some height, remembering to group your stems. Insert one more large sunflower into the group of cattails you just added.
5. Fill in Any Gaps
Finally, grab your orange bunch of yarrow and use your wire cutters to trim some small stems. Dip the ends into the hot glue and fill up the open area between the pumpkin and sunflowers. Clip some more separate stems and add the orange yarrow into the opposite side of the centerpiece to fill in any gaps you may have.
Add any left-over greenery or floral stems you would like to fill in any gaps or holes throughout your centerpiece, making sure to secure by adding hot glue on the bottom of your stems. Don't be afraid to add some length and whimsy with the placement of your floral stems!
Now it's time to step back and admire your beautiful centerpiece that is sure to add joy to any table this Fall season!
Watch The Video: DIY Fall Sunflower Pumpkin Basket
If you enjoyed this post, you might also like:
Like this Post? Pin it for later!