Fall Cornucopia Centerpiece Tutorial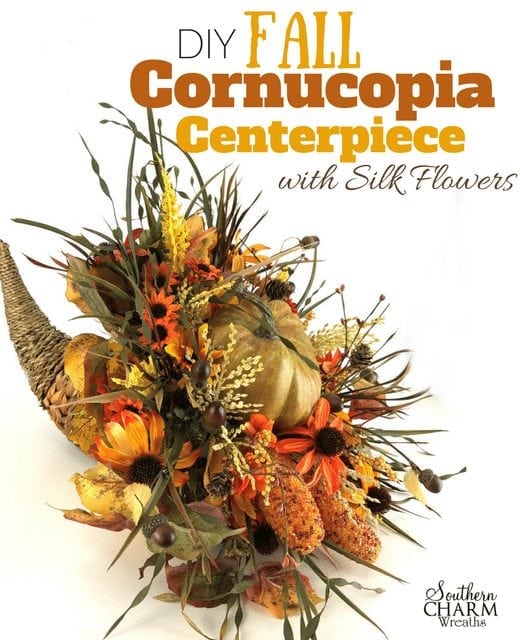 It's time to start thinking about a focal point for your dining table this fall or Thanksgiving table and I have just the thing, a cornucopia! This post may contain affiliate links for your convenience. If you click a link and make a purchase, I could earn a few pennies in commission.Click here to read my full disclosure policy.
Fall Cornucopia Centerpiece with Silk Flowers
Cornucopias are a symbol of abundance and nourishment – perfect for the fall table. Today we're filling a cornucopia with silk flowers, a pumpkin and other fall items. This is so fun you'll make one for yourself and another for a friend! Here's how to make it:
Supplies
Cornucopia (Hobby Lobby)
Floral foam
Florist tape
Faux pumpkin (Hobby Lobby)
Awl
Floral picks
Silk flowers – assortment of leaves, grasses, flowers and feathers
Faux fall corn
Glue gun
[Tweet "Make a Fall Cornucopia Centerpiece for your fall table!"]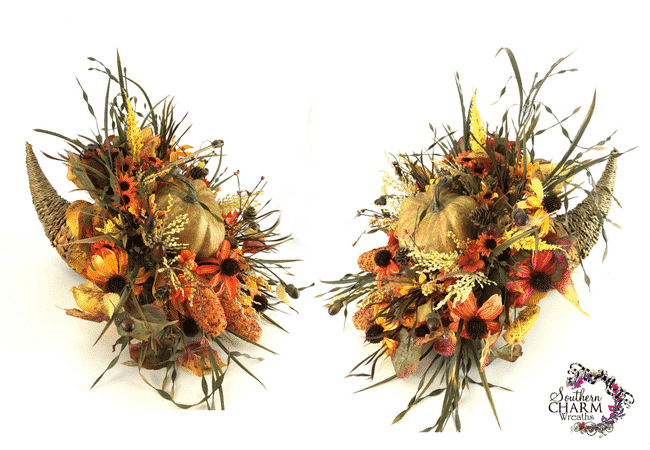 Fall Cornucopia Centerpiece with Silk Flowers Tutorial:
First, to address the cornucopia being prone to tip over, I added a small bag of pebbles to the bottom of it to give it some weight.
Cut floral foam to fit inside the cornucopia and fasten using florist tape and dixon pins fashioned out of leftover flower stems (or u-shaped pins). Note: Since we are fastening everything to the foam, you want to be sure the foam is stable inside the cornucopia before moving on to the next step.
Next, add the faux pumpkin. To secure it, first put a hole in the pumpkin using an awl or knife. Then dip a pick in hot glue and add it to the hole. This gives you a secure way to insert the pumpkin into the foam. I like to insert it at an angle to give it more interest.
Now that your focal point, the pumpkin, has been added, you can decorate around it! I started with a base of fall leaves, adding hot glue to the picks before inserting into the foam.
After the leaves, I added cornflowers, evenly spaced around the pumpkin. Bend the flowers at different angles so everything isn't sitting straight. Note: If flowers come on a bush, simply cut them apart so you have single flowers.
Continuing working to fill in around the pumpkin one flower stem at a time. Note: I used several different types of flowers – a variety of sizes and textures.
Before you completely fill in the arrangement, add in the faux corn. I added two of them below the pumpkin pointing in different directions.
Next, add leaves and grass to fill in empty areas. Note: Adding grasses and greenery is a great way to add texture and height to an arrangement.
To nestle in the pumpkin a bit more, I added feathers around it.
Lastly, to make sure the foam and tape are completely covered, hot glue faux leaves to cover any open areas in the back.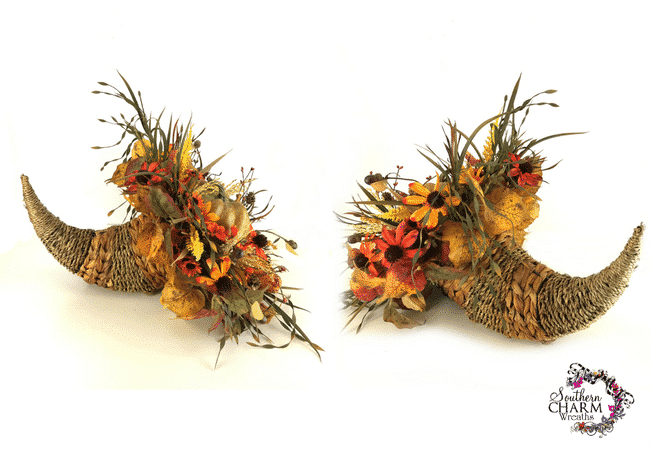 DIY Fall Cornucopia Centerpiece Tutorial Video…
Wouldn't this be fantastic for someone moving into a new home this season? I'm putting mine on my island in my kitchen. This would be beautiful on a front porch or even a smaller size for your kitchen counter.
Let me know if you enjoyed this and don't forget to join me on Facebook so you can watch me Live!
If you enjoy watching me and/or learning to make wreaths of various styles, join me in my Wreath Making of the Month Club, learn more here.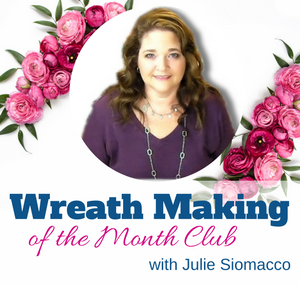 Happy Wreathing,
Julie
If you enjoyed this post, you might also like:
DIY Fall Scarecrow Hat Centerpiece
Quick 30 Minute Fall Wreath Tutorial