DIY Happy Birthday Swag Wreath
Create this DIY happy birthday wreath to celebrate someone's special day! Nothing is more festive than this design filled with polka dots, vibrant colors, and whimsical accents.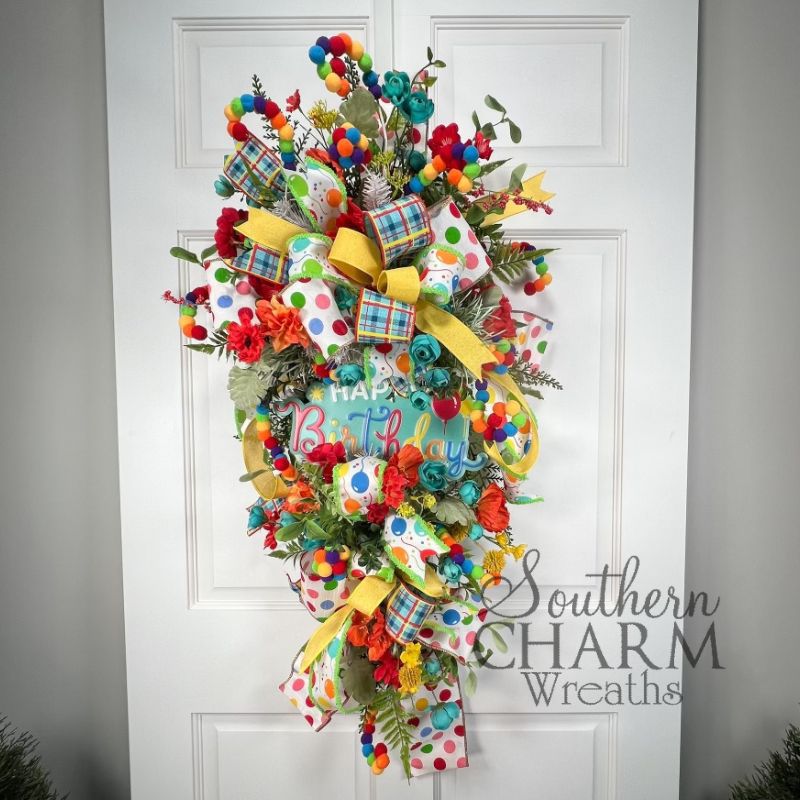 Happy birthday floral wreath
I'm a firm believer that a handmade wreath is one of the most special gifts you can give. And this happy birthday wreath takes the cake!
Today, I'm sharing how to make this birthday-inspired teardrop swag wreath that includes fun, ultra-bright colors that is sure to turn heads. 
This post may contain affiliate links for your convenience. Click here to read my full disclosure policy.

Supplies for this project
You'll need:
Happy birthday sign
28" white teardrop swag wreath
Mixed greenery

Massed leaves
Airy, textured leaves
Whitewashed leaves

Assorted silk flowers

Deep red flowers
Red and yellow poppy sprays
Turquoise ranunculus

Rainbow polka dot picks
EZ BowMaker (optional)
Silk, wired ribbon

4" polka dot
2 ½ inch teal plaid
2 ½" balloon
1 ½" yellow

Florist wire
Hole punch
Hot glue
Clippers
How to make a DIY happy birthday wreath: Step-by-step tutorial
1. Make your bows
Start by making your bows, either by hand or EZ BowMaker!
For your larger bow, cut a 7" streamer of your 4" polka dot ribbon, pinch, and twist. Then, measure 14 inches for a 7" loop, pinch, and twist. Repeat for a total of two loops, then trim a 7" streamer, folding the ends up.
Repeat these steps for your 2 ½" teal plaid ribbon, then your 2 ½" balloon ribbon, layering on top.
Finally, layer the 1 ½" yellow ribbon, cutting a 6" streamer, then pinch and twist. Measure out 12" for a 6" loop, pinch, and twist, then repeat for a total of two loops. Trim your end streamer at 6″.
Wrap florist wire around the center of the bow, fluff the loops, then pull tightly to secure.
For your smaller bow, measure out a 12" streamer of your polka dot ribbon, pinch, and twist, then measure 10″ for a 5" loop.
Repeat these steps for your balloon, teal plaid, and yellow ribbons, working on top of each other. Then, secure tightly with florist wire.
2. Prep your happy birthday wreath sign
Next, prep your sign using a hole punch, adding a hole to the top and bottom of your sign.
Then, thread some florist wire through the holes.
3. Create your vertical line
Create a vertical line by attaching your large bow to the top of your teardrop swag using florist wire.
Attach your happy birthday sign to the center, then your smaller bow to the bottom, drawing the eye down your wreath.
4. Add greenery
Start building up your greenery, using clippings of whitewashed greenery around your three anchors (large bow, sign, and small bow). Attach with hot glue.
Repeat with massed leaves, layering and dispersing evenly for depth of color.
Finally, add clippings of airy greenery for more texture.
If you want to know how to pick out coordinating greenery, check out this Wreath Greenery Guide.
5. Incorporate florals
Add your red and yellow poppy sprays to your established greenery, once again using your three anchors as a starting point. Secure with hot glue.
Next, incorporate some deeper red florals to bring out the red of the poppies.
Finally, fill in any holes with a bit of greenery.
6. Amp up the whimsy
Take the celebration to new heights with some whimsical additions!
Add rainbow polka dot picks and turquoise ranunculus flowers to make the colors in this swag wreath shine!
Then, cut 8" streamers of your plaid, polka dot, and balloon ribbons, dovetailing the ends. Hot glue these streamers around the outer edge of your wreath where it could use a little more volume.
The results should be super spindly and gorgeous.
And with that, your happy birthday wreath is complete!
Watch the video: How to make a DIY happy birthday swag wreath
If you enjoyed this post, you might also like:
Like this post? Pin it for later!