DIY Patriotic Door Hanger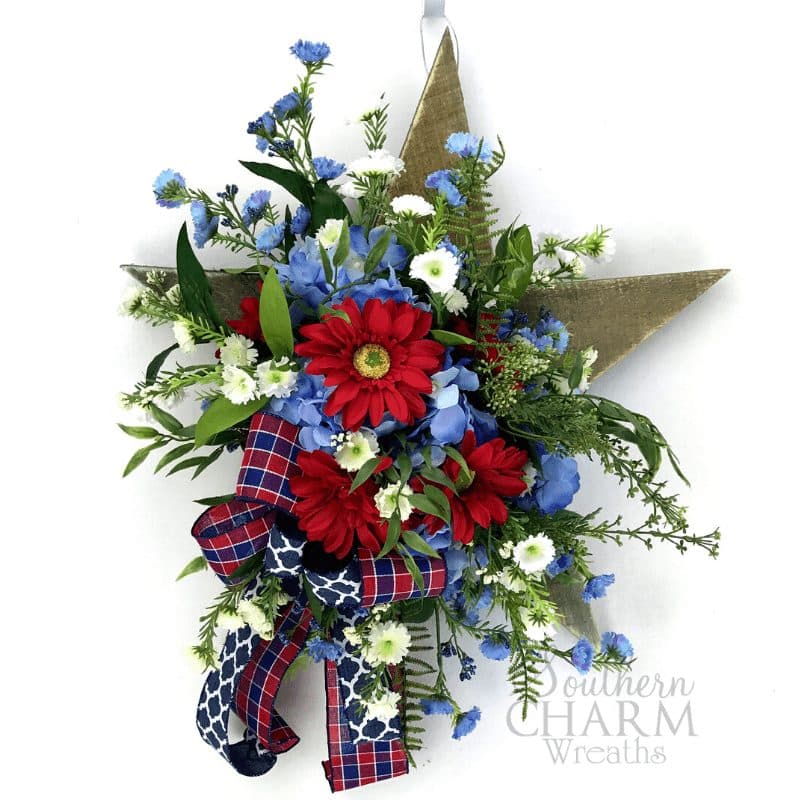 In this video, we're making a DIY Patriotic Door Hanger using a wooden star and silk flowers. I found all of my items at Carolina Pottery and put this together in one afternoon! This post contains some affiliate links for your convenience. Click here to read my full disclosure policy.
How to Make a DIY Patriotic Door Hanger
Nothing says it's Summertime like patriotic decor adorning front doors and porches. For my latest project, we're giving a wooden star I found at Carolina Pottery a patriotic makeover! Here's how to make it:
Supplies
20″ Wooden star (Carolina Pottery or from Etsy here )
Styrofoam (cut to 5″ l x 1.5″w) (Carolina Pottery)
Red, white & blue silk flowers & greenery (Carolina Pottery)
Glue gun & hot glue
[Tweet "How To Make a DIY Patriotic Door Hanger"]
How To Make a DIY Patriotic Door Hanger:
Determine where you want to place the Styrofoam and secure floral wire using a staple gun under where the Styrofoam will go. Note: Cut the wire longer than the Styrofoam so you can wrap it up around it.
Add a bit of hot glue over the staples to ensure the wire stays in place. Note: To ensure hot glue strings do not get onto the star, you could choose to cover the part of the star that is not being decorated with a plastic bag or foil while you hot glue. Otherwise, those hot glue strings can get everywhere!
Cover the sides and top of the Styrofoam with moss using floral pins.
Add a bit of hot glue to the bottom of the Styrofoam and place it over the wire on the star.
Bring the wire up around the Styrofoam, twist it, and cut off any excess wire.
Next, create your bow and add a pick to it for easy attachment to the Styrofoam. Note: I made the tail of the bow 11 inches long and the bow loops 8 inches. For help in creating your bow, check out my website for a great free tutorial.
Add the bow to the Styrofoam. I added mine to the bottom and angled it a bit.
Begin adding the flowers by pushing the flower stems into the Styrofoam. I began by adding red Gerber daisies and then added the others in groups of three. To ensure the flowers stay put, add a bit of hot glue to the stem before pushing it into the Styrofoam.
Next, add greenery to fill in empty spaces and give it a finished look. Be sure you look at your project from every angle!
How To Make a DIY Patriotic Door Hanger video…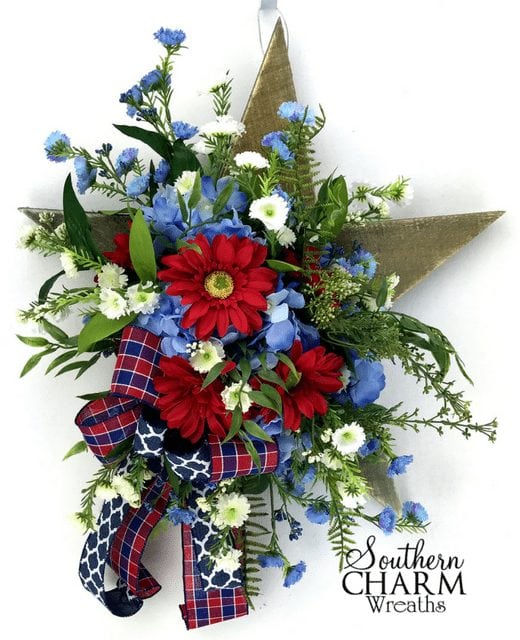 Learn from my mistakes! I went a little wild and made my floral arrangement a bit too big for the star. I would recommend scaling the flowers back a bit so you can see more of the star. But don't be afraid to try it for yourself!
You could add a small flag to this or other small festive patriotic decorations. Visiting family or friends over the summer? This would make a great hostess gift for your host's front door!
Let me know if you enjoyed this and don't forget to join me on Facebook so you can watch me Live!
If you enjoy watching me and/or learning to make wreaths of various styles, you should consider joining my Wreath Making of the Month Club!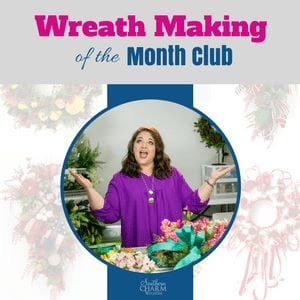 Happy Wreathing,
Julie
If you enjoyed this post, you might also like:
Elegant 4th of July Wreath Tutorial
How to Make a Festive Patriotic Lantern Swag