DIY Patriotic Star Wreath On Grapevine Base
Boldy and proudly show your pride in America with this DIY patriotic star wreath on a grapevine base. The red, white, and blue colors are set beautifully on top of a rustic grapevine wreath.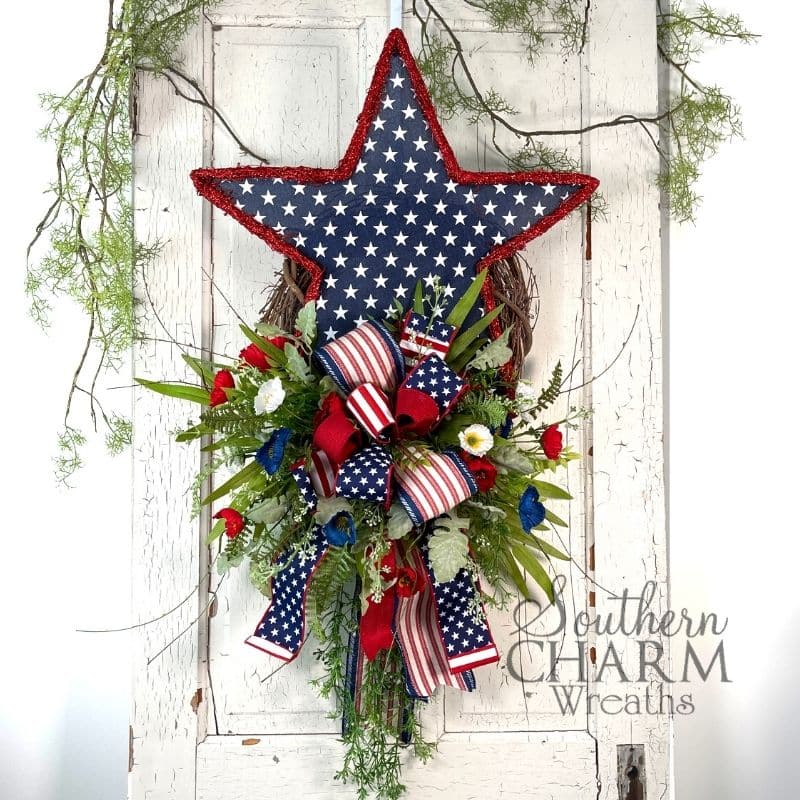 How To Make A DIY Patriotic Star Wreath On Grapevine
Blue stars and red stripes are the main colors in this gorgeous wreath. White is actually one of the minor colors in this attention-grabbing wreath.
This wreath will look perfect on your front door for Memorial Day, Veterans Day, or the 4th of July. If you have an Etsy shop or make wreaths to sell in person, this patriotic star wreath is a fantastic choice. The big star sign will grab everyone's attention.
This post may contain affiliate links for your convenience. Click here to read my full disclosure policy.
Supplies For This Project:
USA Star Sign
22 Gauge Florist Wire
16-inch Grapevine Wreath
Red White and Blue Bow
Fern Stems
Blue Ranunculus Stems
Red Hydrangeas Stems
White Filler Flowers

How To Make A DIY Patriotic Star Wreath On Grapevine: Step-By-Step Tutorial
1. Prep And Attach Your Sign
In my video, I already attached the sign to the wreath, but I'll give you a quick overview, so you know how to attach the sign to yours.
First, remove any wire hangers that came on your sign. Then place the star sign down and staple your floral wire onto the back. These wires are the point of attachment you will use to attach the sign to your wreath. Lay your sign on the top of your wreath.
Thread the wire through your grapevine base and attach the star to the top of your wreath form. This will allow you to get your florals in more easily. If you take your floral wire around your wreath, you cause the wreath to be really tight, which makes it harder to slide your floral picks in later on.
2. Attach Bow
I premade a multi-ribbon bow – I used a double-sided 4-inch ribbon with red and white stripes on one side and navy blue stripes on the other. Then I used a double-sided 2 1/2-inch ribbon with a fabric that perfectly matched the star pattern inside my sign. Lastly, I also added a 1 1/2-inch ribbon that is just a solid red color.
You can either hand-tie your ribbon or use an EZ Bow Maker. When you are finished making your loops and you like how the bow looks, secure it with floral wire.
To attach your bow, thread your wire to the middle of your wreath on the opposite side of the star sign. (Again, thread your wire through the wreath verses around it.)
Don't worry about your ribbon streamers. You can always take away or add ribbon streamers as you create your wreath.
Learn how to make my popular patriotic multi-ribbon bow here.
3. Add Greenery
Now we are ready to fill in the gaps with some greenery. Be creative and use your favorite shades of green that go the best with your red and blue ribbons. I used bamboo because it reminds me of eucalyptus.
Work your greenery into the wreath by playing with it around the bow to see how you like it. I started by putting one stem on the top, then placed one on the bottom of the bow. Dip your ends in hot glue before placing them. Continue until you have your greenery nice and full around your bow. 
Next, add in a different type of greenery. When you add different types of greenery, you add more texture, which is a big selling point on wreaths. Place it up under that bow and on top of the greenery just placed. I alternate placing it under the bottom of the bow and under the top of the bow. 
4. Insert Florals
For the florals, I used a red, white, and blue floral spray that already had poppies in the colors I need. You could use red hydrangeas instead.
My floral spray came with smaller blooms, which I actually appreciated. The largest blooms are 2 1/2 inches. I like that these are smaller flowers because it lets the sign and bow be the main attention-grabber.
If you buy a pre-made spray, I suggest separating the flowers with wire cutters and then adding them to the wreath individually. However, might have to add a metal steel pick to the end of your floral stems because the paper on the end of the stem might unravel if you put it directly in the glue.
Place the larger flowers closer to the bow (which is our central binding point). Continue to add all the different flowers to your wreath, placing one stem under your bow in the middle and one on top.
What I do to one side, I typically do to the other to keep it balanced. Keep layering flowers until you are satisfied with the finished product of your wreath.
 5. Fill In The Blanks
At this point, step back and take a look at the wreath. Then, use greenery and floral picks to fill in the empty spots. Fluff your bow and rearrange the streamers and flowers until you are satisfied with how it looks.
Watch The Video: DIY Patriotic Star Wreath On Grapevine
If you enjoyed this post, you might also like:
Liked this Patriotic Star Wreath on Grapevine? Pin it for later!