DIY Summer Sunflower Wreath
Experience the joy of sunflowers all season long with my DIY summer sunflower wreath. While I made this grapevine wreath with summer in mind, these bright yellows are also perfect for summer and fall, transcending seasons for longtime use!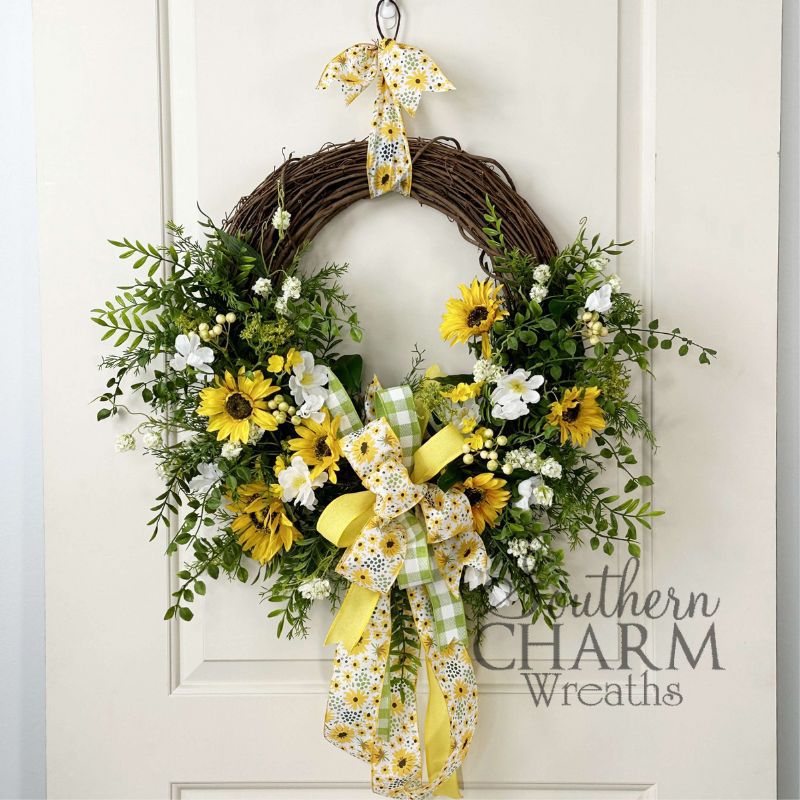 Summer sunflower wreath
Sunflowers are among the most joyous flowers out there. Their bright yellow petals give an instant dopamine hit.
That's why I think they're perfect for wreath-making!
The second someone walks up to your front door, greeted by this sunshiney display, they'll feel instantly welcomed.
Today, I'm sharing how to make this summer sunflower wreath, complete with bright silk ribbons and tons of textured greenery.
Best of all, this summer design is also great for the fall! So you can hang on to its summer spirit a little while longer.
This post may contain affiliate links for your convenience. Click here to read my full disclosure policy.

Supplies for this project
You'll need:
Grapevine wreath
16" sunflower picks
White and yellow filler flowers
Assorted greenery
Silk wired ribbon

2 ½" sunflower
1 ½" yellow
1 ½" green plaid

Clippers
How to make a DIY summer sunflower wreath: Step-by-step tutorial
1. Create your sunflower bow
First, we're going to make our centerpiece – a sunflower bow!
Begin with a long steamer of your 2 ½" sunflower ribbon, pinch, and twist. Then measure out 12" for a 6" loop, pinch, and twist. Repeat for a total of three loops, then trim your streamer.
Next, measure an 8" streamer of 1 ½" green plaid ribbon, pinch, and twist. Then measure 23" for a 6" loop. Repeat for a total of two loops, then trim your streamer.
Repeat these steps for your final 1 ½" yellow ribbon, working on top of your bow.
Finally, measure out 8" of your sunflower ribbon, pinch, and twist. Then, measure 10" for a final 5" loop.
Secure the center of your bow with florist wire and attach it to the bottom center of your grapevine wreath.
2. Add sunflower picks
For a bright addition, we're going to include gorgeous sunflower picks to your wreath.
Begin with one spray, using your bow as a centerpiece and working outwards. Stick the spray into the grapevine and secure it with hot glue.
Include four total picks, covering the bottom half of your wreath and curving with the natural shape. If the picks are too heavy, you can always use vine wire to further secure and keep them upright.
3. Include greenery
Next, trim your greenery and work around your wreath, adding small pieces to the grapevine and securing them with hot glue.
You'll want to include a variety of greenery for texture, evenly distributing for an airy appeal.
Fill in any gaps with fern for a soft, feathery effect.
4. Fill with flowers
To give balance and more color to your wreath, fill it out with beautiful yellow and white filler flowers.
Push the stems through the grapevine and use hot glue to secure them.
5. Finish your summer sunflower wreath
For the perfect summer sunflower wreath, fill in any final holes with greenery clippings.
You can also add extra ribbon tails for color and length. Dovetail your streamers, curl ribbon ends, and fluff your wreath to perfection!
Watch the video: How to make a summer sunflower wreath
If you enjoyed this post, you might also like:
Like this post? Pin it for later!