DIY Hibiscus Summer Swag Wreath
This DIY hibiscus wreath is a summertime dream, made with neon colors and tropical accents. Learn how to make the perfect summer door hanger, complete with big hibiscus blooms and glitter leaves!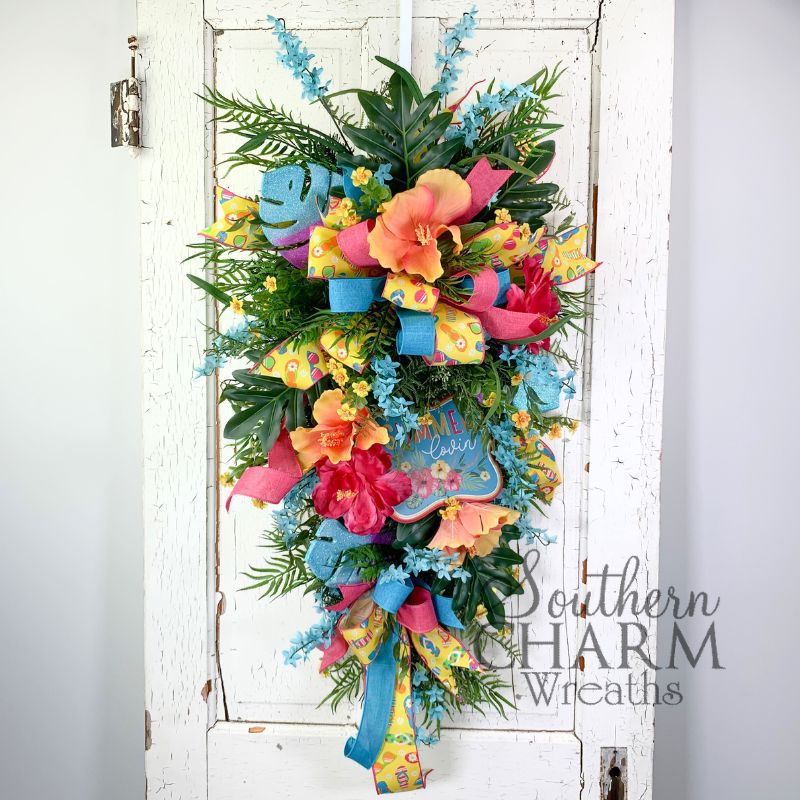 Hibiscus summer swag wreath
There's just something about summer!
The weather is hot, everyone gets outdoors, and we just soak in that happy-making vitamin D. And I wanted to emulate this bright and cheerful spirit with a hibiscus summer wreath.
This design has tons of amazing colors, from hot pink to cyan blue, to sunny yellow. The bold leaves and hibiscus blooms turn an ordinary wreath base into a tropical paradise!
This post may contain affiliate links for your convenience. Click here to read my full disclosure policy.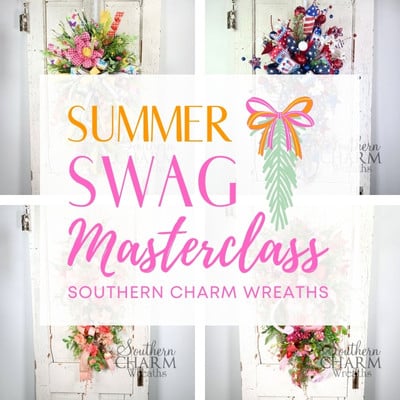 Supplies for this project
You'll need:
28" green teardrop swag wreath
Summer sign
Mixed greenery

Textured and airy
Tropical fern
Large tropical leaves

Assorted silk flowers

3 Orange hibiscus
2 Hot pink hibiscus
Blue florals
Yellow florals

Silk, wired ribbon

2 ½" yellow flip flops
1 ½" blue
1 ½" pink

Blue and purple glitter leaves
Florist wire
Hot glue
Hole punch
How to make a DIY hibiscus summer swag wreath: Step-by-step tutorial
1. Prep your hibiscus wreath supplies
First, prep your supplies for easy crafting!
Fluff your wreath to give it life and movement. Clip your greenery, shaping and dividing to give it character. Finally, hole-punch your summer sign with one hole in the top and one in the bottom center.
2. Make hand-tied bows
Next, we're going to hand-tie two bows for your hibiscus wreath.
For your large bow, begin by measuring a 7" streamer of your 2 ½" yellow flip-flop ribbon. Pinch and twist, then measure 14" for a 7" loop. Pinch, pleat, and twist to secure.
Repeat for a total of 3 loops, then trim your streamer.
Repeat these exact steps for your 1 ½" blue ribbon and your 1 ½" pink ribbon, working on top of your base ribbon.
Then, create a final loop of yellow ribbon in the center of your bow, measuring a 6" streamer, then 12" for a 6" loop. Pinch, twist, and trim your streamer.
Wrap florist wire around the center of your bow and pull tight to secure!
For your mini bow, measure a 14" streamer of your yellow flip flop ribbon, then 10" for a 5" loop. Trim a 5" streamer.
Repeat these steps for your pink and blue ribbons, then secure the center with florist wire.
3. Create your vertical line
Next, we're going to establish our vertical line, securing our large bow to the top of the teardrop swag wreath. Secure with florist wire, then dovetail and trim your streamer ends.
Then, attach your summer sign below, feeding the florist wire through the hole punches and attaching it to the wreath.
Lastly, attach the mini bow to the bottom and dovetail any streamers.
4. Add tropical leaves and hibiscus
To make this Christmas-y base a summer celebration, glue large tropical leaves and hibiscus flowers to your wreath, using your 3 anchors (big bow, sign, and mini bow) as a core. Secure with hot glue.
5. Integrate greenery
Next, add clippings of airy greenery and tropical fern to fill in any holes and make the wreath super summery and full. Use hot glue to secure.
6. Add glitter leaves!
For a sparkly addition, hot glue your blue and purple glitter leaves throughout the wreath, dispersing evenly.
7. Play with silk flowers
For more color, add hot pink hibiscus, blue florals, and vibrant yellow flowers throughout your wreath, once again using your three anchors as core points. Hot glue to secure.
8. Finishing your hibiscus wreath
For some sweet finishing touches, fill in any holes with clippings of greenery and add a few ribbon streamers for extra fluff around the upper, outer edge of your wreath. Secure with hot glue.
Fluff everything to perfection, and your gorgeous summer hibiscus wreath is complete!
Watch the video: How to make a DIY summer hibiscus teardrop swag wreath
If you enjoyed this post, you might also like:
Like this post? Pin it for later!