Southern Summer Pineapple Wreath
Celebrate the summer in style with this light and cheerful summer pineapple wreath. Yellow-green greenery with neutral flowers creates a summer paradise that craft fair-goers will love!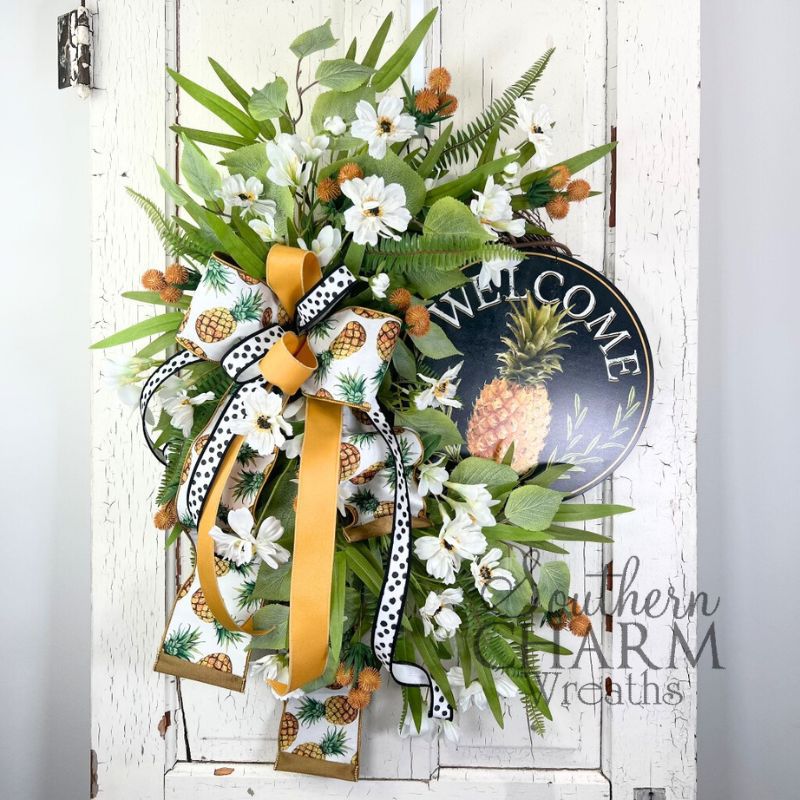 Southern summer pineapple wreath
For today's project, I'm sharing this chic and bountiful pineapple wreath.
Unlike other fruit designs, this summer wreath isn't overly cutesy. Instead, I've created an eye-catching wreath using a fairly neutral color palette.
But that doesn't mean this wreath lacks charisma – oh no!
Fluffy, textured greenery, bright white florals, and just a touch of orange come together to create a summery and sought-after design.
This post may contain affiliate links for your convenience. Click here to read my full disclosure policy.

Supplies for this project
You'll need:
12-inch metal pineapple sign
4-inch pineapple ribbon
1 ½ yellow ribbon inch ribbon
1-inch polka dot ribbon
Bamboo greenery
Rounded, light-green greenery
Fern greenery
Assorted white silk flowers
Orange flower sprays
Scissors
Wire cutters
How to make a Southern summer pineapple wreath: Step-by-step tutorial
1. Attach your pineapple sign
Begin by attaching your pineapple sign to your grapevine wreath.
Loop your florist wire through two holes in your sign, one at the top and one at the bottom.
Then, attach it off-center to your wreath base, looping the wire around to the back of the wreath and securing behind.
2. Make your bow
Next, it's bow time!
Measure out a 12-inch tail of your pineapple ribbon, pinch, and twist. Then, measure out another 12 inches, pinch, and pleat for a 6-inch loop. Repeat twice more for a total of three loops, then trim, leaving a tail.
Repeat these steps for your yellow ribbon, working on top of your pineapple ribbon, creating two 6-inch loops.
Finally, measure out a 12-inch tail of your polka dot ribbon, measuring out 10 inches for a 5-inch loop. Repeat for a total of two loops, then trim the tail.
Hold your bow layers in one hand and tie off the center of your bow with florist wire. Then, add the bow to your wreath opposite your pineapple sign. Use florist wire to secure.
Remember to fluff up your bow, trim any long ends, and dovetail a few pieces for interest.
3. Add your greenery
Next, we're adding greenery, using our bow as a binding point to help the eye flow through your wreath.
Begin setting your base with bamboo greenery, moving outward from your bow in all directions.
Then, add different greenery in the same shade to your base to create texture and variety. You should have a grand, bushy shape.
4. Integrate your florals
Next, using your bow as a center again, add your white florals evenly throughout the greenery.
Add a touch of white freesia to your base florals for more variety and a few orange flower sprays for added color and joy!
5. Finishing touches on your pineapple wreath
Finally, fill in any holes with fern greenery for even more texture and shape.
Trim any long ribbon ends, fluff everything to perfection, and you're done! Your summer pineapple wreath is ready to greet the world.
Watch the video: How to make a Southern summer pineapple wreath
If you enjoyed this post, you might also like:
Like this post? Pin it for later!