DIY Summer Sunflower Door Hanger
This DIY Summer Sunflower Door Hanger is the perfect way to brighten up your door for summer. In this video, I'm sharing how you can make this with a wooden wreath base and handmade silk flower sprays. This post may contain affiliate links for your convenience. Click here to read my full disclosure policy.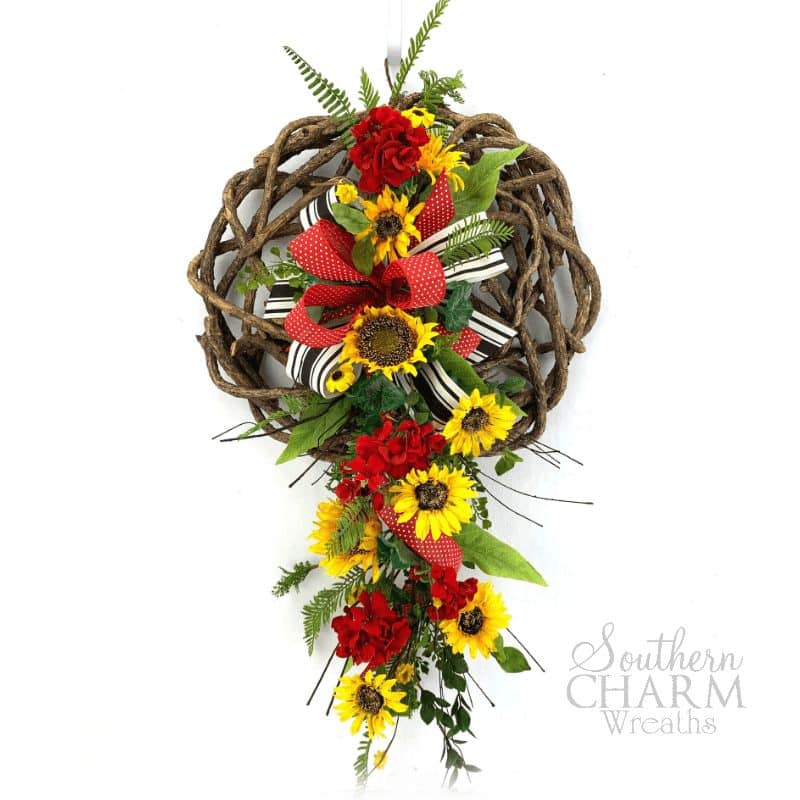 Today we're making a dramatic sunflower door hanger using a spray of silk flowers hand tied on a wood wreath frame. As always you can change up the colors and flowers to fit your décor.
[Tweet "How to Make a DIY Summer Sunflower Door Hanger"]
Supplies for Making an easy DIY Summer Sunflower Door Hanger
Wood vine wreath base (Carolina Pottery)
Silk Sunflower Sprays (Select Artificials)
Silk Geranium Sprays (Select Artificials)
Farmhouse ribbon (Trendy Tree)
Red ribbon (Trendy Tree)
Bind wire
Scissors
Zip ties
Wire Cutters
Hot glue gun
glue sticks
craft mat
Steps for making an Easy DIY Summer Sunflower Door Hanger
Step 1 – Start by adding a door hanger to the top center of the wreath. For instructions, check out my other door hanger tutorials here.
Step 2 – Next, if you notice some of the branches are a little loose, you can use bind wire to wrap around the loose branches and attach them better to the rest of the wreath. This wire is great because it blends in with the branches.
Step 3 – Begin laying out the flower sprays to get an idea of how you would like them placed on the wreath. Don't forget to fluff up the flowers so everything isn't laying flat. As you go, cut off any stems or leaves you don't need and set them aside for later.
Step 4 – Once you have a feel for how you want the flowers arranged, zip tie the sprays together. Continue adding zip ties throughout until it is secure.
Step 5 – Trim off any long stems you don't need as well as excess zip ties that are sticking out. Then attach the spray to the wreath base using more zip ties.
Step 6 – Next I made a bow with a farmhouse style ribbon. I used 12-inch loops and a short tail with just 3 loops. Then I added a red ribbon on top of the farmhouse ribbon. Tie it off with florist wire and attach to the wreath base.
Step 7 – Lastly, add zip ties anywhere that seems a little loose. Then for a beautiful finished look, glue leaves over any zip ties that are noticeable and add a red ribbon streamer to hang low below the bow.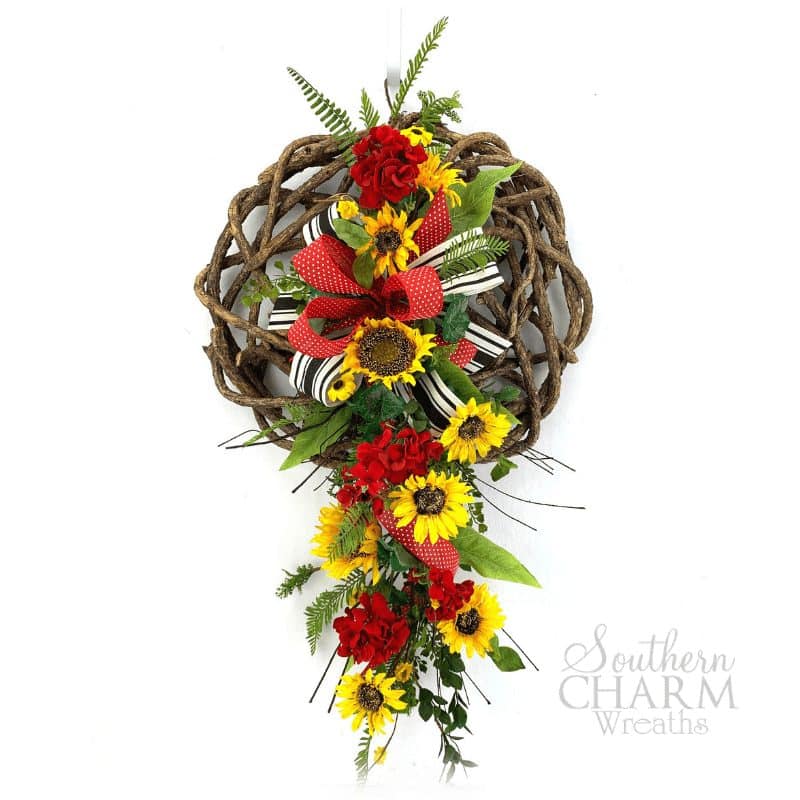 Watch the video below for detailed instructions.
Video How to Make a DIY Summer Sunflower Door Hanger
This door hanger would also look great on a back door or porch. Plus you could easily use holiday flowers and ribbon for an entirely different look.
If you enjoyed this and want to learn to wreath the professional way, join me in our exclusive Wreath Making of the Month Club!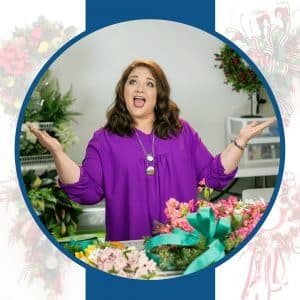 Happy Wreathing,
Julie
If you enjoyed this post, you might also like:
DIY Quick Easy Rose Flower Wreath
How to Make a Hydrangea Centerpiece
20 Best DIY Summer Wreaths You Can Make at Home
Liked this DIY Summer Sunflower Door Hanger Tutorial? Pin it for later!