DIY Sunflower Grapevine Cross Wreath Supporting Ukraine
Learn how to make a stunning yellow and blue Grapevine cross wreath in support of Ukraine. Sunflowers and blue florals stand out against the rustic grapevine base. This look is also perfect for spring or summer.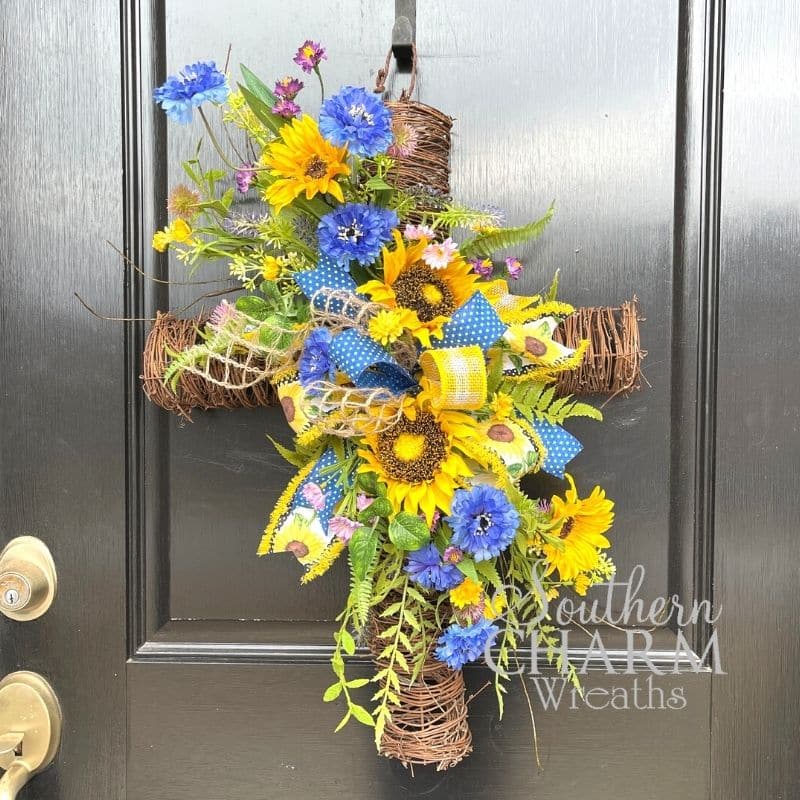 What do you think? Ready to make one for yourself?
This post may contain affiliate links for your convenience. Click here to read my full disclosure policy.

Supplies For This Project
24" Grapevine Cross (Carolina Pottery)
2 1/2 Inch Ribbon
1 1/2 Inch Ribbon
Various Greenery
Sunflower Sprays
Various Florals (I used blue cornflowers)
Stunning Grapevine Cross Wreath Step-By-Step Tutorial
This wreath comes together really quickly. Plus, I just love how the yellow and blue colors are the same shades from Ukraine's national flag. Did you know that sunflowers are the national flower of Ukraine? They are bold and proud colors and the perfect thing to add to this lovely wreath.
You can sell this wreath and donate all proceeds to your favorite charity. Or display it on your door to show your solidarity.
1. Add Cornflowers To The Sunflower Sprays
I think the blue cornflowers are a perfect shade to compliment the golden sunflowers. It is much easier to add the cornflowers to the sunflower sprays before adding them to the wreath. This way, I don't have to maneuver around the grapevine base.
If you are going to add the cornflowers to your spray, keep the stem a longer length. The longer stems will give them some height in the bouquet.
Keep adding more flowers and greenery to the spray until it is full enough to your liking.
Once you are satisfied with the spray, use a zip tie to keep it together.
2. Attach The Sunflower Sprays
The helpful thing about buying pre-made floral sprays is that someone already did the design work for you. They already added the correct spacing, terracing, and the right amount of accent flowers and greenery to them.
Now all you have to do is attach the sprays to your wreath base. It is a huge time-saver.
Place two sprays facing opposite directions. Space them about the width of your hand apart. This will leave enough room for the bow. Zip tie the two sprays together and then set them aside.
3. Make The Bow
I'll share the measurements of my bow's tails and loops, but you are welcome to make yours the length of your choosing. When you are choosing the colors of your ribbons, pull from the colors and prints in the flowers.
For example, I used a sunflower ribbon that matches the sunflowers and a blue and white polka dot ribbon that matches the blue cornflowers.
I started with the 2.5″ wired sunflower ribbon. Pinch and pleat the ribbon between two fingers on your non-dominate hand. Then, measure 10 inches and loop it away from you and pinch that with your same two fingers. This is the start of your bow's first loop.
Since you folded it in half, this is now a 5-inch loop. Repeat this process one more time so that you have two loops. Trim it and keep this bow in your hand. Then, I did the same thing with the next 2.5″ wired ribbon. Make two more loops that are 5-inches each. Shape your bow as you go. Place the ribbon tails behind your loops so that the loops are on the top.
Then, use a 1.5″ (#9) wired ribbon (this is my blue ribbon). Make another two loops that are 5-inches each, just like the first two. You can stop here or add a 4th ribbon. I used a pretty yellow ribbon as my final one.
Tie all the loops and layers of your bow together with a 22-gauge florist wire or pipe cleaners. Attach the bow in the middle of the sunflower sprays using the florist wire.
4: Attach The Sprays And Bow
Now you are ready to attach it all to the grapevine cross base! It's easier to just use a zip tie to attach it to the cross because you can cinch it nice and tight without having to use glue.
How To Make The DIY Sunflower Cross Grapevine Wreath (Video Tutorial)
Happy Wreathing,
Julie
If you enjoyed this post, you might also like:
Liked this Grapevine Cross Wreath? Pin it for later!