DIY Tabletop Christmas Tree Ideas with Silk Flowers
Create a beautiful Tabletop Christmas Tree with this step-by-step tutorial. We're adding greenery to an artificial tree to make it a custom decoration for your home. This post may contain affiliate links for your convenience. Click here to read my full disclosure policy.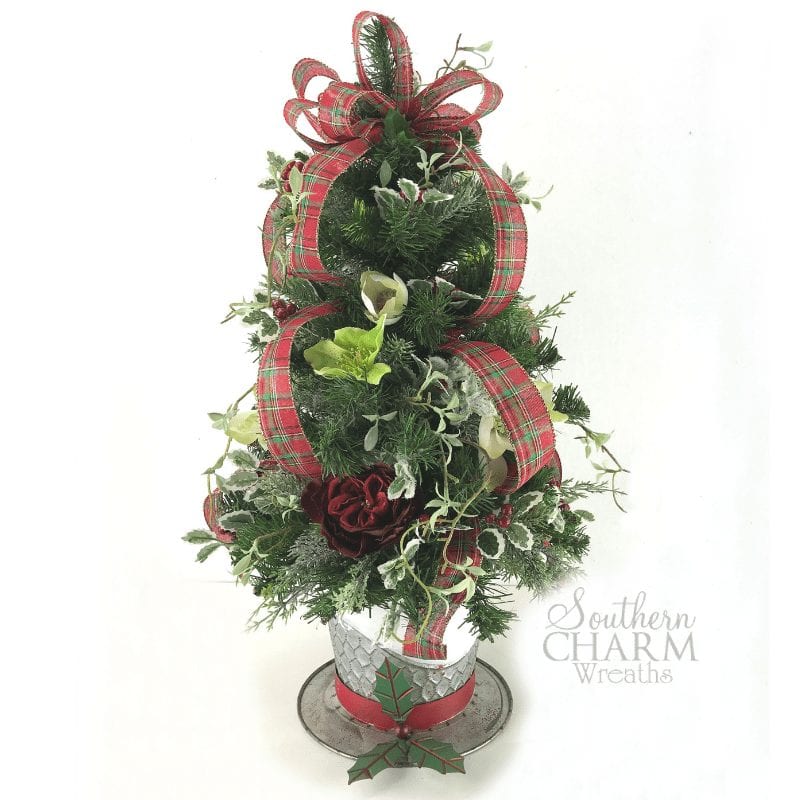 Today we're taking a standard artificial tabletop Christmas tree and making it a custom decoration for your home. This would be perfect for a centerpiece, entryway, dorm room, nursing home and of course a lovely gift.
[Tweet "DIY Tabletop Christmas Tree Ideas with Silk Flowers"]
Supplies
Tabletop Christmas Tree
Container (Carolina Pottery)
Aquarium Rocks
Styrofoam
Floral picks or skewers
Ribbon
Design Master Snow Blast (Optional)
Assorted greenery & silk flowers
Moss
Scissors
Silicone mat
Awl
Wire Cutters
Hot Glue Gun
Steps for DIY Tabletop Christmas Tree Ideas with Silk Flowers
Step 1 – Prepare the Tree
Remove the base from the bottom of the tree. Then reveal a bit of the stake at the bottom of the tree by trimming some of the tree limbs so it can easily go in the container.
Step 2 – Prepare the Container
Next, prepare the container by first weighting it down with aquarium rocks. Add hot glue over the rocks to keep them in place.
Then add a piece of Styrofoam on top of it to elevate your arrangement.
Add another piece of Styrofoam on top of the other inside the container using hot glue to adhere it. You can also run floral picks or skewers through the pieces of Styrofoam to make it more stable.
Step 3 – Add Tree
Use an awl to make a hole in the center of the Styrofoam. You'll want your tree to go in several inches.
Add hot glue into the hole and then add the tree.
Next, to hide the Styrofoam, add a bit of moss, silk leaves, or other material to cover it using hot glue. If you'd like, add a bit of Snow Blast from Design Master to your moss to give it a snowy effect.
Tip: Do not pickup your arrangement by the tree as the glue will not be dry at this point.
Step 4 – Make Bows
While everything is drying, make two bows for the top of your tree.
I started with 1.5 yard streamers and made four 8-inch bow loops for each. For detailed bow making instructions, click here. Set bows aside.
Step 5 – Add Greenery
Next, add in additional greenery pieces to fill in your tree. Cut greenery into individual pieces and hot glue into the spine of the tree. Use a variety of shades of green, some pieces with berries.
Tip – Cut greenery at different lengths for a more natural look.
Step 6 – Add Silk Flowers
Cut pieces of silk flowers from a larger bush and add those in with hot glue to the tree.
Fill in any empty areas with small pieces of greenery.
Tip – I like to place this on a lazy Susan so I can easily turn the arrangement around while working on it.
Step 7 – Attach Bows
Add your bows to the top of the tree – one on each side – using wire.
Lastly, turn your tree around to see all sides and fill in any last gaps or holes.
Voila! A DIY Tabletop Christmas Tree!
Video DIY Tabletop Christmas Tree Ideas with Silk Flowers
Have you ever customized a tabletop tree? Isn't this fun! The great thing about this tree is that you can do this for so many different holidays or occasions. You could make this with wedding colors for a winter wedding, or make a Valentine tree or Easter tree. So many options to customize it just for you.
Let me know if you enjoyed this and don't forget to join me on Facebook so you can watch me Live!
If you enjoy watching me and/or learning to make wreaths of various styles, join me in my Wreath Making of the Month Club, learn more here.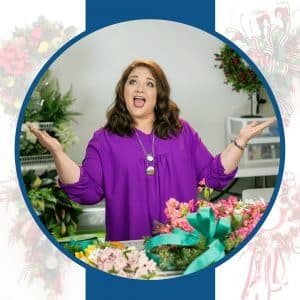 Happy Wreathing,
Julie
If you enjoyed this post, you might also like:
DIY Rustic Farmhouse Christmas Table Centerpiece
DIY Whimsical Christmas Elf Table Centerpiece
How to Make A Funky Bow -Christmas Edition
Save