DIY Rustic Farmhouse Christmas Table Centerpiece
Create a Rustic Farmhouse Christmas Table Centerpiece in this step-by-step tutorial. This rustic centerpiece is so easy to make and will make a big impact for your table or entryway. Choose the greenery and accents that work with your décor to customize it for your home.This post may contain affiliate links for your convenience. Click here to read my full disclosure policy.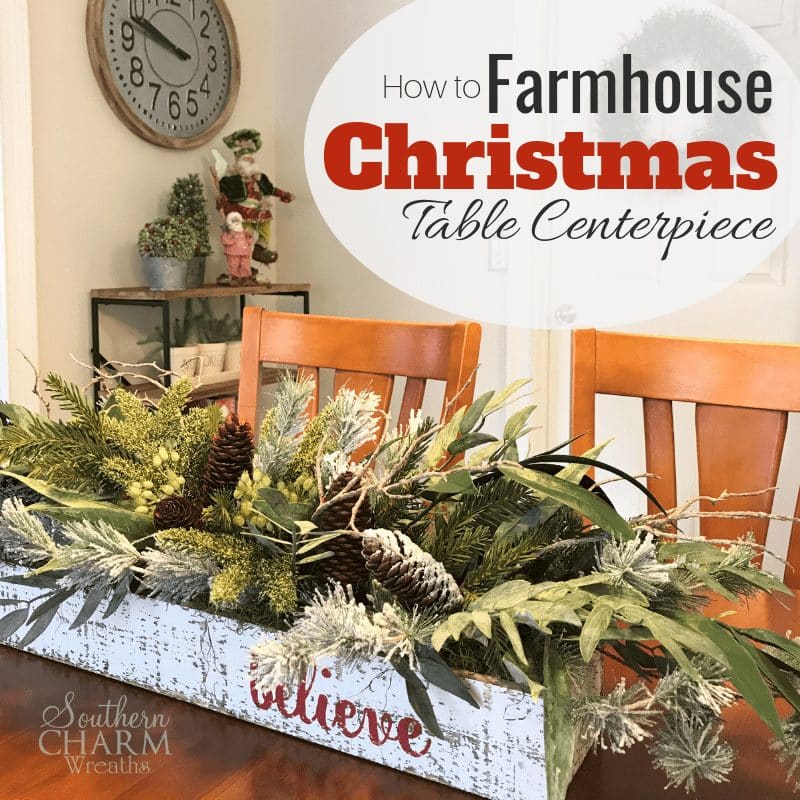 I found this fun rustic planter that reads Believe at Kirkland's. Today we're going to fill it with greenery and pine cones and make a beautiful rustic Christmas farmhouse centerpiece for your table, entryway or even your fireplace mantle.
[Tweet "How to make a DIY Rustic Farmhouse Christmas Table Centerpiece"]
Supplies
(qty 1) Believe box (Kirkland's)
(qty 1) Garland
Assorted greenery picks
Moss
Styrofoam
Scissors
Floral Picks
Silicone mat
Awl or Punch
Wire Cutters
Hot Glue Gun
Steps on How to Make a DIY Rustic Farmhouse Christmas Table Centerpiece
Step 1 – Prepare the Box
Begin by cutting Styrofoam blocks to fit inside the box. I used the thin edges as my base and then layered the large blocks on top. Then add hot glue and adhere inside the box.
Next, insert floral picks down through the Styrofoam on the top through the blocks on the bottom to help keep it stable.
Step 2 – Add Garland
Cut a piece of garland just a bit longer than your box. To adhere the garland to the foam, bend a pin in a "v" shape, dip it into the glue and push the pin around the garland into the Styrofoam.
Repeat this step all the way down the garland until it is secure.
Step 3 – Add Moss
Next, to hide the Styrofoam, add a bit of Spanish moss to cover the open areas.
Step 4 – Add Greenery
Determine if you want to cut apart your greenery picks or use them whole. If cutting apart, go ahead and do that now.
Add a bit of hot glue to the greenery stem and then insert the greenery stems into the Styrofoam. You can use an awl to create the hole first to make it easier. Intermingle the greenery on top with the garland we put on the bottom so it looks like one, not layers.
Be sure to separate and fluff up your greenery pieces so they aren't laying flat.
Step 5 – Fill In & Finish
Next, add in any additional greenery pieces, pinecones, etc. you want to add to fill in your centerpiece.
You can also add Christmas ornaments, silk flowers, and more to fit in with your décor.
As a result, a Rustic Farmhouse Christmas Table Centerpiece!
Video DIY Rustic Farmhouse Christmas Table Centerpiece
That's all there is to it! What would you put inside your planter? What colors are your Christmas theme this year? I hope you enjoyed this DIY Rustic Farmhouse Christmas Table Centerpiece tutorial. Remember, you can use different colors, flowers and greenery to fit your décor and make it yours.
Let me know if you enjoyed this and don't forget to join me on Facebook so you can watch me Live!
If you enjoy watching me and/or learning to make wreaths of various styles, join me in my Wreath Making of the Month Club, learn more here.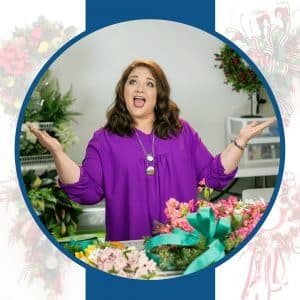 Happy Wreathing,
Julie
If you enjoyed this post, you might also like:
DIY Whimsical Christmas Elf Table Centerpiece
How to Make an Elegant Deco Mesh Christmas Wreath
How to Make A Funky Bow -Christmas Edition
Save