DIY Tabletop Christmas Tree
Make and decorate your own tabletop Christmas tree. This DIY tutorial shows you how to create a festive tree that you can keep or sell.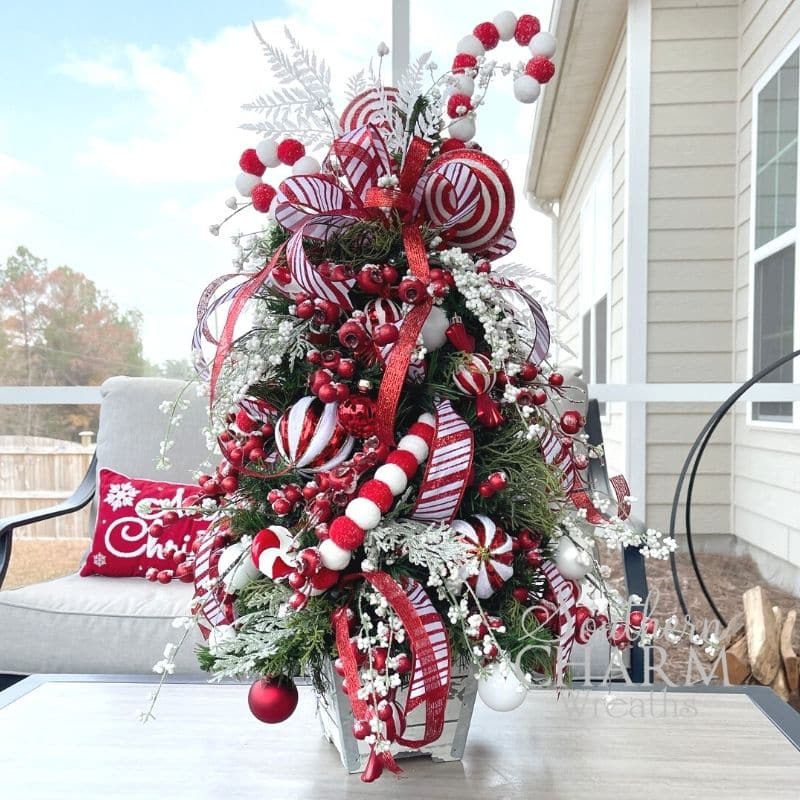 How To Make A DIY Tabletop Christmas Tree
Have you seen those little tiny Christmas trees that adorn bookshelves and tables? I just love them, don't you? As fun as it is to buy a tiny pre-made Christmas tree, you are then stuck with whatever size and shape they have at the store.
That's why I love making my own from scratch, and surprisingly, it's a pretty simple process! Plus, you have complete control over how full and tall you make it.
I've heard of people making holiday trees that they leave up all year long, changing decorations to match the current season or holiday. So, these can be a good investment in your small business because you can always sell them – no matter the time of year.
This post may contain affiliate links for your convenience. Click here to read my full disclosure policy.

Supplies For This Project:
24-inch tall Evergreen Tree
Small Wood Container
Florist Foam Blocks
Small Rocks
Wooden Floral Picks
Floral Moss
Lollipop Floral Picks
Homemade Bow
How To Make A DIY Tabletop Christmas Tree: Step-By-Step Tutorial
1. Prepare The Container
The very first step is to set up the container so that the evergreen tree sits inside of it securely. Start by gluing the Styrofoam in the bottom of the container. Then, fill the sides of the container with small rocks. This adds weight to the container, so it doesn't fall over after you place the heavy tree inside of it.
Next, glue another piece of foam on top of the rocks and the first piece of foam. Make sure the foam is glued securely to the rocks so that they don't fall out.
Depending on the size of your container, you might have to add a third piece of foam. Add enough foam pieces so that it almost reaches the top.
Secure it all by inserting four wooden skewers or floral picks through all the layers of Styrofoam.
2. Insert The Tree Into The Container
Remove the current base from the small tree and insert it deep into the Styrofoam. Since the tree is so top-heavy, you want it to go as deep as you can into the foam. You might have to remove some of the greenery from the base of the tree so it can go in lower.
Add glue to the bottom of the tree and then press it deep into the foam that is in your container. Then, cover up the foam with some fake florist moss.
3. Fill In Tabletop Christmas Tree
Now you are ready to start decorating the tree, just like you would a larger Christmas tree.
The first thing I did was add more greenery. I have leftover stems from other projects, and I simply glued them into the tree to make it look fuller. Make it as thick as you want. Feel free to add pinecones and florals too.
4. Add A Tree Topper
I like to start decorating at the top of my DIY Christmas table tree and add the topper first. I chose a red and white theme for this tree, so for my tree topper, I zip-tied two lollipop floral picks to the top of the tree along with a handmade red and white bow.
5. Decorate With Pick Ornaments
After you have the tree topper, it's time to decorate the tree with ornaments. Instead of hanging ornaments that can fall off, I used red and white picks with various patterns on them.
Start at the bottom and go all the way around the tree. Use florist wire to securely attach each pick to a tree branch, so they don't fall off.
6. Accentuate With Ribbon
Take the ribbon from your tree topper and insert it into the tree so that it creates full loops from the top to the bottom. Then, take some matching ribbon and create more vertical loops on the other sides of your tree.
Keep adding smaller floral picks and tiny decorations to your tree until you are satisfied with the end result.
Watch The Video: How To Make A DIY Tabletop Christmas Tree
If you enjoyed this post, you might also like:
Like this post? Pin it for later!